The route to success
Grahm Goering '21 opens up about his journey to becoming one of West High's best athletes as he looks into taking his talents to the next level.
The average high school football game on a Friday night can consist of anywhere from 150 to 200 plays. For wide receiver Grahm Goering '21, the most important step on every play is always the first one. As one of West High's best wide receivers in school history, Grahm has taken more than a couple of steps to get where he is today as an athlete.
Growing up in the suburbs of Chicago, Grahm was surrounded by athletics.
"Playing various sports while living in the Chicago area allowed him to experience a lot of different situations and make a lot of friends," said Grahm's dad, Brad Goering.
Between second and third grade, Grahm took his first steps in the world of competitive sports when he started tackle football and Amateur Athletic Union (AAU) basketball. Most second and third graders enjoy football from their couches on the weekend, but for Grahm, it was just another way to compete.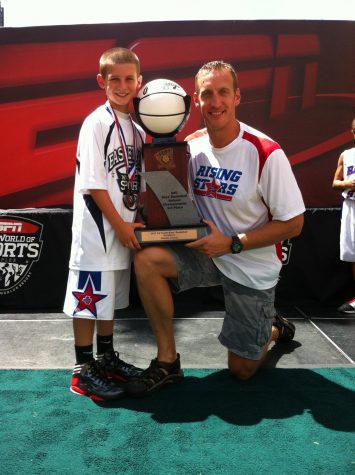 As a third-grader, Grahm and his AAU basketball team were competing at the national level in Florida. He would later match up against now teammate and friend, Marcus Morgan '21, in various basketball tournaments around the Midwest. 
In junior high Grahm continued to grow as an athlete and a leader while playing basketball, football and lacrosse.
"[Lacrosse] was probably my biggest sport when I lived in Illinois," Grahm said.
Lacrosse was put to the side when the Goerings made the move to Iowa City the summer after Grahm's eighth-grade year, due to the fact that lacrosse isn't a competitive high school sport in Iowa.
"I think removing that commitment allowed him to really put a focus on offseason training for football starting the first summer we moved here," Brad said. 
In the early '90s, Brad walked the halls of West High as a student. The decision of which high school to go to was an easy one when they made the move to Iowa City, despite West High's lack of athletic excellence through the 90s. 
"After understanding the success West has had over the years, it was an easy decision on where to go and was a very easy transition for [Grahm].  It's been a lot of fun to watch," Brad said. 
Throughout Grahm's childhood, Brad was always there to coach and support him through some of Grahm's best sports memories.
"Even today, he's just one of my biggest motivators," Grahm said. "Just knowing that he helped me through my youth with finding a work ethic and stuff like that."
Only a couple of weeks into living in Iowa City, Grahm was already working out with the West High football team as the 2017 season approached. Grahm and Marcus teamed up that year on the freshman and sophomore team where the chemistry and friendship between the two playmakers started. Outside of school and athletics, you can find Grahm and his friends staying competitive on the golf course and even playing some frisbee golf.
.@grahmgoering returns the 96-yard opening kickoff for a touchdown ‼️ pic.twitter.com/GadZ6Fwqui

— WSS Athletics (@wssathletics) September 5, 2020
Grahm hit his stride fall of his sophomore year, leading the sophomore team from almost any position on the field.
"Grahm was a varsity level receiver as a sophomore; it came down to a situation where he plays 15-20 plays in a varsity game on a Friday, or he gets 60-80 reps in a sophomore game on that same Friday," said varsity head football coach Garrett Hartwig.
As he continued to produce at the sophomore level, Grahm made various varsity debuts towards the end of his sophomore year. These included a controversial on-side kick catch in the Trojans' 2018 playoff game against Bettendorf. That winter, Grahm went on to play for the sophomore basketball team as well. 
After the 2018 season, Grahm and the West High football coaching staff knew he was going to have a big role offensively in the years to come.
"I kind of just focused on getting bigger and stronger because I knew that they hit a lot harder at the varsity level," said Grahm. From that point on it was clear Grahm was ready to make an impact as a junior. Only two weeks into the season, Grahm broke Oliver Martin's school record for receptions in a game with 13 against Southeast Polk.
As the young team struggled to find a groove last season, Grahm had some of his own adversity to overcome.
"My junior year I played on my broken foot … I wouldn't say I was 100 percent," Grahm said.
Looking at his stats not a lot of people would know the amount of pain Grahm was going through every game. Grahm was the team's leading receiver with 42 receptions, 599 yards and 6 touchdowns to help lead the team through the ups and downs his junior year.
Going into that winter Grahm's injury needed to be addressed.
"I got my surgery before basketball season. So I had to sit out for about 5-6 months."
Grahm made the best out of not being able to play basketball last winter while getting to celebrate the team's tenth consecutive trip to the state tournament from the sideline with some of his closest friends.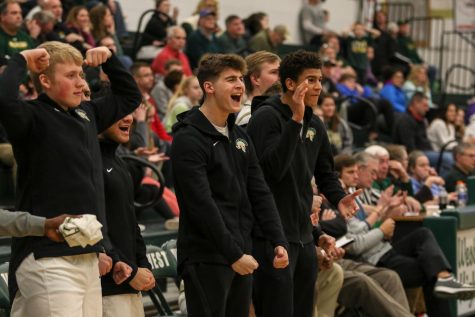 Excited to get back to work and prepare for his senior season of football Grahm found himself pushing the recovery process a little fast as he jumped into activities again and needed some more time to recover.
"I was just eager to get back into things," he said "I think it made me work harder, honestly."
Grahm's hard work over the offseason to not only overcome foot surgery but in preparation for an exciting senior season is evident on and off the field. With a small senior class, last year Grahm and his teammates knew they were going to have to step and build a better culture on the team this year. 
"Grahm has always been a leader, perhaps more of a lead by example one versus verbal," said Brad. "His coaches, especially Coach Hartwig have really challenged Grahm to step up even more as a leader on and off the field." 
Being a team captain and leader in a year like this means a lot more than in years past. Most recently, on Sept. 8, when the ICCSD decided to start the school year all online to bring all fall sports including football to a halt. It was the leaders of the team like Grahm, that brought people together during the three-week shutdown to workout and stay in shape for when the season resumed.
With the skills Grahm has shown over his career as a West High football player, he is ready to play football at the next level next year. When the shutdown went into effect on Sept. 8 Grahm knew that there were going to be 2-3 games that he wouldn't be able to showcase his talents at. 
"My goal is to play D1 football, and just play the sport I love," Grahm said. Grahm and his teammates made their first appearance back after three weeks off last Thursday against Dubuque Senior where they won 35-23. 
As the regular season of football comes to a close on Friday, Grahm and the West High football team are more than ready to make a big run in this year's playoff. So far through three games, Grahm has helped lead the team to a 3-0 start and a city championship while racking up 13 receptions for 285 yards and 6 touchdowns. Not to mention Grahm's two school records of longest kick return for a touchdown (99 yards) and tied for the most receiving touchdowns in a game with 3 after winning the Battle for the Boot 56-20. 
🚨School Record Alert 🚨
Grahm Goering broke the school record for longest kick return (99 yards). He also tied the school record for receiving TDs in a game (3). pic.twitter.com/52BqLiAxBs

— Iowa City West Football (@ICWestFB) September 5, 2020
On and off the field, Grahm has a bright future ahead of him. Make sure to stay up to date on Garrett Hartwig's squad and Grahm's future in football in the months to come. 
"Grahm is very motivated to play football at the next level in college. COVID has created an extra challenge since the Spring …" Brad said, "He continues to hear from a lot of schools and hopefully with a strong showing for the rest of the year, the right situation will present itself." 
Leave a Comment
About the Contributor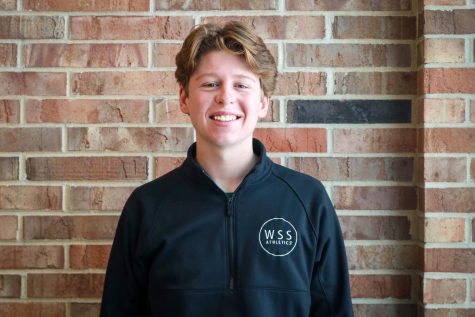 Owen Aanestad, Online Editor-In-Chief
Owen Aanestad is a senior at West. This is his third year on staff working for the online publication as the online editor-in-chief In addition to playing...