Club sports unmask potential amidst pandemic
Despite increasing coronavirus cases, club sports are finding new ways to provide athletes with opportunities to continue to pursue their passion.
2020 has demanded continuous adaptation and perseverance. A mere spike in COVID-19 cases isn't going to stop dedicated athletes from finding ways to keep up the grind. Masks, disinfectant and hand sanitizers are now normal parts of practices. Social distancing is expected, and despite these requirements, athletes still look forward to their time on the court, in the gym, or in the studio.
Hawkeye Community Rowing Club
Even with competitions being canceled, Hawkeye Community Rowing Club member Emily Elizalde '23 is still grateful for the opportunity to just be practicing. 
"I am so grateful [we can practice] because it gives me an opportunity to work on my times for the next season so I can exceed and overall work towards potentially getting recruited in college," Elizalde said.
After the cancellation of their spring season, the transition back to the physical rigor of rowing was not easy. Rowers could no longer row with teammates and had to remain six feet apart when rowing.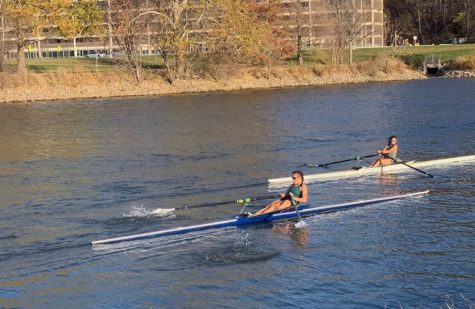 "Our first day back was super rough for me. A workout that I considered easy months earlier was now a work out I considered hard. My times on the machine increased intensely, and my skills on the water were very choppy," she said.
Elizalde pushed through intense workouts and the struggles of returning to rowing to have one of the fastest times on the team. She is very hopeful about what she can accomplish in the upcoming season. 
"If all goes well COVID wise, I am hoping we can train really hard this winter and have a couple races in the spring and watch our hard work pay off," Elizalde said.
Nolte Academy
Clubs outside of the water have other options to replicate the experience safely. Nolte Academy has taken an online approach to further minimize potential exposure to the coronavirus. When classes were temporarily held over Zoom due to increasing cases or an exposure, extra pilates and master classes were offered in the meantime. Currently, dancers can opt to attend in-person classes or remain online. In addition, the ICON program was tweaked to fit the online school schedule. This program works around the online schedule to provide dancers with an opportunity to deepen their skills and take their talents to the next level.
With the online classes came the difficulties of isolation and limitations of space.
"I definitely missed being able to dance with my friends and be in an actual studio. It's difficult to dance alone in your basement. The floor is slippery, there's hardly any room, and the combinations are hard to learn over a computer screen," said Tatiana Schmidt '23, a Nolte dancer in the classical section. "Competitions and performances are another thing that I miss. Being on stage, especially with your friends, is such an amazing feeling. However, I know it's for the safety of others and that it will be all that much sweeter when we finally do get back on stage."
Along with the time away from the studio came newfound gratitude.
"Quarantine has made me realize how lucky I am to be able to dance in a studio surrounded by my peers. I am forever grateful for the environment the studio provides me."
"
Quarantine has made me realize how lucky I am to be able to dance in a studio surrounded by my peers. I am forever grateful for the environment the studio provides me."
— Tatiana Schmidt '23
Iowa Soccer Club
ISC has chosen a similar method to continue remote training. The club transferred over to an online program amidst school closures and new state mandates. Their practices mimic regular practices, the only aspect missing is the team environment.
"Most practices consist of individual skill work, stuff you can do with like a couple of cones in a small space, along with some strength training," said Andy Lu '21. 
Without being able to go to practice in-person, Lu has also found that his skill set is much different from what it was before the pandemic, and he tries to practice with close friends as much as possible. 
"It's pretty obvious I'm not where I was at before the break. There's also the factor of practicing by myself. There's only so much you can do with one person. I've been trying to get out and practice, socially distanced of course, with some of my teammates but my parents are pretty worried about the virus so it's been hard to do that," Lu said.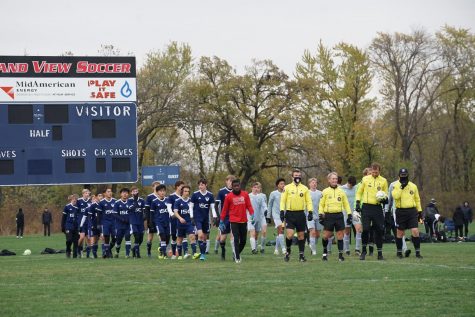 To limit exposures, the club is separated into many smaller teams when practicing in-person, so exposures are easier to contain.
"Basically when someone tested positive, the team that player is on had to stop attending ISC activities for two weeks," Lu said, "I think that happened to two or three teams."
To prevent a possible outbreak amongst themselves, the team has put in many preventative measures each player is required to follow. Lu has also put in his own measures as well. 
"Everyone was required to wear masks. We were also told that we must only arrive to practice five minutes early, no earlier. They also made sure we socially distance when we were able to, like when a coach was giving directions or when we were stretching," Lu said. "Aside from that, I try to avoid touching my face and when I take off my mask to drink water, I'll sometimes step outside the turf area away from others. I also try to put on hand sanitizer before and after practice."
Performance Health & Fitness
Without the assistance of clubs, some athletes take it into their own hands to prepare for their upcoming seasons. Some West High athletes choose to continue improving at Performance Health & Fitness with Brendon Panther. One of these athletes, Emma Dunlap '22, is working in and beyond the weight room to be prepared for both the wrestling and club volleyball season.
"Even though we can't be at school it is important for me to stay in the weight room consistently so I don't lose my progress and keep getting stronger. Besides lifting I've been doing cardio and running one mile everyday since we first went back online. I have also been going to some private lessons for volleyball so I stay engaged with the sport in a place with limited exposure to others," said Dunlap.
Dunlap uses her time in the gym and weight room as an escape from the daily routine of online schooling and the uncertainty of the Coronavirus.
"For me, my workouts have been very therapeutic for me and I've used them as a way to de-stress while dealing with online school. As an athlete right now, it feels like many things are out of my control because of the need to adapt to the COVID cases rising, so I am glad that I can get in the gym and be in control of my own progress and use this time I'm provided with to continue to improve even though getting in the gym looks different than before."
Lacking the schedule she's been used to, Dunlap hasn't been able to continue building off of her progress. However, she's looking forward to returning to school along with her fellow athletes.
"Having sports seasons being very up in the air has been tough on me because of all the inconsistency. Not being able to stick to a practice or lifting schedule because of COVID disrupts my progress and has been frustrating to experience my setbacks as a result," said Dunlap. "I hope we can safely return to school athletics because I know many athletes don't have the opportunity to get into the gym while school is shut down because they do all of their lifting and sports through West, so I hope those athletes can safely get back to the sports they are passionate about."
Although athletes may not be able to have a conventional season, they are still finding ways to continually improve and focus on the big picture. Whether that's practicing at home, safely going to a gym, or getting in shape for their season. After so much uncertainty and unpredicted breaks in both school and club athletics, these athletes are ready for anything else the Coronavirus has to offer.
Leave a Comment
Donate to West Side Story
Your donation will support the student journalists of West High School. Your contribution will allow us to purchase Scholarship Yearbooks, newsroom equipment and cover our annual website hosting costs.
About the Contributors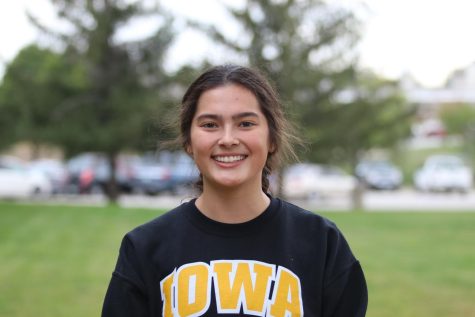 Alaina Greenlee, Video Editor
(she/her) Alaina Greenlee is a senior at West and is in her second year as the WSS Video Editor. Between creating half-decent videos and being below average...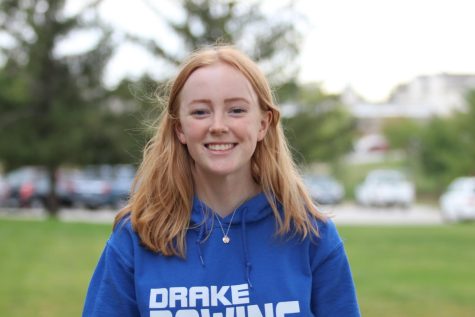 Camille Gretter, Online Editor-In-Chief
(she/her) Camille Gretter is a senior at West High and this is her third year on staff. She is the Online Editor-in-Chief, and outside of West Side Story...