Athletic adjustments
With junior year being crucial for college athletic recruitment, the cancellation of spring sports presents many challenges and unique opportunities for athletes.
Amongst the flood of cancellations, spring sports seasons are no exception. What will become of the summer season has yet to be announced. Athletes are doing their best to stay in shape and keep their hopes up for next year's seasons. However, college recruitment plans have also been cut short, having a unique impact on the class of 2021, as junior year is typically the most important year in the recruitment process.
Following her recovery from a hip injury that plagued her sophomore season, Maddy Negley '21 was looking forward to improving her times in track and field this spring.
"Having had an injury last season didn't leave me very satisfied, but cross country showed me that I could keep getting better after some setbacks," Negley said.
With her high school career cut short of one essential season, Negley missed out on the chance to improve her times in races and has one less season for college coaches to look at.
In addition to missing the athletic component of the track and field season, Negley is missing spending the time she had with her fellow teammates.
"After every practice we go back to the locker room and the girls just talk. It's really quality time having just finished a workout and spending it with your teammates," Negley said.


"
After every practice we go back to the locker room and the girls just talk. It's really quality time having just finished a workout and spending it with your teammates."
— Maddy Negley '21
In terms of the college recruiting process, emails and letters play a large role in the task. Negley has reached out to some schools on her own, but most of the time coaches are contacting her.
"Coaches are reaching out to me so far. It's been mainly small schools that contact me, and that's cool," Negley said.
Negley's first priority is academics and she would rather compete at a smaller school due to the rigor and competitiveness that comes with Division 1 athletics.
For junior Marcus Morgan, the prospect of losing his baseball season is a huge loss. Similarly to Negley, his experience with the recruiting process mostly involved coaches reaching out to him. As Morgan is pursuing D1 athletics, junior year is a pivotal point in the process.
"It's a big summer for recruiting and taking a whole season off can set you back a lot as a player. It would also really stink to not be able to play with this senior group one last time," Morgan said.
As of print time, a decision hasn't been made on what will happen to the summer sports season, it's essential for athletes to stay in shape for upcoming seasons. For Morgan, the priority is establishing a routine.
"Right now, I'm mostly lifting, trying to get stronger with two of my buddies and also throwing with them a couple times a week when we can," Morgan said.
This soccer season was going to be a major one for Matthew Steinbronn '21. Confident that the team was going to take home the state championship this year following a runner-up finish last year, the loss of his junior season has had a big impact.
"This season was going to be special for me as it was going to be the last season I would play with the teammates I had played with since I was 11 or 12," Steinbronn said.
Steinbronn wasn't initially focused on continuing his soccer career at the collegiate level, but his mindset quickly shifted gears after coaches started reaching out to him.
"My plan has always been to continue with academics going into college, so I never really reached out to coaches. Then I began getting some interest and coaches began reaching out to me and my mindset radically changed," Steinbronn said. "Now that it's cancelled, it's been important to keep in touch with coaches and communicate other ways for them to look at me."
Currently, Steinbronn is looking towards D1, but is planning on keeping his options open.
In addition to losing an important season, one of the great losses from not having a soccer season is playing with the group of seniors. For Kolby Godbolt '21, this holds true.
"I was really looking forward to playing with the group of seniors. I've been playing with them since I moved here from Tennessee in 6th grade," Godbolt said.
With more free time due to the cancellations, Godbolt is taking advantage of the situation to hone in on his soccer skills.
"I'm lifting and doing soccer drills. Quarantine has given me a chance to focus more on soccer and not be distracted by other things," Godbolt said.
In terms of the recruiting process, Godbolt is looking into D1 athletics, but wants to attend a school where he feels most at home, regardless of the division.
Sports that don't take place during the spring utilize the offseason for recruiting opportunities. With the NCAA under a recruiting dead period and all schools not being able to hold official visits until the summer, junior Aurora Roghair's college process has been put on hold.
Although the recruiting dead period is in place, coaches can still text, call and hold Zoom meetings with athletes.
The club swimming spring season was also cut short and the meets weren't able to take place as planned. Clubs are trying to get creative to keep their athletes in shape with pools being closed.
"Our club [Iowa Flyers Swim Club] is holding body weight dry land Zoom sessions and I've been going on bike rides with my sisters, which is a lot of fun," Roghair said.
Roghair is currently looking at continuing her swimming career at the D1 level. Even though the swimming recruiting process tends to start around the summer prior to junior year, spring is still an important time.
"I would say it depends on each person and how they're taking the recruiting process," Roghair said. "It's definitely important to continue showing the coaches commitment and potential."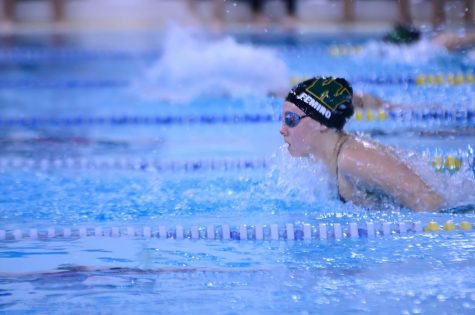 Roghair's fellow teammate, Nola Femino '21, relates to the struggle of staying in shape with pools being closed.
"It's really difficult to stay in shape swimming wise. I've been running a lot to try to keep my aerobic capacity up," Femino said. "It's definitely been hard because I'm much more used to being in the water."
For Femino, finding the balance between school and athletics is a key aspect in her start to college recruitment.
"I'm looking into D3 athletics more, because I want to have time to adjust in college and not have such a high intensity of sports, and be able to focus on academics more. I have sent my times to some D1 schools so I'm not sure where I'll end up," Femino said.
Once restrictions are lifted and college visits resume, Femino hopes to look at more schools and meet with more coaches.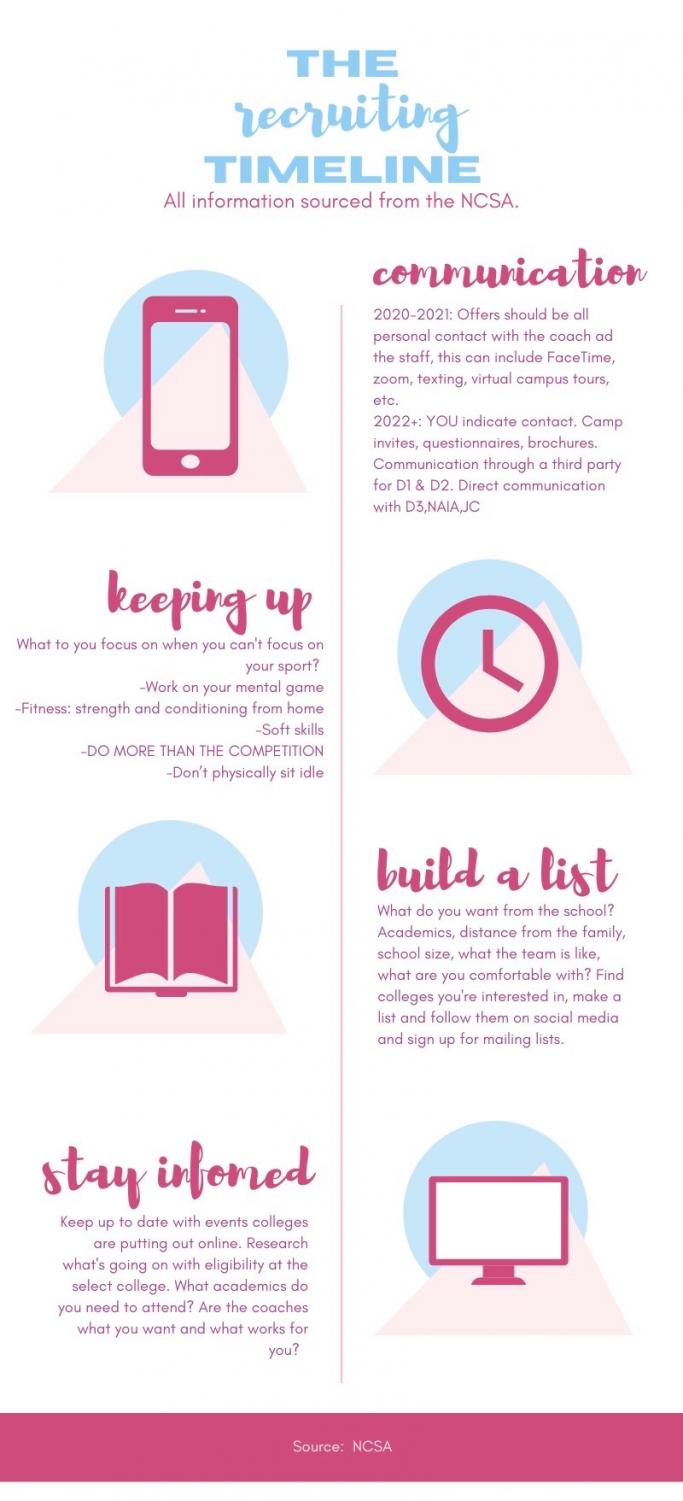 Leave a Comment
Donate to West Side Story
Your donation will support the student journalists of West High School. Your contribution will allow us to purchase Scholarship Yearbooks, newsroom equipment and cover our annual website hosting costs.
About the Contributor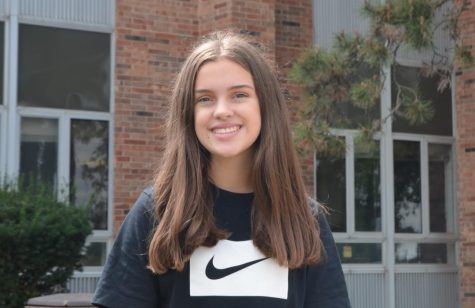 Caroline Chandler, Assistant Sports Editor
Caroline Chandler is a senior at West High. This is her second year on staff as the print assistant sports editor. When you can't find her on the tennis...