Staff Spotlight: Gwen Watson '21
Meet the Online Entertainment Editor Gwen Watson '21 in the newest edition of Staff Spotlight.
Gwen Watson '21 is a photographer for WSS and manages the online entertainment section. As entertainment editor, they are responsible for choosing entertainment articles and looking them over before publication. Like all editors, they are also a part of the editorial board that makes decisions regarding the newspaper and votes on the editorial.
"I like having more say and I like being involved more than just being a photographer or writer," Watson said.
Watson has been interested in photography ever since they were little. Their dad kept a camera in his car when he drove around and would stop and take pictures of anything interesting that he came across.
"When I would visit him, I used to take his camera and go out into the backyard and take pictures of plants," Watson said. "And then I would make PowerPoints of the photos. That was one of my favorite things to do as a kid."
"
When I would visit [my dad], I used to take his camera and go out into the backyard and take pictures of plants. And then I would make powerpoints of the photos. That was one of my favorite things to do as a kid."
— Gwen Watson '21
Their love of photography only grew from there, so when Watson was a freshman, they took Foundations of Journalism, the prerequisite class for the West Side Story, to have the opportunity to do more with their photography. They really enjoyed it, so they applied as a photographer and have been on staff for three years now. 
Along with taking photos, Watson also occasionally makes music for videos that other WSS staffers make. Like photography, Watson's interest in music is inspired by their father.
"My dad's a drummer and kids want to do what their parents do, so I wanted to play my own instrument," Watson said.
After a bit of debating, Watson chose to learn the guitar. Now, 10 years later, they own nine guitars, three ukuleles, a piccolo guitar, an electric cello, a banjo and an otamatone. Their newest guitar is a Partscaster guitar, or a guitar that is cobbled together using parts from different guitars. This means that the guitar is completely unique, and not specific to any sort of brand.
"The body is made out of vinyl, it's covered in Italian vinyl, which is very strange. And the neck is handmade from somewhere in Russia, and it has parts from Japan," Watson said. "It's just a weird little guitar and I love it."
They also started composing their own music using the software Ableton Live which works with both microphones for live instruments and Musical Instrument Digital Interface (MIDI) instruments, which are essentially digital instruments. Watson uses a combination of MIDI instruments and recordings of their guitars to create songs. Instead of a standard keyboard, Watson uses a Seaboard which is a lot more dynamic and open-ended.
"The Seaboard has 5D touch, so if you're playing a piano you can't do vibrato by wiggling your finger, but with the seaboard, if you do that, it'll actually have vibrato," Watson said. "You can buy different modules, so there's the keyboard itself and then there's a touch block that can function as a drum pad … and you can connect [the seaboard] via Bluetooth to your phone or your laptop."
When it comes to actually creating a song, Watson tends to start simple and go from there.
"My process is different every time because I'll get a thing stuck in my head, whether it's a drumbeat or a chord progression or something … and then I build everything else around it," Watson said.
To expand on their music skills this year, Watson signed up to take AP Music Theory. They first learned about the class when they were a freshman, but had to wait until they had room in their schedule to take the class. 
"I think the most valuable thing I've learned from it is how to accurately use the circle of fifths and actually do stuff with it," Watson said.
Watson plans to continue with music in the future. After taking a gap year to work, they want to major in audio engineering at one of three colleges: University of Southern California, Cleveland State University or Berklee College of Music. Music has always been a big part of their life, and they want to be able to continue with it as a career.
"When you see a picture of someone just vibing while making beats, that's what I want to do but professionally," Watson said. "[Music is] something that's universal but it's also my own. I can make it whatever I want to make it. There's so many different things you can do, and so many different effects you can put on things. The possibilities are endless and I love it."
Leave a Comment
Donate to West Side Story
Your donation will support the student journalists of West High School. Your contribution will allow us to purchase Scholarship Yearbooks, newsroom equipment and cover our annual website hosting costs.
About the Contributors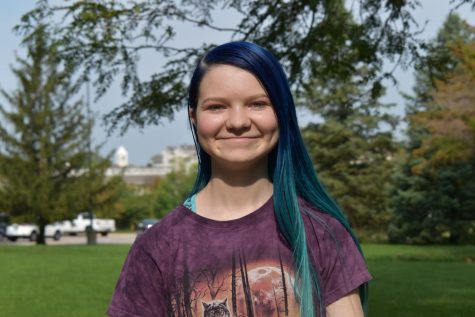 Bess Frerichs, Online Managing and Feature Editor
(she/her) Bess Frerichs is the online managing and feature editor. As a senior, this is her third and final year on staff. She enjoys reading, writing...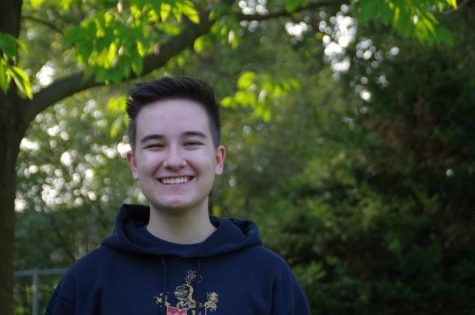 Gwen Watson, Entertainment Editor
Gwen is a photographer and online entertainment editor on WSS. This will be their third year on staff. In their free time Gwen enjoys cuddling with their...