Post-vax facts
As more people can get vaccinated, it's important to know what to expect. Here are some tips about the post-vaccination period.
What are common side effects after getting vaccinated? 
According to the CDC, common side effects following vaccination include fatigue, headaches, chills, nausea and fever.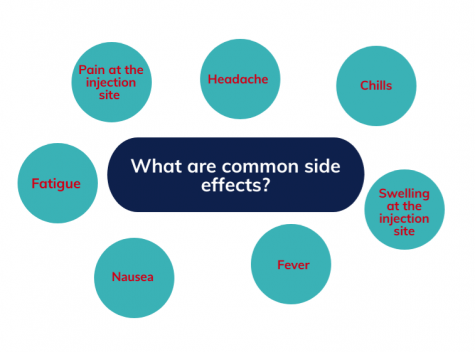 It's also common to have pain, redness and swelling at the injection site. According to University of Iowa Internal Medicine Professor Jeffery Meier, the second dose is more likely to cause these side effects with higher intensity.
"The side effects are an indicator that your immune system has been activated," Meier said. "This immune system activation can produce a localized reaction at the site of vaccination or a systemic reaction throughout the body." 
How should these symptoms be managed?
Dilek Ince, a professor and vaccine researcher at the University of Iowa, recommends taking Tylenol or ibuprofen and drinking plenty of water to lessen some of the systemic side effects, such as fever. To help with soreness in the arm after receiving a shot, Ince recommends applying a clean, cool washcloth on the area and to exercise the arm consistently to decrease discomfort.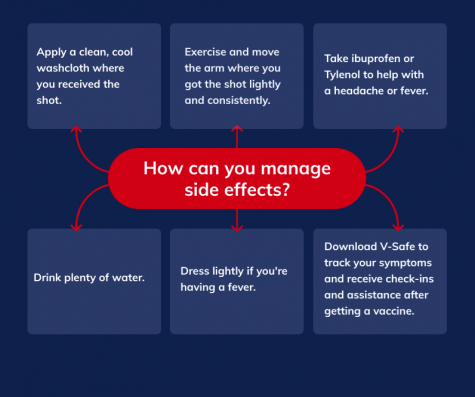 The CDC also recommends using V-safe, a smartphone-based tool that uses text messaging and web surveys to provide personalized health check-ins and assistance after you receive a COVID-19 vaccine. You can monitor your symptoms and get assistance if anything is abnormal. Symptoms should go away after about 48 hours, but if they persist or worsen, you should contact your healthcare provider and continue to monitor your symptoms.
When are you fully vaccinated? 
You are considered fully vaccinated once it has been two weeks after your second dose of Pfizer or Moderna or two weeks after your single dose of the Johnson & Johnson vaccine. As of print time, Pfizer has been approved for ages 12+ while Moderna is approved for those 18+ and Johnson & Johnson for those 18 to 49 years old. Around 25% of Iowans getting Moderna or Pfizer vaccines have missed their second dose, but it's important to remember that you will not be considered fully vaccinated until you have received both doses.
Once fully vaccinated, when is a mask still necessary?
As of print time, the CDC says fully vaccinated people no longer need to wear a mask or socially distance themselves outdoors and in nearly any indoor setting, with a couple exceptions. The CDC recommends that you continue to wear a mask when traveling in buses, trains and airplanes. If a mask is required by federal, state or local laws, as well as regulations in local businesses or workplace settings, these rules must continue to be upheld.
How should you ask someone about their vaccination status?
It can be a touchy subject to ask people if they are vaccinated or not. However, Ince recommends being direct and honest.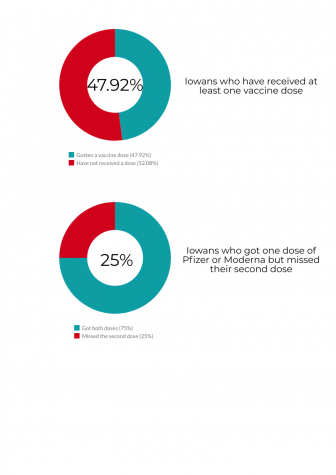 "Let them know you are not asking to judge them, but that knowing their vaccine status would help you adjust your own behavior around them," Ince said.
Is Johnson & Johnson safe?
Use of the Johnson & Johnson vaccine resumed April 23. The vaccine was temporarily recalled from April 12 to April 22 after six cases of a rare blood clotting disorder were reported out of the 6.8 million vaccines issued at the time. The clots can cause thrombosis, or blocking of blood flow, a condition that kills up to 100,000 people per year in the U.S. The recipients also developed thrombocytopenia, which causes abnormally low platelet levels in their blood. It is important to know your risk as the clots are more likely to occur in women who are taking birth control or are pregnant, as well as people with hereditary disorders that predispose them to blood clotting. While there can be risks that come with getting vaccinated, remember that these complications are very rare. According to CNN, the risk of dying from COVID-19 is 40 times the risk of developing the blood clots from the vaccine.
"
Getting vaccinated does not only protect you but helps protect those around you."
— Vaccine Researcher Dilek Ince
Advice from a vaccine researcher 
While many are considering remaining unvaccinated, Ince strongly believes everyone should get a vaccine. 
"Vaccines are safe and effective. They are an important tool —‌ maybe the most important tool —‌ for us to end the pandemic," Ince said. "Getting vaccinated does not only protect you but helps protect those around you. Some people around you might be at increased risk of severe illness from COVID-19. By getting vaccinated, you help decrease the risk of them getting the infection." 
Leave a Comment
Donate to West Side Story
Your donation will support the student journalists of West High School. Your contribution will allow us to purchase Scholarship Yearbooks, newsroom equipment and cover our annual website hosting costs.
About the Contributors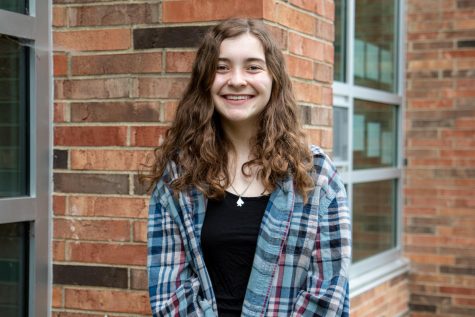 Katherine Shoppa, Print Co-Editor-In-Chief









(they/them) Katherine Shoppa is a senior in high school and this is their third year on staff. They are the Co-Editor-in-Chief of the...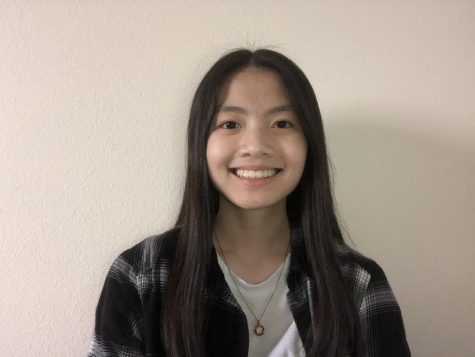 Grace Huang, Print Health & Science Editor and Designer
(she/her) Grace Huang is a senior at West High. She is a second-year designer and artist for print, but this is her first year on staff as the Health &...