In-person school and the COVID-19 ripple effect
A look into the ripple effect of 100 percent in-person school and how it's affecting COVID-19 cases in the ICCSD and beyond.
61 percent of students across ICCSD have been fully in person for over a month since the start of the third trimester on Feb. 15, after Iowa Gov. Kim Reynolds signed a proclamation stating that all schools must offer a 100 percent in-person option for students. When this policy was announced, many worried that this would cause an increase in COVID-19 cases and put students at risk.
Since Aug. 15, 2020, there have been 1,275 positive cases of COVID-19 among students (including current and presumed cases), and another 250 among staff across the district. This represents 9 percent of the 14,000 students currently enrolled in the district, and 15 percent of the 8500 students currently in person. 
Currently, there are 141 COVID-19 cases in ICCSD, 57 of which are confirmed cases and the other 84 are presumed positive cases among students. This accounts for 0.95 percent of the student population and 1.7 percent of the population of in-person students. There are three COVID-19 cases, one of which is a confirmed case and two of which are presumed positive, among staff in the district.
The Cedar Rapids Community School District, on the other hand, has only 7 positive cases and 44 students in quarantine, out of a student population of 16,294 students.
On April 11, there were 984 students in quarantine across the district. On April 13, in order to lessen the number of students in quarantine, ICCSD's quarantine restrictions were lessened. Those who were exposed to someone with COVID-19 do not need to quarantine if all groups involved were properly wearing a mask.
While these numbers seem to suggest an increase in cases due to the opening of schools, there has been no major increase in the number of cases across Iowa. Although the number of cases has been fluctuating, there is no net increase.
In Johnson County, the positive test rate in the past 14 days is at 5.2 percent, which is just slightly above the positive test rate for the state of Iowa, which is currently at 4.8 percent. While they have similar overall rates, Johnson County has a much higher percentage of cases in the age group from 18-29, which is 46 percent of all positive cases, compared to Iowa's 27 percent.
This could be due to Iowa City being a college town, which would cause Johnson County to have a larger population of college-age individuals, and therefore a higher case rate among this age group. Story County, the location of Iowa State University, also has a high proportion of COVID-19 cases among college-age individuals, at 46 percent of all positive cases. 
Another difference between Johnson County and the state average is the percentage of positive cases among those 17 and younger, which represents 7 percent of the total positive case rate in Johnson County but only 4 percent of the state average, and an even smaller 2 percent in Story County. However, the reason for this difference is unknown. This difference would not have been caused by the governor's proclamation to have a 100% in-person school option, because it applied across the entire state, and so it would affect different areas uniformly. However, this could have affected other factors, such as the number of students in schools, the ability to social distance within schools and students being the last age group to receive vaccines.
Leave a Comment
Donate to West Side Story
Your donation will support the student journalists of West High School. Your contribution will allow us to purchase Scholarship Yearbooks, newsroom equipment and cover our annual website hosting costs.
About the Contributor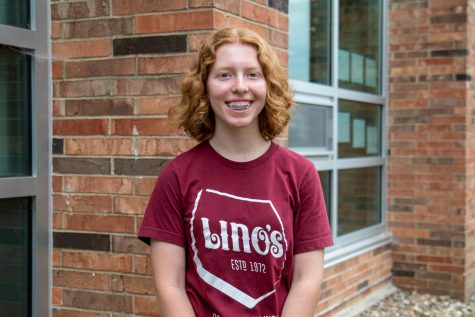 Vivian Polgreen, Managing Co-Editor, News Editor
Vivian Polgreen is a junior at West. She is the co-news editor for the online publication ad it is her second year working on staff. In her free time,...