Earthquake affects: The emotional magnitude of earthquakes
How families living in Haiti and outside of it were affected by the most recent earthquake.
If asked, most students might say that they know of Haiti. They might mention the country's history of natural disasters such as earthquakes and hurricanes, or the enormous amounts of poverty seen there. And, even though this is an important part of the country's personality, it is not all of it. As the first successful slave rebellion and black-led republic, it has made history. 
Haiti won independence from France in the year 1804 and is the second country in the Americas to gain independence from colonial rule, the first being the United States. This early independence gave the country a rough start. There was civil unrest and economic turmoil. But, in October of 1804, the first emperor of Haiti was declared. 
Over its history, the constantly changing economic and governmental status of Haiti, added to the country's history of natural disasters such as earthquakes and hurricanes created constant unrest. Evolving from an emperorship to the semi-presidential system Haiti is today, the rocky governmental systems of the country have continued into the present. 
In 2016, Jovenel Moïse became president of Haiti, which was still struggling to recover from a devastating 7.0 magnitude earthquake on January 12, 2010. In the early years of his term, he sent the country into an economic spiral by his embezzlement of funds from a relief deal that was seen to have the potential to bring Haiti out of their desperate financial situation. He made many other choices during his presidency that dug Haiti deeper into a financial crisis up until July 7, 2021, when Moïse was killed in his home. 
The unstable governing of Haiti after the earthquake in 2010 made it almost impossible for the country to make any recovery efforts at all. This lack of recovery didn't just affect the country's government or economic state. It also affected the people living there. 
The US Geological Survey reports that there were 22 magnitude-7 or larger earthquakes in 2010, with nearly all casualties from earthquakes being caused by the Hatian earthquake on January 12. In 2010, roughly 227,000 people were killed by earthquakes, but over 222,570 of these deaths occured in the January earthquake. 
In August of this year, another earthquake hit Haiti. This magnitude 7.2 disaster destroyed countless homes, injuring and killing thousands of people. As of Sept. 14, 2021, more than 2,200 people have been confirmed dead with hundreds of people still missing.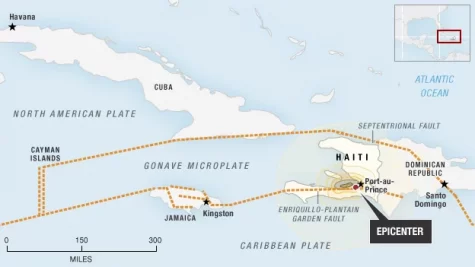 A question often asked is 'why Haiti?'. Why is Haiti so affected by earthquakes? The country is located on a fault line between two major tectonic plates: the North American plate and the Caribbean plate. The fault line is called the Enriquillo-Plantain Garden line, and according to the U.S Geological Survey, it is the same plate that caused both the earthquake in 2010, and the earthquake this year. 
The earthquake has crumbled buildings and torn up streets. This devastation is only part of the problem, however. People have been trapped under rubble and are missing family members. People are hurting. 
Dimy Doresca, Associate Professor in the Tippie College of Business at the University of Iowa and Chair of Community Health Initiative (CHI) Haiti, grew up in Haiti and is heartbroken over this latest earthquake. He has had a difficult time living in the United States while Haiti is struggling. To try and help Haiti, he has reached out through volunteer efforts. 
"I tried to coordinate some volunteer activities through this organization that I'm the chair of: the Community Health Initiative for Haiti. And I tried to coordinate some health care activities, some clean water, sanitation, etcetera." said Dimy. "And I tried to send some help to my neighborhood, you know, the neighborhood I grew up in that was terribly devastated with lots of people that were basically homeless. I tried to send some help there." 
Living so far away from Haiti is difficult for Dimy because the country was his first home. However, Iowa City is his home now, too. 
 "You know, my life is here, in Iowa City. That's where my kids are, that's where I have my work. There's only so much I can do back [in Haiti]. I cannot even go and spend an extended period of time there because I have to work."
 Alice Doresca '23, Dimy's daughter, shares her feelings about the recent earthquake. 
"I feel like Haiti can never get a break. Almost every year something bad is happening there, like with the President getting killed and now the earthquake, and even the earthquake a few years ago, something's always happening."
"
I feel like Haiti can never get a break."
— Alice Doresca
The Dorescas' family members have also been affected by the earthquake. Alice reports that none of her family members who live in Haiti were injured, aside from property damages. However, her family in Canada and in the United States have been affected mentally. 
"Even for my family in the US and Canada, [the earthquake] has definitely had an effect on their mental health. And I know a lot of them have been sending money to relatives in Haiti." Alice said.
For Dimy, the earthquake has even disrupted some of his personal history.  
"I always tell people, it's still my homeland, that's where I was born and raised, it's where I grew up. Looking at my high school, they had to bulldoze my high school last week, because the building was basically in terrible shape." said Dimy. "They had to put up some temporary shelter for the kids to come to school." 
Dimy is trying to help and provide aid to Haiti through the Community Health Initiative for Haiti (CHI) to send donations and supplies to people struggling there. He feels that this project is making an impact, however small it may be. 
"I can try to make some individual impacts or some neighborhood impacts. But again, there's so much I can do." Dimy said. 
Donating through this organization is a good place to start to provide help for Haiti. If you would like to help, the organization's website is www.chihaiti.org and on it you can find places to donate and volunteer opportunities. Another place to donate is www.hopeforhaiti.com. 
Learning about Haiti's history of earthquakes and sharing stories about the most recent earthquake can help prompt action to help Haiti. Alice hopes that Haiti can make a recovery to help people everywhere. 
"I just hope the situation gets better. It's really sad, hearing all these things happening in Haiti, like, almost every month." Alice said. "I just hope it gets better so that my family and relatives, and everyone in Haiti can start being in a better state."
Leave a Comment
Donate to West Side Story
Your donation will support the student journalists of West High School. Your contribution will allow us to purchase Scholarship Yearbooks, newsroom equipment and cover our annual website hosting costs.
About the Contributor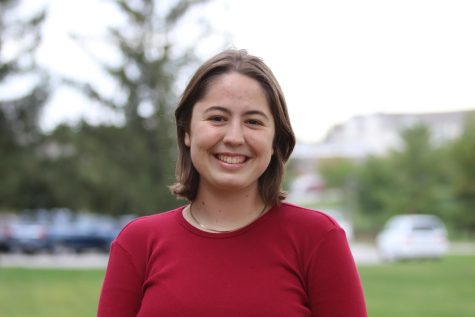 Audrey Parrish, Copy Editor
(she/her) Audrey is a senior and has been on the West Side Story staff for 3 years. She is the Copy Editor for the WSS website this year. For fun, she...