West High volleyball retires Caroline Found's number 9
Before the Trojans faced off against Dubuque Senior for their last regular season home game on Oct. 5, West held a ceremony officially retiring the number 9.
Ten years ago on Aug. 11, 2011 tragedy struck the West High volleyball team when their beloved setter Caroline "Line" Found passed away in a moped crash. Behind former Head Coach Kathy Bresnahan, the team went on to win the 2011 state championship in honor of Caroline and her mother Ellyn Found, who lost her battle with pancreatic cancer only a couple of days later. The phrase "Live Like Line" and Neil Diamond's song "Sweet Caroline" became the heartbeat of the West High community. The inspiring story was later turned into the movie "The Miracle Season" starring Helen Hunt as Coach Bresnahan.
Ten years later in the same gym that Caroline herself played in the West High volleyball team and current Head Coach Keeley Arnold honored Caroline by officially retiring her number 9.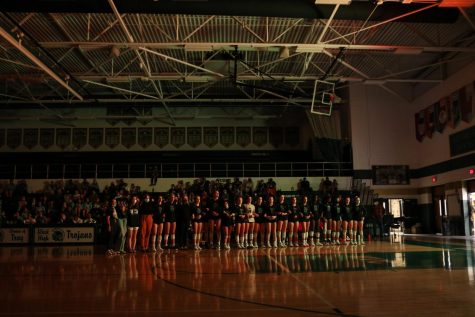 As warmups concluded and the lights dimmed to black, a spotlight appeared in the northeast corner of the gym highlighting the framed #9 West High volleyball jersey. Caroline's father Ernie Found alongside Bresnahan emotionally addressed the team and crowd after the ceremony inspiring people to "Live Like Line". Friends, family and former teammates of Caroline showed their support from the stands wearing the famous bright blue T-shirts with Caroline's name and number on the back.
The Trojans went on to take down the Rams in four sets (25-18, 14-25, 25-14, 25-23) behind 18 kills from Melae' Lacy '24 and 14 from senior Sydney Woods. Arnold and the West volleyball team will travel to Cedar Rapids Jefferson this weekend Oct. 9 to compete in the Westside Tournament.