The Miracle Season
Hollywood has come to Iowa City, turning a hometown miracle into a nationwide inspiration.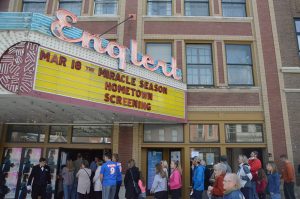 On Sunday, March 18, hundreds of community members arrived at the Englert Theatre for the red-carpeted hometown screening premiere of "The Miracle Season," a movie that chronicles the story of the Women of Troy's back-to-back volleyball state championships. Set in 2011, West High's volleyball team fresh off a recent championship loses their star player and team captain Caroline 'Line' Found in a moped accident just as the new season takes hold. Her teammates are faced with insurmountable grief, just as father Ernie Found deals with the loss of his daughter Caroline and his wife Ellyn, who passes away a week after Caroline's funeral due to end-stage cancer.
However, under the leadership of former coach Kathy Bresnahan, the team would overcome all odds to win yet another state championship against rival City High.
"I remember standing there live when they won the championship, holding Caroline's picture," Found recalls. "I remember standing with tears loaded in my eyes and thinking, 'God this is so surreal.' This is unbelievable that this happened. I almost felt like it was so surreal of 'man, this is almost like being in a movie.'"
He wasn't alone in feeling this way. LD Entertainment would eventually pick up the movie concept and film for months in Canada, with the basis of the movie being "The Miracle Season" book written by Bresnahan in her point of view. Although the book was recently released to the public through book signings, it was a product of three summers's work.
"I spent eight hours a day the entire summer vacation writing … about 20,000 words. And not good words," Bresnahan said. "I'm a coach, not a writer, so I hired a writing coach to read it. It was an interesting process."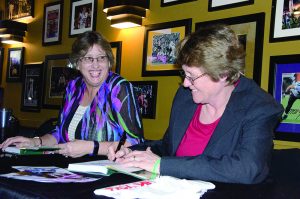 Regarding the seriousness of the events that have happened, Found and Bresnahan both have been aware of the expectations of community members for both the book and movie, as well as what Hollywood's portrayal could be. However, the movie premiere was both bittersweet and emotional as those who were close to Caroline and the season's story gathered to celebrate how an initial tragedy became a miracle.
"There were lots of conflicting emotions, but it was exciting because we had put so many hundreds of hours preparing for that day, from tickets to the venue to the right equipment," Bresnahan said.
By her side the entire day were members of her 2011 team who came together on the red carpet in a bittersweet moment. Through it all, Bresnahan noticed that they were holding hands.
"I'm so proud of them. It makes my heart burst with pride when I see them together. And that's what they did that season. When they were most upset they would hold hands," Bresnahan said. "To see them automatically searching for each other's hands without even talking about it, and watching [them] watch the movie when the funny parts would come and they would hit each other was fun."
The movie premiere was also an appreciation of the work and time that was put into the movie process, as both Bresnahan and Found had the opportunity to visit the Vancouver set several times. During those visits, both acquired a greater sense of the movie-making process, and especially the effort of the actors. Bresnahan, who was portrayed by Oscar-award-winning actress Helen Hunt, noticed Hunt's dedication to detail throughout filming.
"[Hunt] had me record and read every single one of her lines in the script how I would read it. She would videotape my walk so she could copy it," Bresnahan said. "It's amazing the amount of time they work in perfecting their craft."
With a movie centered around volleyball, it was also necessary for the actors to train in the sport to successfully film volleyball game and practice scenes.
"The only one who absolutely could not play was Erin Moriarty, who played Caroline's best friend and main character Kelley [Fliehler]," Bresnahan said. "I've worked with her for hours, and the whole [team] just played for hours and hours." 
After the completion of the movie, it began to advance through beta testing rounds to be graded on and judged for overall composite scores.
"[To the producer's] surprise, the movie scored amazingly high…they started to sense that this was going to be far-reaching and meaningful," Found said.
The thought proved to be true as hundreds of thousands of people started to reach out to Found and Bresnahan after the premiere and book release.
"The feedback has been very thoughtful and kind. [Viewers] sat through it with either tears or cheers," Found said.
In the midst of the spotlights and emotions, Bresnahan frequently roots herself back to the main purposes of the movie and book.
"It's really the need to see my players… and Caroline and Ellyn being celebrated. You open yourself up to criticism and that's the hardest part. Criticism of the book, criticism of people thinking we're trying to make money," Bresnahan said. "[However], the best part is so many texts and messages coming in already from people who are inspired, and the movie's not even out yet."
The movie will open up at 12,000 theaters nationwide as both Bresnahan and Found reflect on the entire process and their messages for Caroline as her influence spreads across the nation.
"I promised when I did her eulogy at her funeral, I said that 'I hope we make you proud,' and I hope we've made her proud," Bresnahan said. Found has a similar message.
"
I promised when I did her eulogy at her funeral – I said that 'I hope we make you proud,' and I hope we've made her proud."
— Kathy Bresnahan
"I'd tell her, look at all the marvelous things you did and all the people that you influenced and helped," Found said. "…We all wish you were still here to keep putting smiles on our faces. I'd hug you more than anything else."