Students protest for Black Lives Matter in West High hallways
Students gathered after a meeting addressing racism at West High and marched through the halls on Nov. 8, protesting racial injustices at school.
Updated on Nov. 15
Mr. Gross addressed students in the Monday Message on Nov. 15 with information about actions being taken after the protest. West High will be reinstating the Black Student Union and reaching out to students who identify as Black to be part of the organization. West High will also be putting together a building-wide Diversity, Equity and Inclusion Committee that will be made up of students, faculty and staff and possibly parents and community members who would like to be involved. The purpose of the committee will be to come up with solutions to the issues we are facing as a school. If students are interested in this, Mr. Gross would like them to email him. 
In an email sent out the evening of Nov. 7, Principal Mitch Gross invited students to attend a meeting addressing a social media post where a West student used a racial slur. "I am deeply sorry this happened and we will do everything we can to ensure West is a safe place for all of its students, especially those who have been subjected to systemic injustices," Gross wrote in the email.
The meeting started at 8:30 a.m. and after it concluded, a crowd of students gathered and walked through the hallways during third period, expressing their frustration and concern about racism at West High. Students carried posters and signs and chanted "Black Lives Matter" as they walked through the school, opening doors of classrooms to spread their message.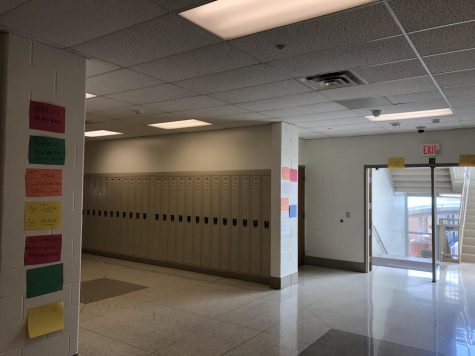 Jill Hofmockel, a librarian at West High, expresses her opinion of the protest.
"I think kids just don't really feel like they're being heard. That they're experiencing things that aren't being addressed," Hofmockel said. "What these kids are feeling and experiencing is real and systemic and sustained and they're focusing their pain into using their voices."
Annie Gudenkauf, a Student Family Advocate at West, was following the protest as they walked, and shared her opinion.  "It makes me sad that people feel they have to be so disruptive to be heard but I hope they give them what they are looking for," Gudenkauf said.
Ava Conrads '23, a student in the protest, shares her reason for protesting today. "I want them to fire the racist teachers and actually give us the justice we deserve." 
Some students, however, were following the protest, but at a distance. 
Sou Sanogo '23 said, "We need to unite together, but this here is not the solution. I'm sorry y'all don't want to hear it. We can find better ways to unite." 
After marching through the halls, the protest traveled outside and crossed the front lawn of West High to walk down Melrose Avenue. They eventually returned inside. 
After the march, students gathered in the little theater to continue the protest. District equity administrators eventually arrived to discuss the issues students were protesting.