Life as a lifeguard
West High students who lifeguard for the Coralville pool during the winter explain several aspects of their job.
Many people think of lifeguarding as strictly a summer job, but this is far from the case. Maddie Caylor '22, one of several West High students who have continued to work at the Coralville indoor pool during the school year, appreciates the flexibility of winter season lifeguarding.
"I like the hours for me personally because I can just pick and choose," Caylor explained.
A flexible work schedule is ideal for students with commitments to other extracurriculars. This is especially true for student-athletes like Maggie Greer '23, a lifeguard and swimmer on the West High swim team. 
"As a student, and as an athlete, I literally don't know what my schedule [is] beyond the week," Greer said. "During swim season… I don't know when I can work. We have meets randomly on a Saturday… it's hard." 
However, unlike Caylor, Greer has found her work hours to be more rigid.
"They ask you to commit to a schedule for like three months, and you have to commit," Greer said. "If the way they scheduled it was different, I think it would be better."
Even though her lifeguarding schedule has been hard to navigate at times, Greer still enjoys many aspects of the job itself. 
"I enjoy a three-person shift because I still have the confidence to do my job because there are two other people to rely on," Greer explained. "And I enjoy working with my friends because I have a lot of friends that work here."
In fact, Greer chose lifeguarding over her previous job for several reasons.
"I started [lifeguarding] because I knew a lot of people who were at the Coralville rec," Greer said. "I wanted to earn more money because at my other job I hadn't been earning as much as I wanted to. And it taught [me] some good life skills, like PR and things like that…so [it's] a learning experience."
Nick Morden '22, another West High lifeguard, also enjoys three-person shifts because of the freedom he has during breaks.
"On break, if there are three people, I can go swim for a bit," Morden said. "Or I can just relax and do my homework. It's a good environment, all the people there, all my coworkers, are nice."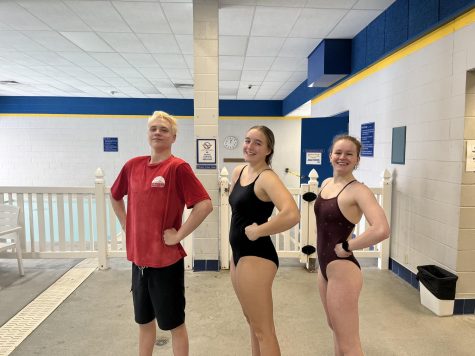 It's precisely this free time that makes lifeguarding such a desirable job for Caylor as a student, who normally uses her break to do homework.
"I think it is [a good job to have as a student]. It's not as demanding as being on your feet, like other breaks like [at] HyVee. And you get a longer break, so it's nice. You can do stuff in between breaks."
Long breaks are appealing, but that doesn't mean the entire time can be spent on homework and reading. The off-duty guard has to perform chemical tests, clean the deck, and answer any questions that patrons may have. Morden appreciates the regimented time that on and off-duty lifeguarding offers.
"[Lifeguarding] really teaches you to be observant, and also pay attention to specific chemicals…and having that routine of having to do something I think is good."
Most of the time, a lifeguard's daily job doesn't extend beyond sitting in the chair and measuring the chlorine levels. But every once in a while, a lifeguard has to activate the emergency action plan (EAP) and perform a water rescue. Caylor has had to perform two saves while working for Coralville.
"I've had two [rescues]. One has been at our outdoor pool and it was a little kid who jumped in," Caylor recalled. "The other one was [at the indoor pool where] a little girl couldn't reach the bottom."
Most swim lesson programs offered by recreation centers rely on lifeguards to double as lesson instructors. Caylor, Greer and Morden have all taught swim lessons at one point or another.
"I've taught most levels besides infants because they kind of scare me," Caylor said. "I like the level fours and fives because they know how to swim, so you don't actually have to get in the water."
Although Caylor, Greer and Morden differ in their experiences as lifeguards and lesson instructors, they all share one thing in common: They love having coworkers from West High.
"I feel like most of [my coworkers] I knew before I worked here, but I didn't know them," Caylor explained. "And then, working here we just grew closer."
Leave a Comment
Donate to West Side Story
Your donation will support the student journalists of West High School. Your contribution will allow us to purchase Scholarship Yearbooks, newsroom equipment and cover our annual website hosting costs.