When a pandemic turns political
In a year of mask mandates, the school board has a lot more effect on students' day-to-day life than many think. Isabella Tisdale '24 looks into what we do when things turn political and masks become a political statement rather than a protective measure.
In March of 2020, the world went into lockdown and since then the questions have never stopped. When will we return to school? Will we wear masks? And so many more questions struck students, parents, and even administrators. Now two years later, the questions have only gotten louder and somehow more confusing.
At almost every school board meeting during public comment, a rant like this may be heard. "You stripped away the rights of kids," a man said during the community comment portion of a school board meeting. "They'll never know what freedom tastes like because of you." Although this may seem like a stretch, it was actually a direct quote from a parent. As this man looked into the same people who are trying to protect their kids' eyes, he told them that they were taking children's rights away.
1,833 students have reported being infected with COVID-19 since the first day of school in August. Staff shortages have become more and more of an issue in the past weeks due to an increase in COVID cases among staff.
Seven members sit on the school board and listen to the community and public health officials to determine the next steps in mask mandates. Extremely close ties have been made between the school board and Johnson County Public Health to ensure the rules made reflect Johnson county's positivity rates. 
"There are a very small number of vocal opponents," said Jayne Finch, the newest member of the school board.
But when looking around at the laws and habits of Iowa, why is ICCSD different when it comes to masking ideals? When a mask becomes a political statement and an "attack on personal freedom" when are we as a community too far gone?
False information can be spread all over online. Despite some social media platforms such as Instagram putting content warnings on certain posts and keywords, false information is still being spread.
"
With so much info whether its factual or not, opinions become fact"
— Shawn Eyestone
People like to spread the reality they want to hear and if that is one where masks don't work and vaccines make you lizards, so be it. 
A sense of security is all people want and to go back to pre-pandemic sounds like a dream to many. "It's been difficult having the rules changed on us back and forth," said school board member Shawn Eyestone.
Masks have been used by healthcare workers for a very long time, even pre-COVID. They are used because they work and there is little to no evidence to counter that. 
A poll by Pew Research center shows that people on both sides agree that masks have been an issue in the pandemic, but the reasons vastly differ from group to group. 31% of Democrats (or dem. leaning) claim that the reason masks have been a challenge for them is other people's lack of willingness to wear them, only 5% of Republicans polled agreed. 
27% of republicans participating in the poll claimed their skepticism towards masks working, only 3% of Democrats agreed. Political powers do influence how a person will choose to follow mask mandates. This is due to early influence by political powers on both sides of the spectrum that inevitably hurt everyone.
"
"It's unfortunate that it's been political""
— Jayne Finch
"The evidence is very clear that [masks] are effective," said JP Claussen, ICCSD school board member.
With boosters being distributed, a light can be seen far at the end of the tunnel if people are willing to put their egos aside and abide by the important mandates.
Leave a Comment
Donate to West Side Story
Your donation will support the student journalists of West High School. Your contribution will allow us to purchase Scholarship Yearbooks, newsroom equipment and cover our annual website hosting costs.
About the Contributor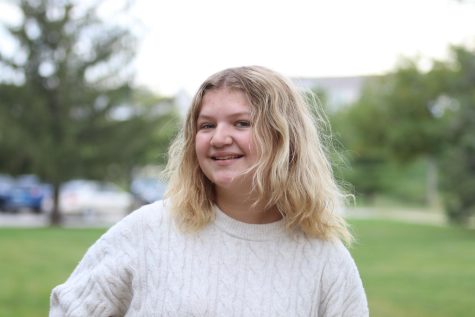 Isabella Tisdale, Feature Editor, Visual Editor
(she/her) Isabella Tisdale is a junior at West and is excited for her second year on staff! In her free time, she participates in varsity show choir and...