The unique teaching style of Andrew Bloom
AP World History teacher, Andrew Bloom, has inspired many people in his career with his unique teaching style.
The door opens, and posters of the globe fill your vision as students are conversing with the teacher of the room. The students are at ease and are able to retain information all while answering him with a witty comeback. This is the comfortable environment AP World teacher, Andrew Bloom, has created for his students.
Bloom is known by many students for his laid-back but effective teaching style. Perhaps it is due to his fun assignments that students share with their friends after class. It is clear that Bloom is a great teacher. However, he was not able to become a prominent figure in West High right away since he started as a history teacher. 
In his mid-20s, Bloom started working at a finance office, as a documentation specialist, where he found his passion in being assigned trainees. Once he began to teach these trainees he realized he enjoyed that more than his actual job. Bloom reminisces on how he came to this conclusion, "What I would do often was train the new employees that we got in my office. I made training manuals and I would also talk to people about big issues during work. And I realized I liked that way more than my actual job."
 Bloom then became determined to seek another profession, he finally realized that a teaching career will fulfill his wish. At first, Bloom felt a little skeptical about the job change until he started learning how to be a teacher and immediately felt reassured. 
"
It's less important that you become a scientist than it is that you become like a reflective person."
— Andrew Bloom
Bloom went to college at the University of Iowa where he began to study social studies. During his time at college, he was mentored by Greg Hamot who largely impacted his teaching style. Hamot was a mentor for upcoming social studies teachers and he started mentoring Bloom in 2017. He admired Bloom and described him as, "honest and very thoughtful." Bloom acquired a few philosophies from Hamot, one idea being, "It's less important that you become a scientist than it is that you become like a reflective person," Bloom said. Hamot, who started mentoring Bloom in 2017, admired that Bloom was, "honest and very thoughtful."
Bloom has carried his moral compass with him since the start and still implements it in his teaching. In fact, one of his colleagues, an AP World History teacher at City High School, Jason Schumann can testify that Bloom is an ideal mentor. Being a role model himself and a popular figure in the classroom he was able to recognize Bloom's potential. Schumann stated, "He [Bloom] is really willing to offer good constructive ideas and feedback."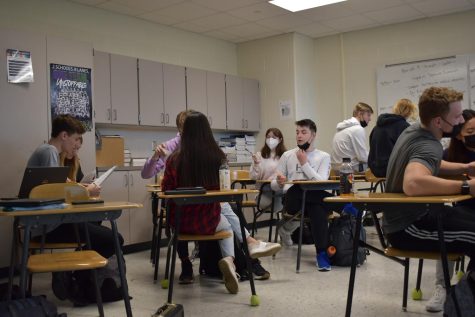 It is clear that Bloom has become known through his work as being kind, reliable, and unique. Bloom enjoys his job and has many fond memories of teaching kids, no matter their opinion of him. Bloom vividly recalls when he wanted to expand his student's knowledge of adult life and decided to close their textbooks. He decided to have them learn how toilets work so that his students could fix it themselves in the future. He explained that after they learned how to fix it they could save money since they would have to call a plumber every time their toilet breaks.   
This day ended up being one of Bloom's favorite experiences of his career. Bloom has been known, by his students, to give helpful advice to make adult life a little easier, such as investing in the stock market and going to a trade school. 
"
My teachers just like to stand up at the front of the room and just talk the whole time, but like, we [Bloom's students] actually do activities and fun stuff."
— Juliana Epping '24
 Juliana Epping '24, a current student of Bloom stated that he is different from her other teachers, "My teachers just like to stand up at the front of the room and just talk the whole time, but like, we [Bloom's students] actually do activities and fun stuff." Bloom relies on action-based activities rather than worksheets and notes to demonstrate topics in a fun, interactive way.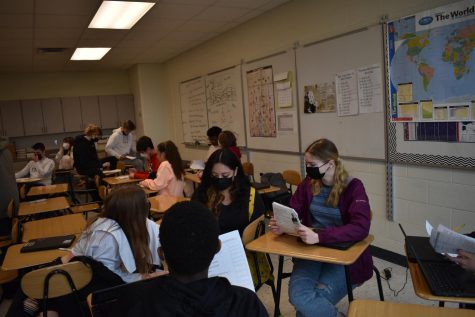 Recently, he used a simulation performed by the students of the Treaty of Versailles, a treaty that happened post WWI. In this simulation the students were split into groups of six and in those groups each pair would get either Great Britain, France, or the US. The goal is to negotiate with the other students in their group to get the closest to what they wanted and get the most points on their score sheet. Students were able to experience the making of this treaty in action rather than reading about it from a textbook.
Mr. Bloom inspires his students the moment he steps into the room. He has mastered the art of being a teacher students can bond with. After all, his number one fundamental for teaching is, "You've got to really care about the students."  
Leave a Comment
Donate to West Side Story
Your donation will support the student journalists of West High School. Your contribution will allow us to purchase Scholarship Yearbooks, newsroom equipment and cover our annual website hosting costs.
About the Contributors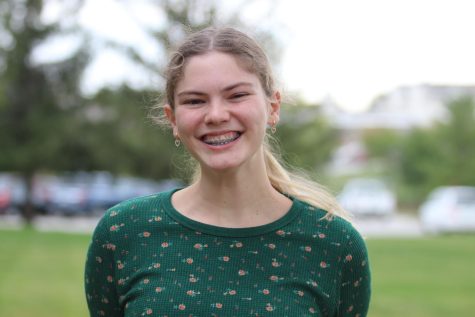 Tessa Gibson, Entertainment Co-Editor
(she/her) Tessa is currently a junior at school and has been on staff for one year. She is one of two entertainment editors. Tessa loves Harry Styles,...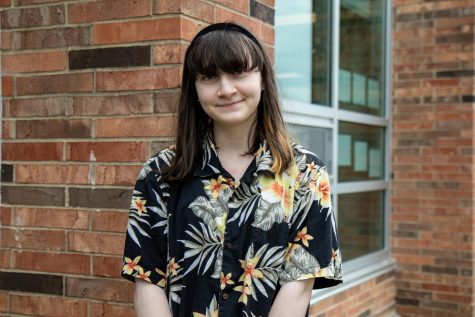 Reef Persons, Reporter and Photographer
(all) Reef Persons is a sophomore at West High. This is their first year on staff and hopes to achieve as much as possible. She enjoys photography and...