Homecoming showdown for the Battle for the Boot
The Little Hawks and Trojans met again last Friday for the annual Battle for the Boot game.
The Iowa City community gathered at Trojan Field on Friday night for the annual Battle for the Boot game against the Little Hawks from City High. The Trojans lost 49-0, the boot staying with the cross-town rivals City for the second year.
City scored their first touchdown on their opening drive with a trick play. City's quarterback Drew Larsen '24 catching a pass to run into the endzone from Ben Kueter '23.
Although the weather was not ideal, fans stayed to watch the Trojan Marching band and West High Dance Team perform at Half time. The boys' tennis team was also honored at halftime for winning the 2022 2A state tournament.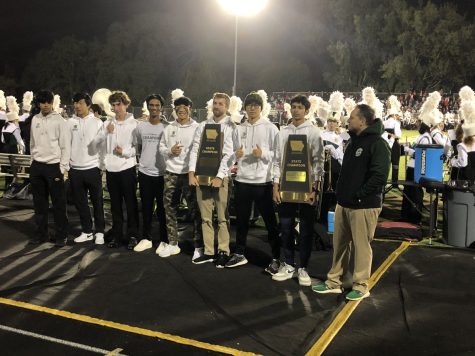 Opening kick after half-time Christian Janis '23 returned the ball fifty-three yards. Unfortunately West could not come back and City High was victorious. You can watch Garret Hartwig's squad back in action at home on October 14th against Prarie highschool.
The Trojans and Little Hawks rivalry lives on as you can catch the Trojan-Bolts swim team facing off against City High on September 27th, you can also experience the Battle for the Spike game with West and City volleyball going head to head on October 4th at home.