Best of West: students helping students
Kerri Barnhouse and Kara Thomas '23 are working hard to reshape the culture of West High.
After more than 10 years of searching for a system where students can help their peers who are struggling with their classes, English teacher Kerri Barnhouse and senior Kara Thomas have formalized a way for students to give and receive help through Best of West.
Originally, Barnhouse invited students into her classroom during their open hours to help them with their homework, but it was hard for her to help when the material wasn't her specialty subject, English. She knew the academic potential and success of the students at West High and wanted to figure out a way to utilize it, thus planting the seed for a program designed to do just that.
"I sort of did it out of annoyance, like I was sort of irritated," Barnhouse said. "Kids would hide when they saw me coming sometimes because they knew I was going to ask them to help, but they were sitting there with an open hour and I was like 'you are so good at this and you are such a nice person, you could be helping somebody else and you've got the time to do it', and they did it."
Kara Thomas, a student of Barnhouse's, was planning an entirely different club during the winter of the 2021-2022 school year. However, after Barnhouse explained her developing idea, Thomas and fellow senior Ava Graf decided to make her idea a reality and started Best of West. They created their website and started holding tutoring sessions.
"I always liked projects and starting new things so I was just like 'sure, we'll do it'," Thomas said.
The Best of West website includes a Google Form that students can fill out with the subjects they need help with, and their AFT availability or open hours. The Google Form also provides a space for students to state their session preferences, including an in-person or zoom meeting and the number of people they want to work with. Volunteer tutors can sign up and provide the classes and subjects in which they are able and willing to help other students. Volunteers meet in room 104 during AFT on Tuesday, Wednesday, and Friday of every week and are paired up with students who need help in those classes and subjects.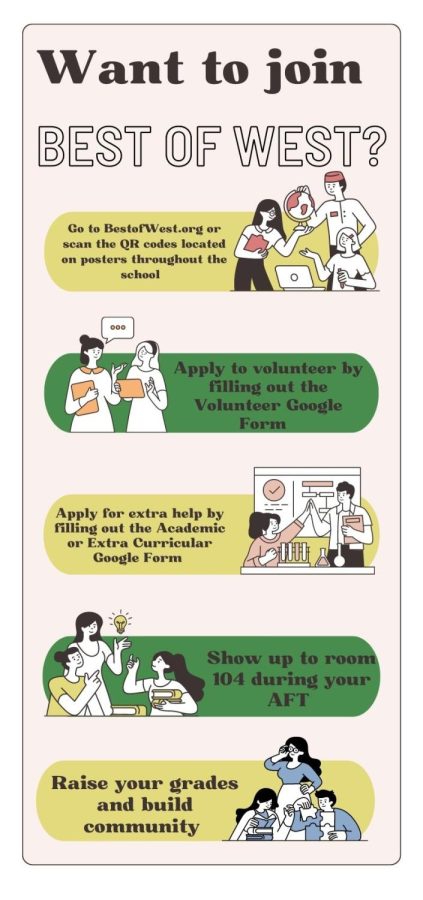 The Best of West program allows students to ask questions and receive help in an environment they feel most comfortable in. Barnhouse explains that sometimes students feel nervous going to their teachers for help, and Best of West is a way for students to help students, possibly resulting in a greater understanding of the material.
"Sometimes the teacher has tried and it isn't clicking and sometimes a student, a peer, is even better than a teacher. There are times when your peers help you more, they speak your language."
A stigma and a feeling of embarrassment are often associated with asking for help. Barnhouse and Thomas acknowledge this stigma, using it to fuel a reshaping of the West High culture itself. They hope the club establishes a sense of community with students who aren't part of the same social group, and a normalized culture of helping and asking those students for help.
"I would love for it to become the culture of West High, to the extent that people say 'at West High we totally help each other. When I'm done with stuff I don't get on my phone I actually go find somebody who needs help and I help them. I volunteer, I go to that room, and I help people when they come in' and it just becomes this normal, accepted cultural part of West High, that's what I would love."
Through joining Best of West, students receive benefits on both ends, gathering a better understanding of subjects and silver cord hours, if they are volunteering. Barnhouse explains that joining Best of West could be the missing piece of your high school experience.
"
Do it. You will never regret it, you will feel so good. You will never regret coming in and helping somebody and you will never regret getting some really good help that actually makes you more academically successful, it's like a win-win all the way around.
— Kerri Barnhouse