Girls Who Code: Breaking the Status Code
A look into a club at West – Girls Who Code.
West High school is notorious for being excellent. In all things education, West High exceeds, and Girls Who Code is no exception to that standard. With the majority of the coding community being men, it is important that girls and women know that they are capable and welcomed into the community as well, and Girls Who Code is doing just that. The club was founded last spring in 2022 by Kaylie Milton '23. Milton is the brains behind starting this club, and no matter the struggle, she is determined to keep the club going even after she graduates. 
"We're mainly focusing on the program's HTML, JavaScript, and CSS, and just doing small activities, because the program gives them all to us. Like Girls Who Code, they give us tasks like building a website, doing little challenges, and just getting to know the other members in the club," Milton said.
Girls Who Code is a club of intellectual and inclusive girls who aspire to become coders. The club values inclusiveness; bringing individuals together and forming new friendships is what keeps the club together. Whether it's assisting someone with an issue in their code or a problem in school, they are always ready to support each other.
With the difficulties of being a senior in high school, you'd think it would be challenging to start a club with just a passing thought. But Milton makes it look so simple. Milton grew Girls Who Code from nothing to a fantastic West High club with the help and support of Ms. Barnhouse, friends and former mentors.
"Ms. Barnhouse was a huge help. And also the Girls Who Code sponsors which I took the summer sessions with last year, 2020 and 2019, which was really encouraging, and they said 'oh, you should start a club then, since you don't have one at West' so they were also really helpful."
"

The club is about empowering women to code. It's welcoming and creates connections with other girls."

— Kaylie Milton '23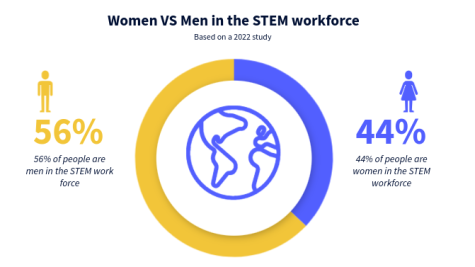 In a male dominated field, women make up just 34% of the STEM workforce, out of that 34% only 5.5% are Asian, 3% are black, 2.4% are Latina, and 1.1% are indigenous. The struggle of getting jobs and succeeding in the STEM industry is real for women around the country. But here at West, Girls Who Code defies these statistics.
"There were a lot of hurdles to go through to get this club started, which is why Miss Barnhouse was a huge help in that you needed to have an adult be present along, it wasn't just going off into your own club." Milton said.
The fight for inclusiveness in the STEM workforce and community is not over yet. There are still things that need to be done. Having a club like Girls Who Code at West is a crucial part of making the coding community an inclusive and safe environment for people of all ages, races, ethnicity, and genders.