We love you, Poet
IC Speaks is a community-based spoken word club that values inclusivity and creativity among its members.
The lights dim. The hum of the microphone radiates through your nerves. The crowd of people in front of the stage is a dark blur, heightening your anxiety about performing for the first time — that is, until you hear voices in unison from the front row, shouting, "We love you, Poet!"
Welcome to IC Speaks. This club aims to cultivate a spoken-word poetry culture in Iowa City that encourages young people from all backgrounds to speak their truths. IC Speaks meets on Saturdays over Zoom from 11 to 12:30 p.m. for junior high and high school students across the ICCSD. They work on writing and performing spoken word, an oral performance created by rhyme, repetition, rhythm and wordplay.
IC Speaks Director Caleb "The Negro Artist" Rainey discusses how spoken word can contain aspects of theater, rap, music or stand-up comedy.
"[Spoken word] captures any kind of storytelling, any kind of expression, using your voice," Rainey said. "[Poetry] amplifies your voice. The first time that I performed was one of the first times in my life I felt heard. It allows you to be yourself and to say what it is you really want to say."
"
[Poetry] amplifies your voice. The first time that I performed was one of the first times in my life I felt heard.
— IC Speaks Director Caleb Rainey
For Rainey, this kind of environment was rare growing up. In high school, he felt like he didn't have a safe place to share his work. His goal with IC Speaks is to create the climate he needed when he was younger.
"I had a lot of teachers who wanted to help me be a writer, but I didn't have a poetry club that actually seemed like they would accept me," Rainey said. "Part of my personal journey [was] wanting to be that teacher or create that space [to tell] students to please keep trying — please keep writing."
Rainey went on to publish poetry books "Look, Black Boy" and "Heart Notes" in 2019 and host two nationwide tours. Despite having performed at Button Poetry and Write About Now — high-caliber stages in the poetry world — Rainey views starting IC Speaks as one of his biggest triumphs.
"I'm proud of the fact that I didn't just make my writing; [instead], I said, 'This matters as a whole, and I'm going to make sure other people have the opportunity to do it too,'" Rainey said.
After graduating from the University of Iowa in 2017, Rainey started teaching poetry workshops at West High until 2019. Seeing the personal and writing-based growth of students, he realized this was a project that needed to be implemented across the district.
"I've seen a student with dyslexia, who didn't really want to write, start writing poems and sharing them confidently," Rainey said. "I emailed every language arts teacher in the district at the time and was like, 'Hey, I'm creating this. How can we make this happen?' … I went to any of the schools that would let me, and I performed and talked about IC Speaks."
Kirkwood Community College student Ruth Thomas is the student ambassador of IC Speaks. She manages club communication, helps Rainey keep track of activities and organizes club bonding events. She has been a part of IC Speaks for three years, first meeting Rainey when he visited her classroom at City High.
"The night before Caleb came to the school, I wrote a poem and shared it with a friend. They were like, 'Well, this part seems really repetitive.' And I was like, 'Yeah, I was thinking, maybe if I read it aloud, that would have more impact if it was repetitive versus if it wasn't,'" Thomas said. "The next day, Caleb showed up at the school and was like, 'Hey, I'm here to talk about spoken word.' Things just fell into place."
To Thomas, poetry is meant to be shared verbally to convey emotions through both prose and performance.
"I like to think of [spoken word] as a 3D art form because there's writing on the page, and then there's the performance aspect of it," Thomas said. "I've been doing spoken word for so long that whenever I write poetry, it is [with] a possibility I can read it out loud."
Quincy Tate '21 was a part of IC Speaks from the fall of 2020 until the end of their senior year. The club provided them with a healthy outlet for mental health issues and long-lasting, supportive friendships.
"[IC Speaks] brought me closer to people whom I was already acquainted with [and] really cemented those friendships," Tate said. "[It also introduced me to] two of my really close friends to this day, both former students from City High. I wouldn't have ever met them if it hadn't been for IC Speaks."
Rainey's favorite part of IC Speaks is watching young writers, such as Tate, feel a sense of community with people outside of their regular friend group.
"It makes me think [that], whether I taught [students] anything at all about writing, whether they ever write another poem again, at least they found people that they connected with and felt seen by, heard by and felt comfortable speaking [and] sharing their story. That feels more important than any poem that gets written in an IC Speaks workshop," Rainey said.
Tate believes that being in a community where writers are able to share different perspectives with each other helps them grow as individuals.
"I think that everybody, regardless of whether you like poetry or not, should go to an IC Speaks meeting — just see what it's like. Even if you don't like poetry, you might find someone that you think is really interesting and strike a friendship up with them," Tate said.
Thomas says the best way to get involved with IC Speaks is to simply show up.
"The nice thing about it is you can be committed or not committed. Some people just show up to the Zooms, and they're like, 'I don't know if I'm gonna write today. But, I just wanted to be here; I had nothing to do the first hour and a half of my weekend,'" Thomas said. "You can show up once, or you could show up every weekend."
Rainey believes IC Speaks has something to offer everyone.
"[IC Speaks is for] a person who has a story to tell. We will help you get good at telling that story and also practice telling that story, figuring out what part of the story really needs to be told," Rainey said. "The other part would be anyone who needs a space to be themselves, a space to just figure out who they are. You can walk into a space and wherever you are, [IC Speaks] is going to celebrate [you]."
Leave a Comment
Donate to West Side Story
Your donation will support the student journalists of West High School. Your contribution will allow us to purchase Scholarship Yearbooks, newsroom equipment and cover our annual website hosting costs.
About the Contributors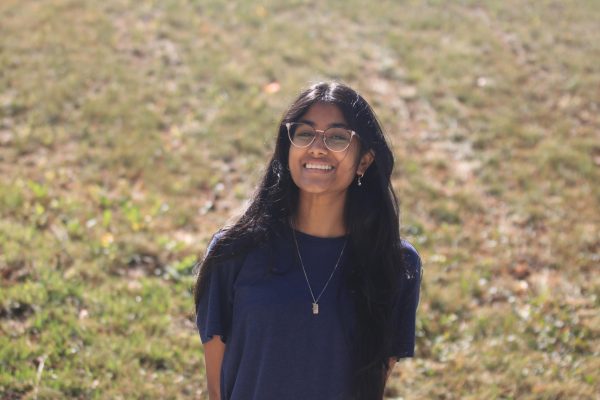 Kamakshee Kuchhal, Lead Print Copy Editor
(she/her) Kamakshee Kuchhal is a senior at West High School and is super excited for her third (and last) year on West Side Story Print Staff. Besides...
Sofia Wells-Lu, Yearbook Staff
Sofia Wells-Lu is a sophomore at West High and this is her first year on staff. She is a photographer for the yearbook and enjoys reading books and listening...