Students leave class to protest anti-LGBTQ+ bills
Iowa Legislature introduced bills regarding the rights of LGBTQ+ people.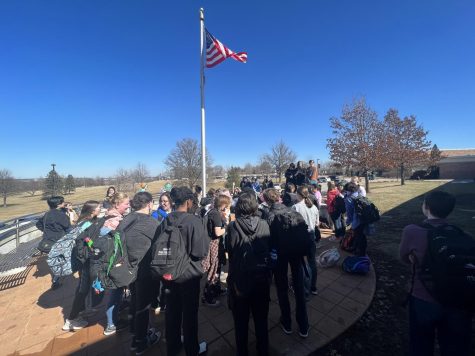 Students from West High, City High and the University of Iowa held a walk out on March 1 in response to the 29 anti-LGBTQ+ bills that the Iowa Legislature has introduced so far in 2023, including a proposed amendment to the state constitution to define marriage as between one man and one woman. The walkout at West High started at approximately 12:30 p.m., and the three schools gathered at the Pentacrest to protest together at approximately 2:00 p.m. 
At West, the walkout started under the flagpost where over 30 students assembled to listen to protest organizer Ro James '25 reading the latest introduced bills. 
"When I heard the bills and what the bills would be doing, that really didn't sit well. [I felt] fear, honestly, because being a transgender individual myself, it's like terror. There's nothing you can really do other than try and protest," they said. 
After discussing the possible implications of the bill and guidelines for safety while protesting, West students headed to the Pentacrest to join the others.
"My main focus here is education and spreading the word," James said. "I hope that [the protest] can at least bring a little bit more awareness of these bills…and get enough traction where the [legislation] can be like, 'Oh, hey, people aren't liking this.'" 
Iowa City Mayor Bruce Teague was the first speaker at the Pentacrest portion of the walkout. 
"I just returned on Sunday from my honeymoon. I spent 9 days with the love of my life, the person I believe God sent just for me. And this person happens to be a man. A wonderful human being that I have fallen in love with, and the state had the audacity to discuss our human rights. That is insane," he said, addressing the crowd. 
The mayor was followed by several planned student speakers from City High, then an open mic session that lasted until approximately 4:00 p.m. 
When asked to pick one word to describe how James felt about the students at the protest, they said proud. 
"I'm proud of everyone who came out today and stood up and talked. I'm happy that people care about the situation," they said.