Bills that ban gender-affirming care in Iowa will kill transgender youth
West Side Story Intern Miela Miller-Jacobs '25 shares their opinion about the new bill banning gender-affirming care and the bill requiring the use of a bathroom based on your sex assigned at birth.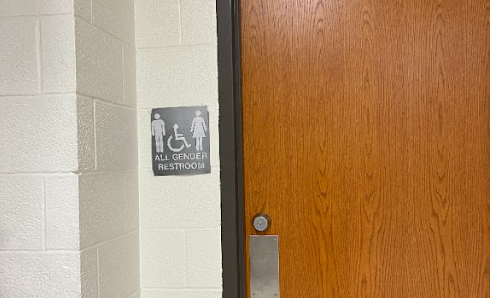 Gender-affirming care saves lives, and Gov. Kim Reynolds and the Iowa State government have taken that away. Signed into law March 22, Senate Files 538 and 482 ban gender-affirming care for minors, and require the use of school bathrooms based on the individual's sex assigned at birth. This will prohibit transgender individuals from using the bathroom that aligns with their gender identity as well as access to in-state gender-affirming healthcare such as hormone blockers, hormone therapy and gender-affirming therapy.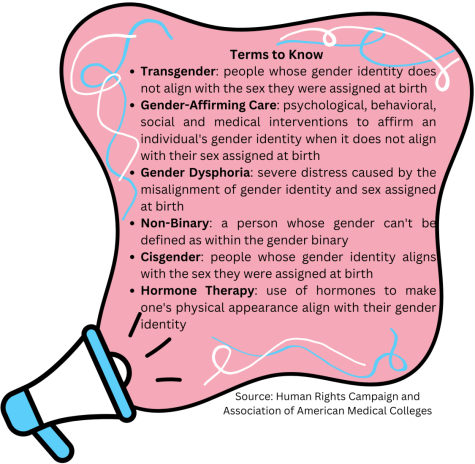 According to the American Academy of Pediatrics, gender-affirming care reduces the risk of suicidal ideation and self-harm by about seventy-three percent. These bills will affect a minimum of 2,100 transgender youth ages 13-17, not to mention younger elementary and older high school students, according to the UCLA Williams Institute. These statistics do not take into account those who have not publicly come out as transgender.
The bills that passed are transphobic and stem from negative stereotypes that transgender people are predators, confused and/or being medically transitioned at young ages. These lack factual evidence and come from discrimination against the LGBTQ+ community. Not only this, but the passing of laws against transgender people further stigmatize them.
Reynolds does not appear to understand how gender-affirming care for minors works. "I'm a little leery about heading down that path again when I believe that the science isn't conclusive to support what we're potentially doing to our kids," she said in an interview with The Des Moines Register. "These are irreversible."
On the contrary, hormone blockers are entirely reversible, and medical care is only provided with the full consent of parents or guardians and consideration of all possible treatments. Treatment of gender dysphoria in minors doesn't start with hormones or surgery; in fact, Iowa doctors do not perform genital surgeries on minors in any case, and breast tissue is only removed in rare cases. There have only been five cases of minors having mastectomies at the University of Iowa in the past year. They were only performed on patients in good health and considered how long they had been receiving non-surgical gender-affirming care.
"
My whole life I was waiting for the moment to be in control of my gender, hormones and gender presentation, and those hopes feel ripped away from me.
— Phoebe Ephraim-Gill '25
These treatments are thoroughly considered and are incredibly important in saving lives. In a study conducted by the University of Washington on the patients at the Seattle Children's Gender Clinic, suicide and self-harm risk declined by seventy-three percent in transgender and non-binary youth within the first year of receiving hormone blockers and/or hormone replacement therapy. Reynolds is using her transphobia as an excuse to sign bills into law that make it far more difficult to access gender-affirming care.
Additionally, preventing students from using the bathroom that aligns with their gender is dangerous to transgender youth. Thirty-four percent of Iowa respondents from the 2015 U.S. Transgender Survey reported limiting the amount they ate or drank to avoid using the restroom in the past year. Students may avoid bathrooms due to fear of being outed or fear of potential sexual assault. This risk is being brought to Iowa's schools. These students run the risk of so many physical and mental health issues with the passing of these Senate files. Physical complications may include UTIs, impacted bowels and school avoidance.
There have been no concerns voiced about the use of hormone blockers on cisgender and non-LGBTQ+ youth. The use of these prescriptions has occurred for decades to treat early puberty and to slow puberty for cisgender minors for decades. Senate File 538 only bans hormone blockers as a form of gender-affirming care, meaning that cisgender youth can still receive prescription hormone blockers to treat early puberty. This is a personal attack on our transgender youth that will have devastating effects. Children are more at risk of dying from the treatment ban than receiving treatment. These bills are a matter of life and death, and we need your help.
Phoebe Ephraim-Gill '25, a genderfluid student, is personally affected by these bills. "My whole life I was waiting for the moment to be in control of my gender, hormones and gender presentation, and those hopes feel ripped away from me."
However, there is hope. We must continue fighting for our rights to exist and remember that others are willing to fight alongside us. You can help by attending protests often organized by OneIowa and IowaWTF, supporting transgender and nonbinary youth in your community, and understanding that trans people are people who deserve to live.
Leave a Comment
Donate to West Side Story
Your donation will support the student journalists of West High School. Your contribution will allow us to purchase Scholarship Yearbooks, newsroom equipment and cover our annual website hosting costs.