Kidman's community
Through mentorship, coaching, photography and music, iJAG teacher and cross country coach Josh Kidman brings smiles to faces every day.
During the five minutes of passing time, West hallways are typically packed with the chaotic energy of students rushing to classes and teachers urging crowds to move. Sometimes, amidst this chaos, iJAG teacher and cross country coach Josh Kidman plays his guitar as people pass by — a calm in the middle of a storm. 
"It's not every day you see someone with a guitar playing a little jingle, so I figured it's fun for me," Kidman said. "The kids usually smile or stop and listen for a second. If you're gonna stand in the hallway, you might as well bring a smile to someone's face. It's even just a little conversation piece, maybe a kid out there plays guitar … It's a way to break down walls and personalize [my] approach to students."
"
It's even just a little conversation piece, maybe a kid out there plays guitar … It's a way to break down walls and personalize [my] approach to students.
— Josh Kidman
Kidman began playing the guitar in 2019 to learn how to play the music he listened to — country folk music. He spends his nights strumming by a fire outside, finding that it often provides him a moment to clear his head. Now, Kidman keeps two guitars in his classroom: one for himself and one for any student who wants to learn to play.
"When the students pick [the guitar] up, I hope that they can appreciate and slow down and kind of imagine themselves in other avenues … if you want to do something cool, you can't just pick it up and be able to strum and make it perfect, you got to really work at it," Kidman said.
From an early age, music has been an important part of Kidman's life. He grew up listening to genres ranging from punk to classic rock to country, as well as rap and pop music. Kidman has discovered that music plays a major role in students' lives as well as creating community within his own classroom. 
"I'll just be playing some of the old-time country music, and [students] are like, 'Oh, this is a great song. I've never heard this.' And then I'll catch them listening to it later. Music is a good conversation piece," Kidman said. "I've had students tell me that an artist that they heard through me is coming to town [for a show], and that's super cool." 
Kidman has also taken his love for music outside of the classroom. In 2021, he combined music with photography when he began taking photos for a podcast about country music called "Hippies and Cowboys." Kidman first found his passion for photography in high school, teaching himself the skill using his phone camera. He soon bought a film camera, and since then, his collection has substantially grown. Now, Kidman carries a camera with him everywhere he goes, capturing photos of everyday life. 
"I think [photography] helps you slow down a little bit and be in the moment at times. But, it can quickly take you out of it too, so I think finding that balance of capturing an authentic photo [is important]," Kidman said. "Everyone is trying to always get a perfect photo — a really aesthetic, curated photo. I'm more attracted to the mundane and just capturing it right how it is, capturing really boring moments and seeing how cool they really are."
Throughout his time as a photographer, Kidman has taken photos of sports, live music, weddings and senior portraits. He often brings his camera to cross country and track and field meets to take pictures of the athletes. 
"Maybe the one thing people love more than music is a good photo of themselves, whether they like to admit it or not … There have been some very special moments through the lens of my camera that I know kids still look back on and show their family," Kidman said. "The other coaches are even really grateful. Sometimes I'll catch a moment with a coach when the race finishes and two coaches are celebrating or a coach and an athlete are celebrating."
Kidman first began running cross country at his high school in Dallas Center, Iowa. He continued his athletic career at North Iowa Area Community College but due to an injury, transferred to the University of Iowa to focus on his education. Knowing he still wanted to be involved with cross country, Kidman began working as a volunteer assistant coach at West in 2014.
"Coaching at West has been one of the most important things to me," Kidman said. "When I came to Iowa City, the first thing I did was start coaching. I've met probably some of my greatest lifelong friends [here], be it the coaches, the administrators or employees."
After coaching at West for four years, Kidman planned on moving to Des Moines with his wife due to her job. Just two weeks after his move, West's former head cross country coach Brian Martz called Kidman to let him know he was vacating his position. Kidman applied for the job and was given the position shortly after. One week later, Kidman and his wife moved back to Iowa City and he began coaching at West once again. 
"My wife quit her job and we moved back to Iowa City — it sounds kind of silly — just [so I could] be the cross country coach here at West High. We pretty much uprooted our whole plan; I don't know if that tells you how important [coaching] was to me," Kidman said.
"
I don't know if that tells you how important [coaching] was to me.
— Josh Kidman
Throughout his time as a coach, Kidman has instilled values in his athletes to help them grow in all avenues of life. Cross country and track runner Moustafa Tiea '25 notes Kidman's impact on his life as an athlete and student. 
"He didn't just make me a good runner, but a good person in general. He motivates me to stay on top of my grades and not do anything stupid," Tiea said. "For meets, I feel like we're not training for [the upcoming meet], we're training for the one in May, the state meet or the one in October for cross country. That makes me feel a lot better, it makes everyone feel a lot better because it shows that it's okay to have a bad race every once in a while." 
Watching students and athletes grow has brought Kidman pride through his years at West. Whether he is on the track or in the classroom, Kidman knows the camaraderie at West is what encourages him to embrace and share his passions. 
"There's no award for how excellent the kids really are, I just can't say it enough," Kidman said. "I think that's why I'm at West — it is just the depth of everything, from academics to athletics, that diversity. I think a lot of folks are really progressive and open to all sorts of vantage points in life and that's kind of the way that we wanted to be and raise our kids. The culture of not only the team but also the school and the community, that's something that I'm proud to be a part of."
Leave a Comment
Donate to West Side Story
Your donation will support the student journalists of West High School. Your contribution will allow us to purchase Scholarship Yearbooks, newsroom equipment and cover our annual website hosting costs.
About the Contributor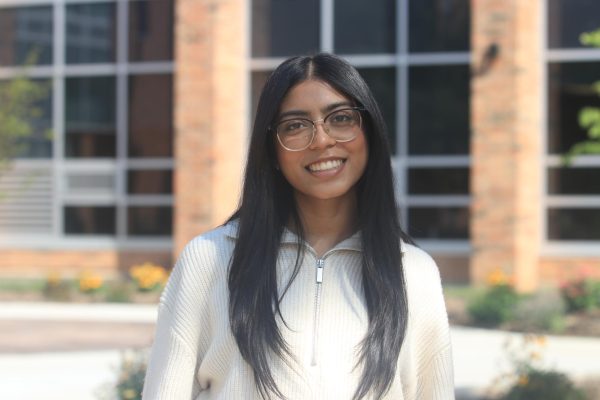 Zaira Ahmad, Print Editor-in-Chief
(she/her) Zaira Ahmad is a Senior at West High. This is her third year on staff, and she is the Print Editor-In-Chief. Outside of the newsroom, you can...