New arts hub takes root in Iowa City
With the expected opening of the ICON School of the Arts in the fall of 2023, the Iowa City community looks to reshaping in the arts.
In downtown Iowa City, 123 Linn St., to be more precise, a renovation is taking place. ICON Academy of the Arts is taking root in Iowa City, preparing to open this fall. It will provide a new home to many new students of the arts for the 2023-2024 academic year. 
Leslie Nolte, founder of Nolte Academy, is taking a new step in her career and founding a full-fledged arts academy: Icon School of the Arts. An objective of creating a school for the arts located in the Midwest, as opposed to the East or West coasts, is to have exemplary arts education more accessible to students in the Midwest or middle of the country. This creates opportunities for students to obtain an arts education on a nationally competitive level while still being able to stay close to home instead of moving halfway across the country. 
With the stellar Iowa City Community School District (ICCSD)  nearby, Nolte is seeking to have ICON become a magnet, bringing students in. Currently, ICON is holding auditions nationwide, even looking outside the US borders for prospective students. While a local resident might look at the price tag of attending ICON as boarding students and get sticker shock, compared to schools of the same nature in big cities, ICON's price tag seems more reasonable. With the more affordable tuition, scouted staff of masters of their craft, brand new spaces and so much more, Nolte hopes to draw in one-fourth of their max volume of students for their inaugural year.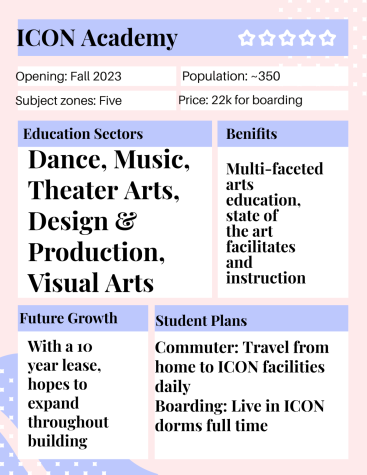 The academy will be a cross between a high school and a college or university experience. Located downtown, its campus spans roughly two blocks, including the school, theater and housing facilities across the street. Renovations being done at 123 Linn St. will transform the former offices of the Press-Citizen into a modern arts academy.
According to Nolte, the building will be split in half: a "noisy" side, which will encompass the dance studios, rehearsal and practice rooms, and a "quiet" side, which will house common study and social areas and classrooms. The reason for this distinction is that the upper floors of the building are still being used as offices for other businesses, and the "quiet" side will be situated under them– though Nolte does hope to expand upwards in the future. The basement of the building will be used to house a costume design area complete with its own fabric dyeing room. Students studying theater arts will be able to utilize the space to design and bring their costumes to life.  
The ICON staff traveled to many art schools when planning out the academy, gathering inspiration from around the country. Touring all of these programs, the staff saw what they thought were great programs and also programs that weren't exactly what they were looking for. With all of these programs in mind, the staff had to also think about what the typical seventh through twelfth grader might be interested in. "So we pretty much took seventh through twelfth-grade students and what they're exposed to and what we believe they will be interested in focusing on and then we skipped high school for a moment and looked at what comes after high school for so many of these career paths. And then we bookended with those two things and in the modded we created the programs," said Nolte. 
What sets ICON apart from other art institutions is the fact that all students will learn to run an entire production, giving them a wide range of abilities in the art space. When moving on from ICON, this all-encompassing education will give graduates an advantage when applying for jobs because employers will see their versatility. 
The dream and motivation for this school came from Leslie Nolte and Beth Brown; however, to make this multi-million dollar project actually seem feasible, they had to find investors. While one might think to find support for this project, the creators would have had to look to a place where schools like this are common, all of the school's ten investors are a part of the Iowa City community. "…when one person believes in you in this community, they bring three more people to the table and then they believe in you and those three people each bring three more people to the table," said Nolte.
"
So during the investor hunt and sort of securing of investors, I felt more support from this community than I knew I had"
— Leslie Nolte
The academy is collaborating with the Iowa City Community School District and using its online school curriculum. Students at ICON will spend a portion of each day studying and completing courses online with the help of teacher admins, while the rest of the day will be devoted to studying the arts, whether that be in large group classes or one-on-one lessons. "Something like ICON is not for every adolescent young human," Nolte said. "But if it is, then I believe academics can take a very close second seat to your artspace education that would keep the passion alive. And what the ICCSD has allowed really is for the academic piece not to falter at all."
Dance will be taught at ICON as well as theater studies like costume design, set design and stage management. Percussion and piano will be taught as well, but string and brass instruments will not. Because of the collaboration with the ICCSD, students who play these instruments can be enrolled in band programs at the surrounding high schools, so they don't have to give up playing if they come to ICON.
As for students who already attend high school in the ICCSD but still want to attend ICON, two options are available. They can attend ICON as if it were a regular school, or they can enroll in the commuter program, which allows students to continue taking in-person classes at their high school and then travel to ICON for afternoon arts courses. This program will also be beneficial to students who are traveling to ICON from out of state but don't want to take online classes. These students will be able to open-enroll at high schools in the ICCSD to utilize the commuter program. All of these measures are put in place to make ICON as accessible as possible for all students' priorities and needs. 
While the ICCSD will act as a sort of support system for ICON in the early days of the academy's development, Nolte wants to make one point clear. "I certainly don't want the high schools to think we're a competitor." While the schools might lose one or two students, Nolte believes that what's more important is what's in those students' best interests, and the influx of students to Iowa City would not only benefit the arts but every aspect of the community. From new community members bringing in economic gain for the area to the school district receiving more money from new students, the creation of this school will bring about positives for everyone.
Looking to the future, ICON hopes to reach its max capacity of students at around 350. While not every student at ICON will be one who hopes to continue on to a career in the subject they studied, ICON hopes to boast a high placement rate, meaning for those students who are auditioning for college arts programs or going straight into the industry, ICON hopes to ensure they end up in a place they can succeed. With the training received at ICON, students are more likely to receive scholarships for the programs they attend post-graduation. 
A final comment from Nolte ties together the main goal of creating ICON. "We want nothing more than to give students a safe place to be who they want to be and to help them reach their goals."