Nothing beats the lazy-hazy-crazy days of summer more than grabbing a bucket of popcorn and seating yourself down in the well-air-conditioned, darkened rooms of the movie theatre. And after all of the new releases this summer, there's no doubt that some of us were in those cushioned seats more than once, and there's still so many more to watch. So if you're still deciding which summer hit to put on your Letterboxd watchlist, here are some recommendations.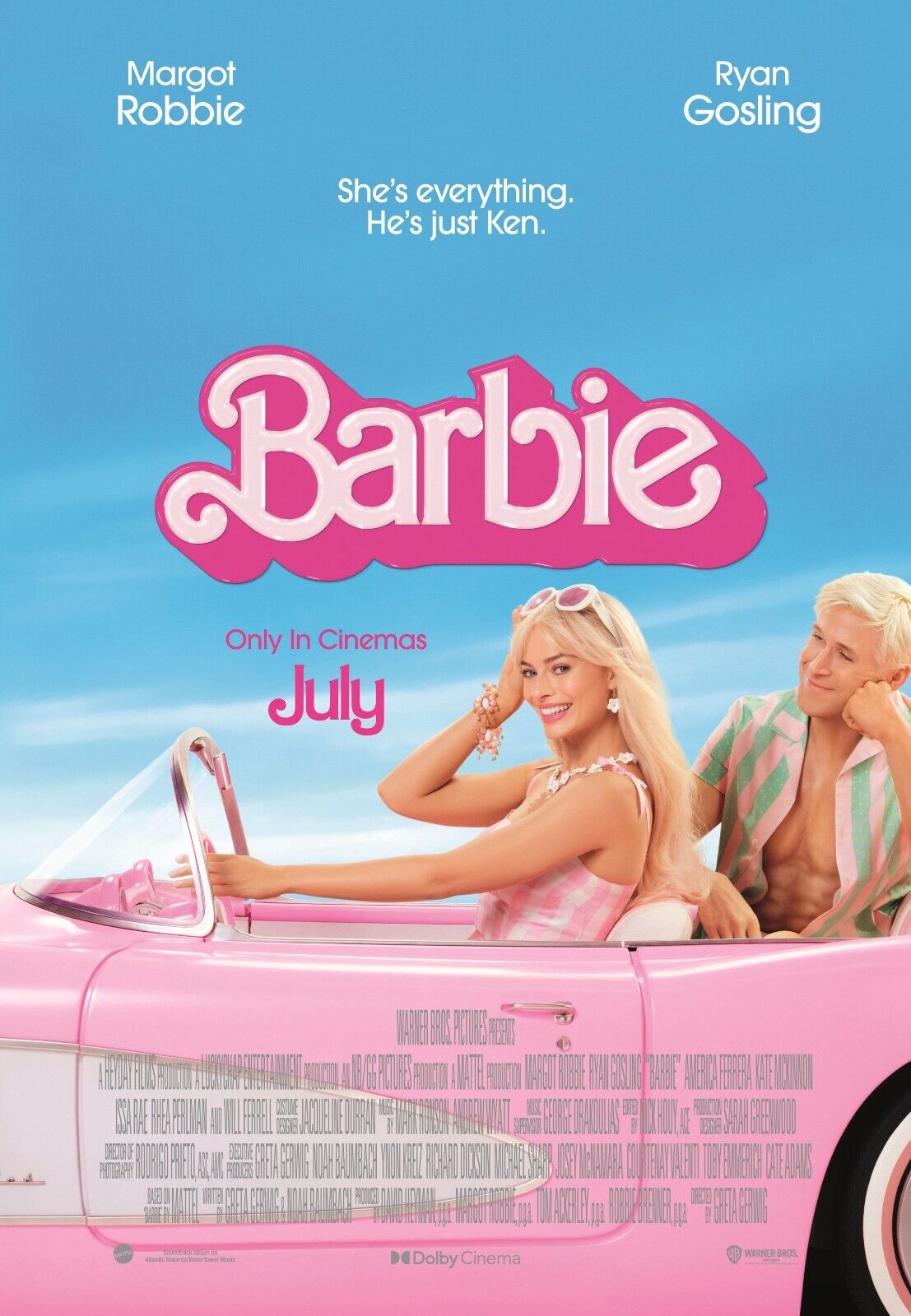 "Barbie": Comedy/Drama
IMDb: 7.3/10 
Streaming: Available to buy/rent on Prime Video, soon coming exclusive to Max.
Does this film even need an introduction? Based on one of Mattel's most popular toy brands, Barbie has been taking Hollywood by storm, making headlines and breaking records left and right, starring Margot Robbie as the outstanding Barbie and Ryan Gosling as the ever-familiar Ken. Director Greta Gerwig has made history with this heartfelt take on this beloved feminist icon, covering everything with pink and blasting "I'm Just Ken" from every acoustic guitar available. 
"Oppenheimer": Drama/Thriller 
IMDb: 8.6/10
Streaming: Peacock.
Another no-brainer. With this Christopher Nolan-directed work hitting theatres precisely on the same day as Barbie, "Barbenheimer" has become a pop culture phenomenon, with people visiting both movies often on the same day. Cillian Murphy gives a jaw-dropping performance during this rendition of the life of the scientist who is responsible for one of the, if not most chilling war crimes in history. 
"Spider-man: Across the Spiderverse": Action/Adventure
IMDb: 8.8/10
Streaming: Available to buy/rent on Vudu, YouTube, Apple TV, and Prime Video.
In this second-to-last installment of the Spiderverse trilogy, Miles Morales is thrust back into the multiverse and its chaos after reuniting with the alluring Gwen Stacy, otherwise known as Spider-Woman, as well as the reason for his origin story, while making some other allies (and enemies) along the way. With the art and animation style successfully living up to part 1, topped with an incredible score and well-timed humor, this movie is sure not to disappoint. 
"Red, White & Royal Blue": Romance/Fantasy
IMDb: 7.1/10
Streaming: Amazon Prime.
Of course, it's not a proper summer until we get a romcom that has us burning with passion, and we received just that with this Matthew Lopex-directed Amazon Prime Original based on the New York Times bestselling novel by Casey McQuiston. A classic of Booktok, this movie follows the love story between Alex Claremont-Diaz, the first son of the President of the United States, and Prince Henry, the second son of the King of England. This film is sure to have fans swooning.  
"No Hard Feelings": Comedy
IMDb: 6.4/10.
Streaming: Available to buy/rent on Vudu, YouTube, Apple TV, and Prime Video. Soon coming to Netflix.
In an age of superhero movies and an endless stream of remakes and sequels, sometimes it's nice to just sit on your couch and enjoy a fun, raunchy comedy starring Jennifer Laurence. When a down-on-her-luck Maddie decides to take on a unique job listing from a wealthy couple hoping to get their introverted son out of his shell before leaving for college, she may end up getting more than she bargained for. 
"Elemental": Animation/Comedy
IMDb: 7/10
Streaming: Disney+. Available to buy/rent on Vudu, YouTube, Apple TV, and Prime Video. 
Nothing says amination with an emotional journey like Pixar. From the same creator of The Good Dinosaur, Elemental takes place where all fire, water, land and air citizens live in harmony in Elemental City, however separated from each other. With deep-rooted themes of human connection through differences and the reality of coming from immigrant families, this story of unexpected friendship (and perhaps more) is sure to touch the hearts of many. 
"Guardian of the Galaxy Vol. 3": Action/Sci-fi
IMDb: 8/10
Streaming: Disney+. Available to buy/rent on Vudu, YouTube, Apple TV, and Prime Video.
The concluding installment of one of the best trilogies of the MCU, writer/director James Gunn drives it home in this thrilling finale, following the Guardians as they reach the end of their journey. With a mission that risks practically everything, the fate of the universe once again rests on the shoulders of this dysfunctional (but usually well-meaning) found-family, putting the strength of their bond to each other on the test. 
"Joy Ride": Comedy
IMDb: 6.5/10
Streaming: Available to buy/rent on Vudu, YouTube, Apple TV, and Prime Video.
No Hard Feelings isn't the only raunchy comedy to be hitting the screens this summer. Who says a journey to self-discovery and identity can't have some laughs along the way? In this epic road trip experience to discover her birth parents from China, Audrey enlists the help of a pack of wild card allies to help her on her quest, which may lead to more than she was expecting.  
"Asteroid City": Sci-fi/Comedy
IMDb: 6.7/10
Streaming: Peacock. Available to buy/rent on Vudu, YouTube, Apple TV, and Prime Video.
With the Wes Anderson trend having its full swing back in April, this newest addition to director Wes Anderson's well-distinguished filmography proves exactly why the Anderson directing style is so iconic. With a star-studded cast including Tom Hanks, Scarlett Johansson, Maya Hawke, as well as many Wes Anderson-film regulars, a Junior Stargazer/Space Cadet convention in the middle of a desert town circa 1955 has never been more zany and fun. 
"Nimona": Animation/Adventure
IMDb: 7.6/10
Streaming: Netflix.
Inspired by the science fantasy graphic novel by ND Stevenson, this story takes place in a futuristic, medieval world and tells the story of a tarnished knight whose only hope of clearing his name is to rely on the help of the shape-shifting teenager Nimona. A gripping tale about the divide between good and evil and what makes a true villain, Nimona takes you on a journey with brilliant animation for views, and the destination is never what you quite expect. 
"Past Lives": Romance/Drama
IMDb: 8.2/10
Streaming: Available to buy/rent on Vudu, YouTube, Apple TV, and Prime Video.
A love story that entangles the lives of three certain people and where romance isn't necessarily the focus. When decades-old childhood friends reunite for a single week when one returns to her home country of South Korea, Past Lives is a tale that can resonate with those who also belong to two countries at once. This film will make you question what is fate and the power of second chances. 
"Indiana Jones and the Dial of Destiny": Adventure/Action
IMDb: 6.8/10
Streaming: Available to buy/rent on Vudu, YouTube, Apple TV, and Prime Video.
Harrison Ford put back on the hat of everybody's favorite archeology professor in this latest chapter of one of the most revered action franchises in cinema history. Battling against yet another Nazi, this is a movie sure to pull in lifelong fans to see how the professor will get himself out of this debacle while also saving some lives in the process. 
Tell us your favorite from this summer!
Sorry, there was an error loading this poll.