Movies to watch on every streaming service
Enough recommendations from various streaming services for anyone to find their next watch.
It's now been well over a month and a half since life was normal. Odds are you've probably gotten pretty bored during this stretch of time. But please, for the sake of everyone, don't break social distancing just because you're bored. Watch a movie instead. What should you watch? Well there are plenty of recommendations below. Don't have any streaming services? There are some free options included as well.
Amazon Prime
Welcome to Amazon Prime, the best place to find "so bad they're good" movies, such as "The Last Guest" or "The Velocipastor." Fortunately, there's plenty of outstanding cinema, which if you're a college student you can watch for free.
An old, low-budget film from the 70s, that still holds up nearly a half-century later. Harold is a 19-year-old who is obsessed with death and loves staging elaborate fake suicides or going to funerals for fun. Everything changes when Harold meets the elderly Maude, who introduces Harold to a new perspective of life, and one that includes constant police chases.
A French art film from director Gaspar Noe, the cinematography in "Climax" is astoundingly executed, with some shots lasting as long as 45 minutes. The plot revolves around a group of dancers trapped in a building while on hallucinogens, leading to the film giving off a sense of constant chaos and confusion.
HBO
HBO might be known for having great shows that decline in quality, but they also have some documentaries that are fundamentally perfect.
This World War I documentary was painstakingly put together, combining masterfully restored photos and footage, along with narration of voice actors reading letters written by soldiers. If you liked 1917, then "They Shall Not Grow Old" is a must watch.
Roger Ebert called this documentary the second-best film of the entire 1990s and it's quite simple why. This nearly 3-hour-long film documents the struggles of two inner-city kids from Chicago as they try to pursue careers as professional basketball players. The film perfectly captures the lives of two young men, who despite sometimes having nothing, always give their everything.
Hulu
Tragically, many of the best films on Hulu are locked behind additional memberships. You should have just gotten Netflix.
The masterpiece of Japanese filmmaker Isao Takahata, "Grave of the Fireflies" relentlessly juxtaposes the simple beauties of life, like capturing fireflies, to the harsh reality we often face, such as war and death.
Do you ever get annoyed by the shallowness of your classmates? Just kill them. Actually don't, because high school student Veronica already tried that. Why not watch this film and see how things went for her?
Kanopy
Never heard of it? Well, that's quite a shame because it's completely free if you have a library card and has loads of fantastic independent movies.
Taika Waiti may now be known best for directing "Thor Ragnarok" and "Jojo Rabbit", but he began his career by creating this mockumentary-style film about vampires that live in New Zealand. The film is easily one of the best, and most unique comedies of the past decade.
"The Last Black Man in San Francisco"
One of the more forgotten films from last year, "The Last Black Man in San Francisco" is a painfully honest tale about a man trying to reclaim the home his grandfather built. Though a much slower paced film, it's packed with complexities and messages about placelessness and loss.
Netflix
Remember when Netflix was just a DVD rental service through the mail? They actually still do that. No really, look it up.
Welcome to the future. Single people are against the law. If you can't find a partner soon enough, you're going to be turned into an animal. A dark comedy if there ever was one, but also a fantastically made art film from director Yorgos Lanthimos.
After the success of "Monty Python and the Holy Grail" (also on Netflix), the Monty Python comedy group followed things up by making a comedy that got them banned by most churches worldwide. The film is a spoof on religion and follows a regular guy named Brian, who is mistaken for the messiah, much to his dismay.
"The Perks of Being a Wallflower"
Based on the book of the same name, this is easily one of the most outstandingly, painfully accurate portrayals of adolescence and high school. The movie is corny at times but manages to pull off such an authentic feeling sincerity, that the viewer is sucked in the entire time.
Spike Jonze spent his career making music videos, Jackass movies, and occasionally directing films for Charlie Kaufman. Then in 2013, he created his magnum opus, a film about love, titled "Her". It is one of the best movies ever created. It tells the story of Theodore, a lonely man who excels at reading the emotions of others. Theodore falls in love with his AI assistant, named Samantha. A simple story, but executed perfectly.
If you were to watch all of these films, it would take 22 hours and 28 minutes, so now you have absolutely no excuse to go out and break social distancing.
Leave a Comment
Donate to West Side Story
Your donation will support the student journalists of West High School. Your contribution will allow us to purchase Scholarship Yearbooks, newsroom equipment and cover our annual website hosting costs.
About the Contributor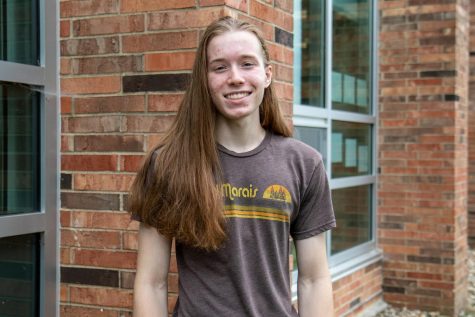 Jack Harris, Online Copy Editor and Arts Editor
(he/him) Jack is the online copy editor & arts editor for WSS. He's a senior at west and is also involved in the west high Orchestra as a cellist....