Movies to watch over Thanksgiving break
Having trouble finding a movie to watch this Thanksgiving season? WSS lays out several of the movies that are currently playing in theaters.
Thanksgiving break is the first of two breaks the end of the year will have to offer, alongside a two-week departure from schoolwork that comes with winter vacation. Many will utilize this time off to catch up on books and movies that went over their heads in recent times due to the underlying stress of getting assignments in and trying to garner a strong score on their finals. Here are several of the movies that are currently playing to be seen during Thanksgiving vacation.
"Ford v Ferrari"
Follows a true story of how two foiling geniuses (Matt Damon and Christian Bale) were able to craft a revolutionary Ford vehicle that would beat the seemingly unbeatable Ferrari at the 1966 Le Mans. Boasting an A+ Cinemascore and esteemed praise from all sides of the viewing gamut, "Ford v Ferrari" shines in the Thanksgiving film lineup as a cleverly crafted inspirational drama that is fueled by star performances and exhilarating racing sequences.
"Frozen II"
It may have taken six years to make, but this Disney sequel to one of their biggest animated properties has finally touched ground. "Frozen" had audiences generally wowed by the glamorous spectacle and singing along with the catchy musical sequences. Part two of the saga will expand the icy world previously introduced and combine backstory with new adventures for Elsa (Idina Menzel) and her sister Anna (Kristen Bell.)  A surefire hit for parents looking to relinquish their needs for an animated movie to watch with their children.
"A Beautiful Day in the Neighborhood"
The consensus for this Tom Hanks-starring Mr. Rogers film is that it doesn't reach the heights of the 2018 documentary "Won't You Be My Neighbor?" but still takes off as an emotional celebration of how the esteemed television personality touched the hearts of many children who have now grown up into adults. Hanks, being the treasured actor that he is, looks to replicate Rogers's charisma and possibly spin up an Oscar-nominated performance.
"21 Bridges"
The Russo Brothers (of "Endgame" and "The Winter Soldier") produce a gritty police thriller led by Chadwick Boseman, who plays a gruff NYPD detective forced into a manhunt to track down two killers in Manhattan. Reviews have been mixed so far, but anyone seeking more of the Russo Brothers' signature action and an engrossing albeit uninspired cop drama should be sure to check this out.
"Knives Out"
Rian Johnson takes on a classic archetypal whodunnit murder-mystery featuring an all-star cast with the likes of Chris Evans, Daniel Craig, Lakeith Stanfield, Toni Collette, Jamie Lee Curtis, Michael Shannon and Katherine Langford, among others. Opening right on time with the start of Thanksgiving break, "Knives Out" will be sure to please long-lasting fans of the genre and anybody who has been following Johnson's filmography.
"Charlie's Angels"
The latest in a slew of reboots, "Charlie's Angels" is the second feature film to attempt to recapture the feel of the 1970s television series. This time around, the all-female spy team consists of Kristen Stewart, Naomi Scott and Ella Balinska undertaking a glamor-filled mission complete with masquerading, quips and constant action. Though bets are off for a sequel due to a low box office turnout, anyone who is a loyalist of the original show will likely find enjoyment in "Charlie's Angels."
"Jojo Rabbit"
It's hard to straight-up call him a genius, but director-writer Taika Waititi demonstrates a level of mastery with his latest anti-hate Holocaust satire that is rarely to be seen. "Jojo Rabbit" revels in an uninspired and decidedly simple plot, yet gleans a message of fighting back hate in a clear manner. The blending of comedy and drama is exquisite, giving a glimpse into the typical life of a boy living in Nazi Germany accompanied by star-studded performances. Be sure to check it out at the Ped Mall FilmScene when it moves there next week. Read a full review here.
"Parasite"
Another arthouse movie currently playing at FilmScene is Bong Joon Ho's "Parasite," which has been labeled as an all-around masterpiece by nearly everyone who has seen it and has become yet another awards shaker. Its portrayals of the toxic, symbiotic nature of the upper class are melded into a horror-thriller template through the happenstances of a nondescript family and their interactions with another, gilded, family. Even though the dialogue is South Korean, subtitles are offered for us domestic viewers. 
Leave a Comment
Donate to West Side Story
Your donation will support the student journalists of West High School. Your contribution will allow us to purchase Scholarship Yearbooks, newsroom equipment and cover our annual website hosting costs.
About the Writer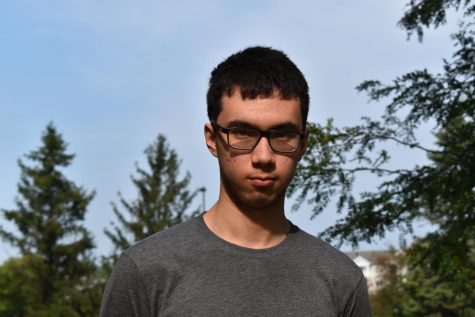 Edward Keen, Arts Editor
Edward Keen is a senior and this is his second year on staff, where he is Arts Editor. In his free time, he enjoys reading.