Six movies to look forward to over summer break
WSS breaks down several of the biggest film releases this summer, from spirited musical biopic fare to the high-octane action extravaganzas.
Summer has become the main fodder for movie studios to unleash their biggest, most prominent films, even more so than any other time of the year. As such, this jam-packed season of film releases can seem a frenzy for audiences trying to decide which in particular to occupy themselves with throughout their summer vacation. Here is a break down of several of the flicks being released in the coming months in order to help narrow down your selection.
"Godzilla: King of the Monsters" – May 31
Godzilla fans may have had to wait an immense five years for the sequel to 2014's "Godzilla," but the upcoming film looks like it will more than make up for the prolonged delay with an even larger overflow of the classic monster mayhem that fans have come to hold dear. In "King of the Monsters," Godzilla is caught in the middle of a power struggle between the cryptozoological agency Monarch and an arrangement of god-like monsters once thought dead: Mothra, Rodan, and the three-headed King Ghidorah. This is the first time the aforementioned titans will appear on the big screen, a feat that will be sure to attract both new and old Godzilla zealots. It should also satisfy owing to a larger amount of screen time for the eponymous beast, who only appeared in the last entry for a dismaying 10 minutes. Those looking to be caught in a joy ride of exhilarating monster bedlam, infused with some of the most infamous creatures of Japanese pop culture, should give this a watch.
"Rocketman" – May 31
If there's one thing that last year's Queen biopic "Bohemian Rhapsody" proved, it's that audiences can be all for a good old-fashioned 'rise to the top' story of a distinguished musical icon. The film in question not only managed to nab several Oscars, gross near $1 billion at the box office, but there's also whisperings about a sequel possibly being developed. Only a few months later, Paramount will be releasing "Rocketman," the cumulative tale about the career of Elton John (played by Taron Egerton) from his childhood to his adult years. Unlike "Rhapsody," this will be unafraid to completely dive into the raw ups and downs of John's career instead of purifying his story, encompassing his struggle with substance abuse and his grapple with his sexual orientation in the face of stardom. Plus, the trailers promise a profusion of colorfully vivacious musical set pieces, along with spirited fantasy sequences playing in conjunction with John's life story. If you're looking for a possible awards contender to view that seems a step-up from the rudimentary musical biopic, be sure to give "Rocketman" a go.
"Men in Black: International" – June 14
Despite what it may seem to be at first glance, "Men in Black: International" isn't a complete reboot of the Will Smith and Tommy Lee Jones trilogy nor a direct sequel. Instead, it explores a different side of the MIB universe that wasn't exhibited in the original saga. The London Men in Black faction, led by High T (Liam Neeson), assign top envoy Agent H (Chris Hemsworth) and new recruit Agent M (Tessa Thompson) on a global mission to capture a new race of alien species that unleashed a series of surreptitious attacks across the world. The duo of Hemsworth and Thompson, who you may recognize as Thor and Valkyrie from "Thor: Ragnarok," look to once again bring their winsome chemistry to the big screen in this newfangled entry to the MIB films. Fans of the originals will be sure to get something out of "International," while it will likely attract new moviegoers to the eccentrically offbeat sci-fi franchise as well.
"Spider-Man: Far From Home" – July 2
"Avengers: Endgame" spoilers below
As if releasing the smash hits "Avengers: Endgame" and "Captain Marvel" back to back wasn't enough to satisfy Marvel Studios, they will be topping off their year of immense stardom in July with "Spider-Man: Far From Home." Aside from being a direct aftermath to the occurrences of "Endgame" and Tony Stark's sacrifice to bring peace to the universe, it will continue following Peter Parker's life away from the mask that was seen in "Spider-Man: Homecoming." In the film, Parker and his friends from Midtown High School decide to take a vacation from their school to go on an international tour of Europe. However, Parker is confronted by Nick Fury, who introduces him to the Mysterio, an off-dimension magician who is aiding Fury in investigating the rise of a villian society known as the Elementals. Both a fresh new globetrotting adventure for the titular hero and a kickstarter for a new age for the Marvel Cinematic Universe, "Far From Home" will be sure to satisfy the diehard enthusiasts of the MCU and the more casual moviegoers looking for entertainment in the face of pervading summer boredom.
"The Lion King" – July 19
Disney has spent the last several years spinning up live-action remakes of their collection of noteworthy animated classics from their early ages, such as "Beauty and the Beast" and "Dumbo." However much of blatant cash grabs they may be, these redone flicks have usually been high quality and perfect at utilizing the nostalgia to their favor in order to grapple in the target audiences. It's hence not shocking that they will be releasing an adaption of 1994's "The Lion King," which is without a doubt their most esteemed animated feature of all time. If you aren't familiar, the plot turns on a young lion named Simba, who challenge his father's murderer Scar to take his rightful place as leader of the Pride Lands. Jon Favreau, who directed "The Jungle Book" remake, is returning to helm "The Lion King" for Disney. Even if the story won't capture the same spell the original did in 1994, this film will be a must-watch for audiences seeking a lavish and nostalgic re-edition of the primordial classic.
"Scary Stories to Tell in the Dark" – August 9
If you have distinct childhood memories of being terrified by Alvin Schwartz's children horror series "Scary Stories to Tell in the Dark," you aren't alone. The 1980s-90s novels have become cult classics over time, and have become most infamous not for the stories themselves but for Stephen Gammell's hauntingly surreal illustrations. Producer Guillermo del Toro ("Pan's Labyrinth," "Trollhunters") will be coming out with a film adaption of the series in the dog days of summer, which will be similar to 2015's "Goosebumps" in that it will meld together some of the renowned tales into one. "Scary Stories" will revolve around a group of teenagers in 1968 America who discover a tome consisting of harrowing stories in an old mansion, and realize that these stories may be far from fantasy. Even if you weren't one of those to experience the Schwartz novels, "Scary Stories" looks to be a spine-chilling adventure for both children and adults to enjoy.
Leave a Comment
Donate to West Side Story
Your donation will support the student journalists of West High School. Your contribution will allow us to purchase Scholarship Yearbooks, newsroom equipment and cover our annual website hosting costs.
About the Contributor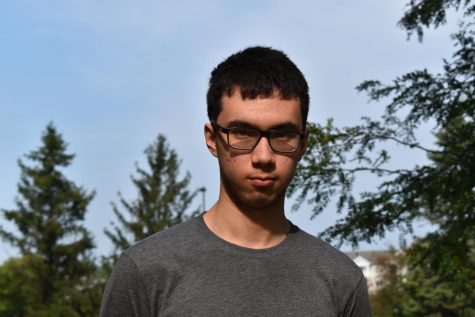 Edward Keen, Arts Editor
Edward Keen is a senior and this is his second year on staff, where he is Arts Editor. In his free time, he enjoys reading.