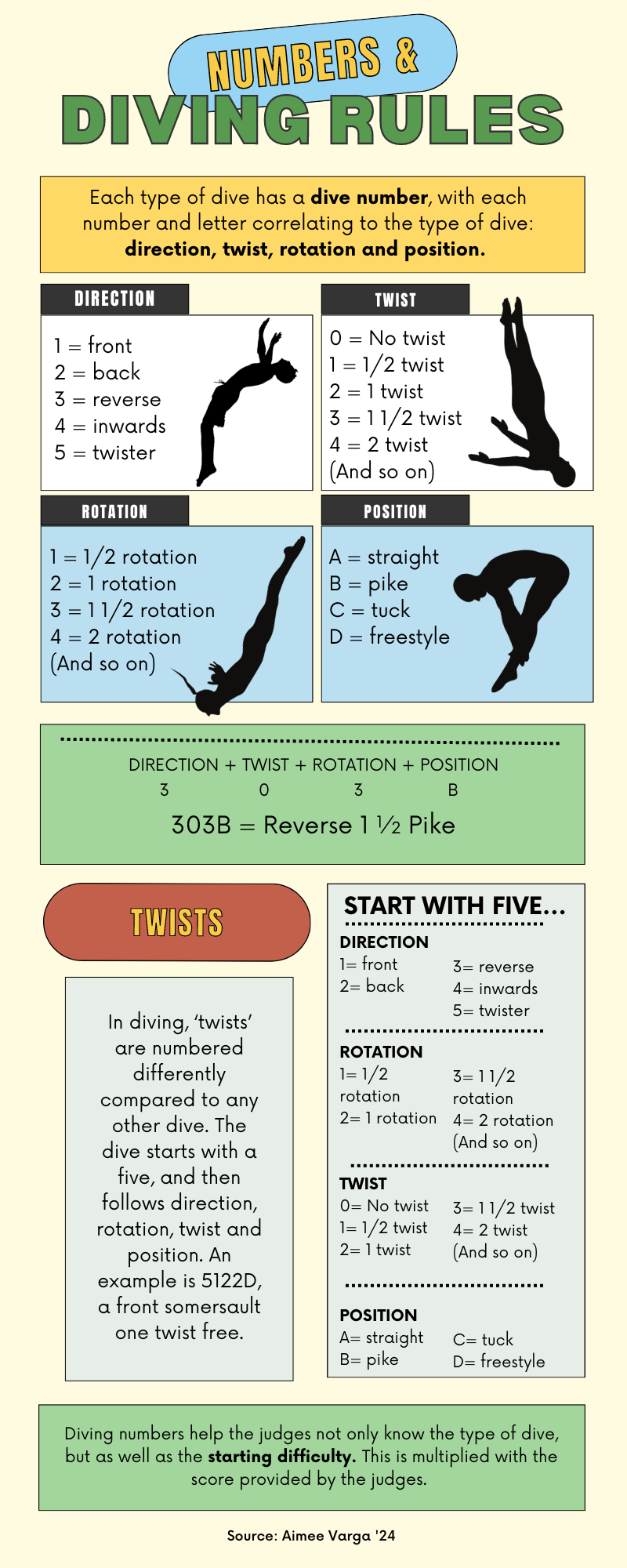 The West High Girls Swimming and Diving Team is well known for their numerous awards in swimming meets, state champions and even Olympic trials. Nonetheless, a small group competes at a high standard in the middle of these famous swim meets: the diving team. Made up of Aimee Varga '24, Rowan Russell '26 and Ella Davis '27, the three represent West High in a team of eight divers.
During the diving portion of the meet, the audience politely claps and gasps when they see a 'smack', or a horizontal entry into the water. But what is actually going on in a dive meet? Diving has unique rules, complex techniques and specific slang like any other sport.
To start, divers typically have six or eleven dives they compete one at a time in a meet. Typically, in high school diving, three judges score dives based on four main criteria: the approach and starting position, the take-off from the platform or springboard, the flights through the air and the entry into the water. They score between zero (completely failed) and 10 (excellent).
Dives also have their own dive numbers that decide the degree of difficulty for a dive. However, the degree of difficulty should not influence the official's score, according to the Iowa Girls High School Athletic Union. Instead, the degree of difficulty is multiplied by the judge's scores to determine the final score.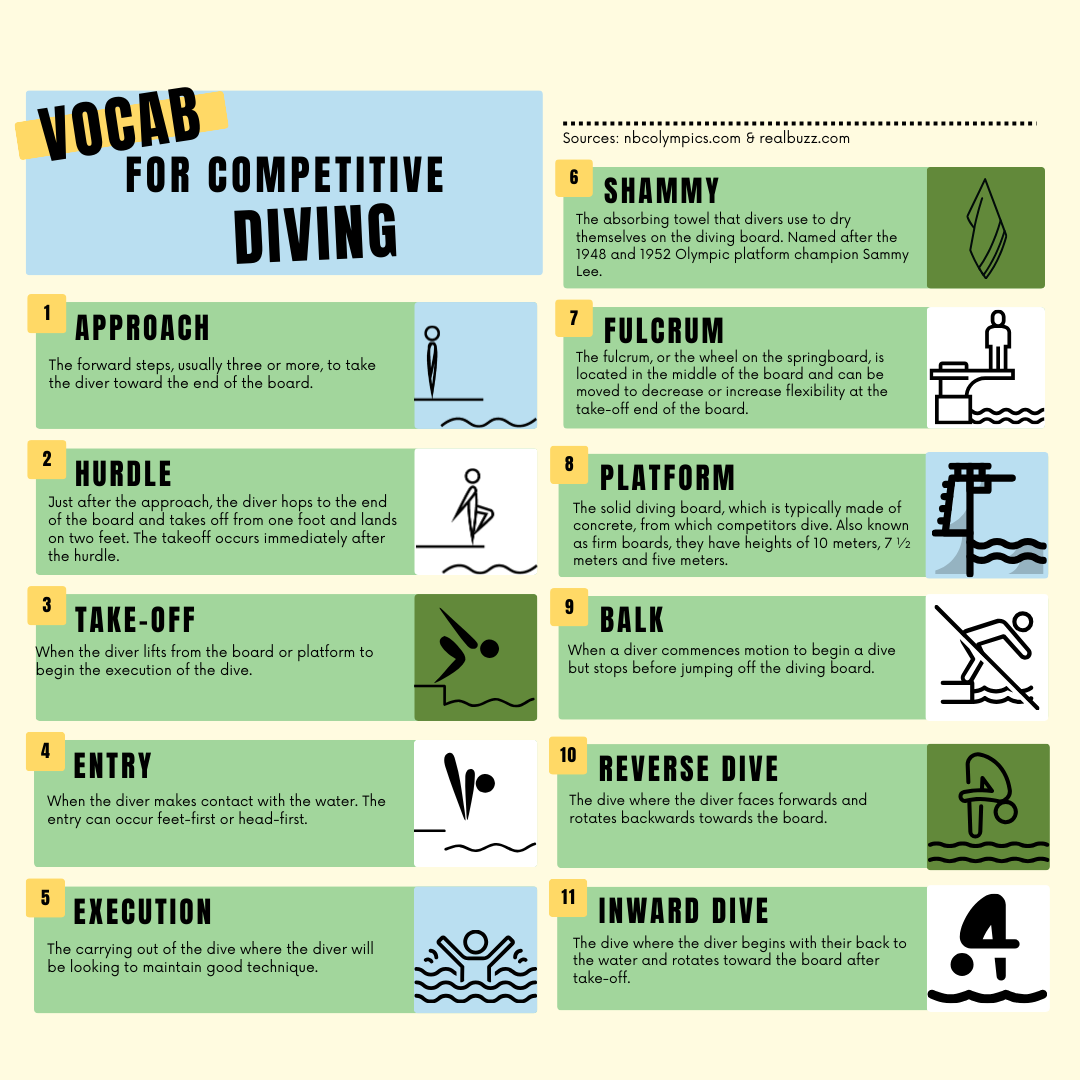 There are several ways to fail a dive, or receive zero points. For example, not contacting the water with the head or hands first on a head-first dive or with the feet first on a feet-first dive, stepping off the board without permission after assuming the starting position, performing an additional bounce on the end of the board after the culminating hurdle or committing two balks on the same dive.
On Sept. 12, Varga was ranked 17th in the state for girl's diving, with a score of 218.95. Varga placed second against Dubuque Senior on Aug. 23 with this score. Russell ranks 49th with 173.00 points. Varga made it to state their sophomore year, placing 18th overall. Since 2020, the girls diving team has sent multiple divers to the state championships. 
On Sept. 12, West High divers competed against Dubuque Senior in a six-dive meet. In the junior varsity, Russell finished first with 172.80 points. Clara Frank '27 followed with 162.95 and Jaimie Johnson '27 finished fifth with 35.65 points. In the varsity one-meter diving, Kamila Swanson '25 finished first with 243.65 points and Varga finished second with 203.20 points. Samantha Gumpper '24 finished sixth with 141.80 points. However, all of them had to start somewhere.
Varga and Russell both started at the Iowa Diving Club before seventh grade. Russell's sister previously did diving, so her parents also signed her up.
"I quit gymnastics, I didn't have anything to do, and my mom was like, you should join diving. And I was like no. And then I thought about it and then I joined," said Varga.
The diving coach, Kasijaden Natarajan, coaches the Iowa Diving Club and the West High diving team. While Varga, Russell and Swandson agreed that Natarajan is passionate about diving, they don't agree on his opinion about the difficulty of learning diving.
"Kasi says it's the easiest thing in the world, he's wrong," said Varga.
"If you want to be good [at diving] it's hard because it's scary," said Russell.
"If you want to be good [at diving] it's hard because it's scary,"
— Rowan Russell '25
To them, diving is challenging due to the mental barriers they face on the board. Getting through the fear of not hitting the board is hard for anyone, much less flipping off of the board. Often, mental blocks can lead to balks on the board.
"Sometimes it's really scary when you close your eyes and you're flying through their air and you just [smack]," said Russell.
Varga hopes to make it to state again this year, while Russell hopes to compete a front two-and-a-half dive. Overall, the team atmosphere is supportive and fun. The competitions only highlight this, with both teams cheering the divers on and high-fiving each other one dive after another.