More than 48,000 high school seniors sign National Letters of Intent (NLI) per year, stating they are committing to their school to further their academic and athletic careers. Many National Collegiate Athletic Association (NCAA) Division 1 and Division 2 schools use the NLI as a "contract" between the school and the student-athlete. Many Division 3 and NAIA schools use "Celebratory" NLIs so athletes can participate in signing day.
Emma Stammeyer
Volleyball captain and starting setter Emma Stammeyer will head to the Big Apple to play at Fordham University.
"It's exciting that I get to start a new part of my life, especially since New York is a very new place to me."  Stammeyer said.
Her teammate and co-captain will also be signing alongside Stammeyer, "It's nice that I get to sign alongside Melae and that we both get to continue to play volleyball in college."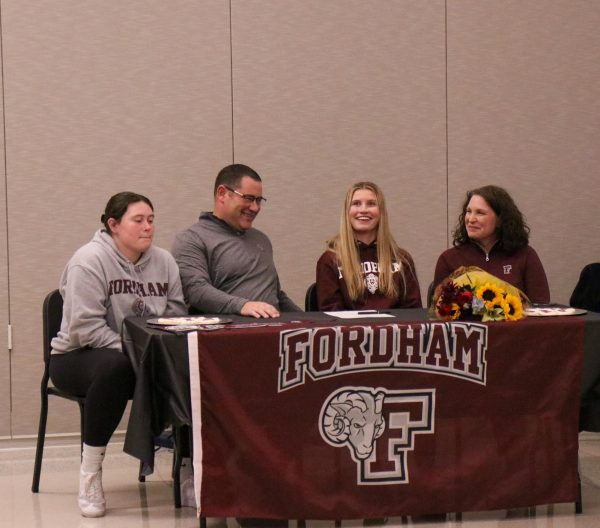 Stammeyer has been a force to be reckoned with on the court her past four years playing for west volleyball. Racking up 331 assists this season, Stammeyer led the Trojans to a fourth place finish in the Mississippi Valley Conference. She also received second-team honors for the Mississippi Valley Conference.
Melae' Lacy
Outside hitter Melae' Lacy is heading down south to play volleyball at Tennessee State.
Lacy recorded 208 kills this season, making the Mississippi Valley first-team all-conference.
Alongside her teammate Emma Stammeyer, she will be continuing her volleyball career at the Division 1 level.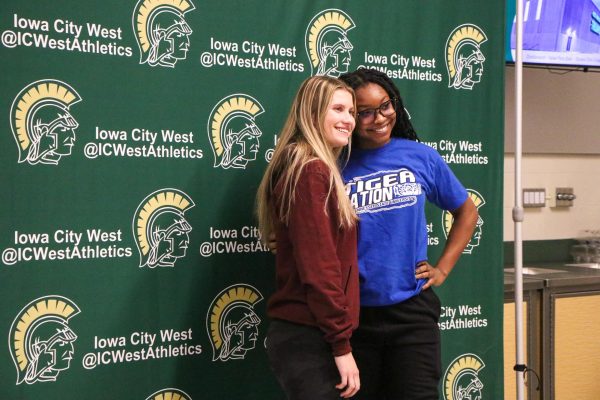 Lacy has an impressive athletic resume, including her basketball career. Ultimately she decided to pursue volleyball over basketball in college. "Basketball is my first love but volleyball is a comfort sport for me."
"They were on my top 10 my psychology major. I chose my major over my sport first then I went to a camp where I got recruited." explained Lacy.
Dillon Croco
From boys golf, Dillon Croco, who led the 2023 team to a historic state tournament run, will be heading up North to become a Carleton Knight.
Croco has been an integral part of the Trojan boys golf team. He shot a five-under-par 66 at the State Qualifying meet, helping secure the Trojan's first run to the state tournament in 14 years.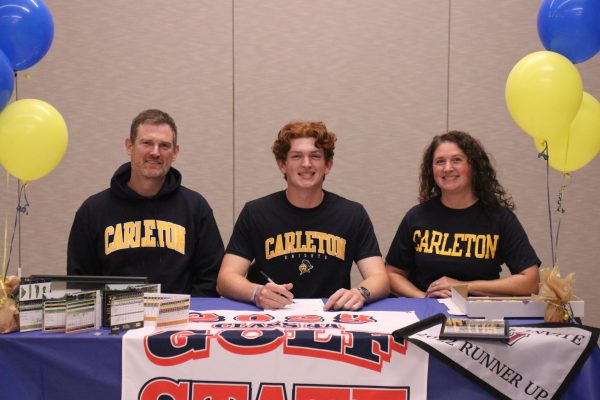 "To be able to sign to Carleton is an accumulation of years of hard work on the golf course and in the classroom," said Croco.
Madeline Fincham
Heading to the Gopher State next fall is Madeline Fincham, who is committed to row at the University of Minnesota.
For Fincham,  rowing wasn't the only thing that drew her to the Twin Cities.
"They have a really good business program and I wanted to go to a big school. Also Minnesota people are really nice." said Fincham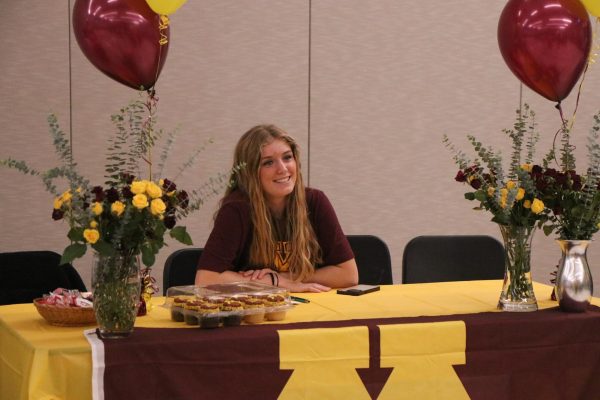 Fincham has won a multitude of races in her career, so competing at a high level felt right. "I row for a really competitive club and when I decided to join the club it [being recruited] felt like a must. My coaches helped me out and it all fell into place." Fincham explained.
Max Gerke
Boys swim captain Max Gerke signs to continue his swimming career at Indiana University–Purdue University Indianapolis.
Gerke has an impressive resume from junior nationals to dominating the high school scene. On his recruiting journey, he visited many places, but when he arrived in Indianapolis, he knew that IUPUI was the perfect place for him.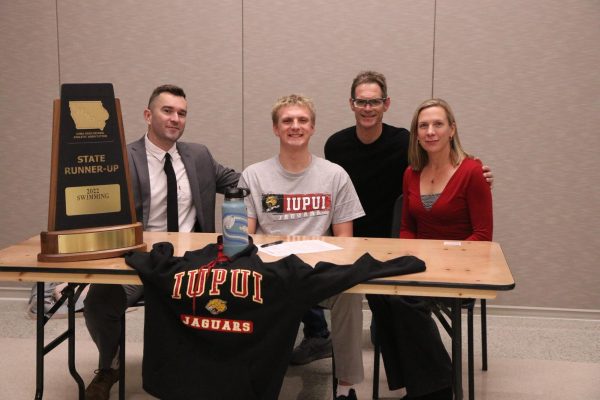 "The team environment was on another level. It was the first school I went to where I was genuinely excited to be there." said Gerke. "No other visit was like that visit [to IUPUI]."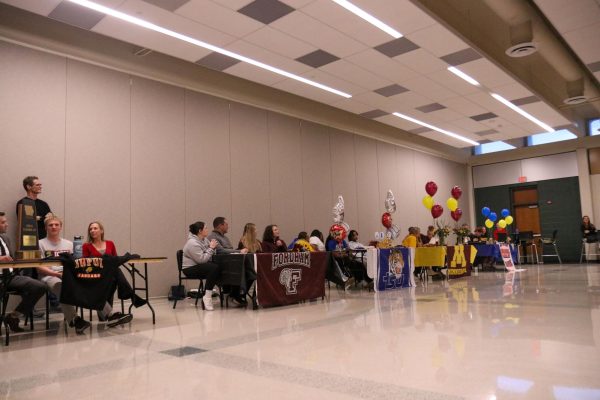 During the signing day ceremony, athletic director BJ Mayer announced each student-athlete and allowed them to give a short speech thanking their family, friends and coaches.
There will be more signing days in February and April, with more Trojans committing to their future homes.