Just a little help from my friends
One WSS editor shares her thoughts on the most important thing in life, with a little life lesson along the way.
After taking driver's ed, I thought I knew everything there was to know about driving and taking care of a car. I kept my car clean, I drove the speed limit and I always made full stops at stop signs. My car was in perfect condition, and I always made sure to lock the doors and turn off my lights when I parked. How could anything ever go wrong?
One night, I was at school late. Around 7 p.m., it started pouring down rain. Thunder was crashing, and a thought popped into my mind at lightning speed. I had left my sky roof open. Within seconds, I screamed. "Oh no! My car" I jumped out of my seat, dropped the chips I was eating and explained my sky roof was letting all the rain in.
"
The thought 'how could I be so stupid?' ran through my mind. And then I opened the door."
— Fenna Semken
A roll of paper towels was thrown at me from across the room, and I darted out of there to go fix the problem. I ran down the long hallway to the front lot and skidded to a stop in front of the door. The sky was dark, the rain was falling faster than Niagra Falls and thunder shook the parking lot. The thought 'how could I be so stupid?' ran through my mind. And then I opened the door.
I was drenched within three seconds (maybe less) and I began the long walk to the very back of the lot, where I thought it was smart to park my car (less traffic means less accidents, right?). When I got to my car, my eyes were closed. I slowly opened the door and sat down in a lake.
The car turned on (a literal blessing) and I closed the sky roof. Then I looked around and let out a whimper.
After the whole roll of paper towels was used up, and the car was still drenched, I made the trek back into the school. Once I got back to the classroom, I was wrapped up in two blankets and put by the heater to dry. Fruit snacks were also given to me as a way to say 'sorry you just went through that.' No one laughed about it until I did.
"
Once you find those people who will be your friends through thick and thin, you have made it."
— Fenna Semken
You, the reader, probably think the moral of this story was to not leave your window open in the rain. But something bigger came out of it.
The lesson was that finding a group of people who will help and support you through small, not-so-smart actions such as this was everything I needed. Finding a group of people who will laugh with you when you fall down the stairs, lose your keys multiple times in one night (they were always in my lunch box), explode a cookie in the microwave or come back to the classroom soaking wet from the rain.
Find people who will do crazy dances with you, sing throwback music at the top of their lungs and speed to Java House to get your beloved chai in a mere five minutes. They are the friends who will get to school at 6 a.m. to film a crazy music video to old Hannah Montana music with no embarrassment. I feel so lucky to have them in my life.
Once you find those people who will be your friends through thick and thin, you have made it. With a little help from my friends over these past four years, I know who I am and where I am supposed to be. And I know I will never, ever leave my sky roof open again.
View Comments (1)
Donate to West Side Story
Your donation will support the student journalists of West High School. Your contribution will allow us to purchase Scholarship Yearbooks, newsroom equipment and cover our annual website hosting costs.
About the Contributor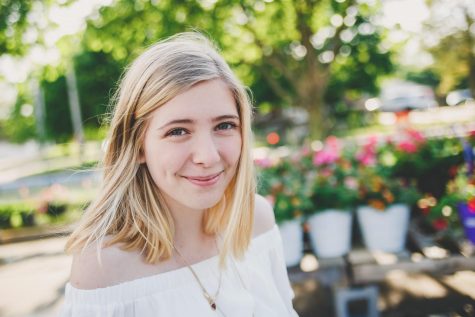 Fenna Semken, Online Editor-in-Chief









Fenna Semken is a senior at West High. It is her third year on staff and she is Online Editor-In-Chief this year. When she isn't working...