Lay it all on me now: a "Nation of Two" review
Australian singer-songwriter Vance Joy returns with an album framed around a relationship one step away from imploding.
If you remember Vance Joy's "Riptide," I'm happy. I stumbled on the track about half a year before 102.9 started playing it, thanks to iTunes' Single of the Week (rest in peace). I was really impressed with it on first listen. Joy had a very expressive voice, and the track was this fond little ditty of embracing life in romantic bliss.
Much of his debut album, 2014's "Dream Your Life Away," was like that. Although the structure of the songs made them pretty indistinguishable from each other, Joy always had consistent and heartfelt reflections on loneliness, heartbreak and love. Every time I hear his earnest voice, I can't help but smile because I understand what he's writing and singing about. That's the most important part of a performer's craft.
I wasn't expecting new material from Joy until summer 2017 dropped "Lay It On Me" into my lap. On the first listen, I was excited to hear the signature expressive delivery and intimate details I had missed. But I was also curious about the bombast of the drums that gave this lead-off single more of a pop flourish. If Joy was coming out with another album, would he embrace a more radio-friendly sound?
The answer is both yes and no. Despite greater percussion and the work of pop producers like Dan Wilson and Dave Bassett, the music remains distinctly Joy's. However, there's a bit more focus to anchor the lyrics. According to Joy, "Nation of Two" is about "a perfectly self-contained couple [whose] love … gives them their bearings." This is evident thanks to Joy's devoted words and voice. But at the same time, there's a self-aware obsession to the relationship that ultimately leads to a bittersweet collapse. The journey may unfortunately ring dull to some listeners, but there's still notes of empathy found in repetition and a well of emotion.
"Call If You Need Me" opens up the record with a personal detail: "I love you in the morning when the blood runs to your cheeks." However, he can't "get no sparks" from the girl he loves, even though it's very obvious the two of them really like each other. The song is an equal blend of sweet and heart-wrenching, helped by melancholic acoustic guitar strumming and hints of drums.
(Atlantic Records)
The next four songs move in a bigger and more bombastic direction. "Lay It On Me" continues that plea to "let [him] in" and trust him, while "We're Going Home" has the relationship already established and Joy is ready to come back to his lover. "If we make it or we don't, we won't be alone," Joy croons over a rollicking beat with plenty of fanfare appropriate on the road trip back to the one you love. However, "Saturday Sun" seems to steer that devotion in another direction. "I met someone out on the West Coast," Joy sings. "I gotta get back. I can't let this go." Part of me wants to assume it's the lover he's talked about in these past three songs, but could he actually have found someone new? If so, what does that say about his commitment? Even though he places so much significance on this girl putting "the breeze in [his] hair" and her leaving "books in [his] bed," is he still desperate to find that connection in someone else?
(Atlantic Records)
The rest of the album is filled with the pining romance that are staples of Joy. Most of them end up blending together, even when there's a bitter and exhausted spark in songs like "Like Gold." But there is a stand-out that pirouettes away thematically: the autobiographical "Little Boy." Inspired by a time when he fell off his bike and had to go to the hospital, the lyrics center on youth and the reassurance that "your father is waiting in the next room" and you'll "always be that little boy." This departure from the romantic slant of other tracks may serve as a break in the narrative, perhaps a dream for Joy to realize he's still young at heart. But it's this stuff that stands out from the material expected from him. I hope he continues to pursue that in the future.
"
["Nation of Two"] may unfortunately ring dull to some listeners, but there's still notes of empathy to be found in … a well of emotion that runs deep."
— Luke Reynolds
Although "Nation of Two" blurs together, it's an improvement for Joy as he approaches a larger scale than his debut record. Considering he has three albums left on his record deal, I have no doubt he'll continue to evolve. Even though I love his staples, it's always nice to be surprised when he takes things more personally or brings things on a trendier level.
Leave a Comment
About the Contributor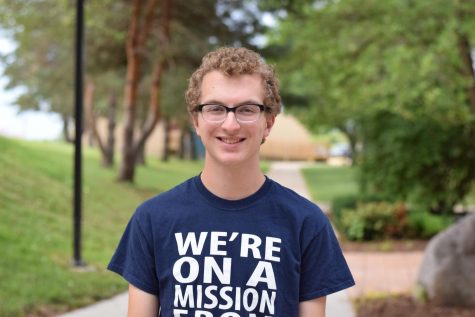 Luke Reynolds, Copy Editor, Anchor, Reporter
This is Luke's first and only year as a member of West Side Story. He'll be kept busy with anchoring, editing and reporting, but he's gonna have fun while...