All I wanna do is save the world for you: a "Vol. 1" review
Georgia Nott, one-half of alternative pop sibling duo Broods, presents an all-female music project about the vulnerabilities women face.
The amount of female producers I know can be counted off of one hand. This is a shame, especially because I listen to so many phenomenal female artists in music. However, those who are able to produce their own music are limited because men are in those positions of power. This isn't to say men haven't produced some wonderful music I love, but I do find it disheartening that more women haven't been responsible for it.
Enter Georgia Nott. Although known for being a part of Broods, an alternative pop project with brother Caleb, Nott decided to step out for a moment after realizing she was usually the only girl when it came time to be on stage or in the studio. "Once I started noticing it, I noticed it all the time, and it started to bother me that I didn't have a valid reason to explain it," Nott said. "I wanted to celebrate women that are making it happen for themselves [to] show there is a place in the industry for any woman or girl…."
And she did. Armed with producers Camila Mora and Ceci Gomez and an entire team of women, Nott started work on The Venus Project. The result, this 34-minute first volume, is nothing short of phenomenal. "Vol. 1" is an intimate and close look inside the sadness one woman faces in the world. But each song causes the experiences to transcend beyond an individual's. They become universal. Nott builds a shelter where women can discover they're not alone, a place where visitors can let out their anguish, become stronger and return whenever they need a reminder of their worth. There's a reason why this was released on International Women's Day; "Vol. 1" celebrates the tenacity found in the often marginalized sex and celebrates it. It's a beautiful thing.
"
"Vol. 1" is an intimate and close look inside the sadness one woman faces in the world. But each song causes the experiences to transcend beyond an individual's. They become universal."
— Luke Reynolds
The album opener "Moon to Moon" starts things off on a cryptic and haunting note before transitioning into "Need/Want." This track introduces the main conflict of the album: the tricky balance between needing and wanting, whether a lover is a necessity or a craving. Nott is "fearless when … close to [a lover]" but doesn't know if what she needs and wants are the same. Her inability to articulate how much pain she's causing herself makes her reach the conclusion of needing someone else to blame for her problems. Then the quiet piano explodes into a synth and drum-layered explosion, as if the mind is coming undone with this information. It's a short but impactful representation of indecisiveness, a very human emotion.
From there, the face-off continues. "Numb" exposes that the desire to break out of feeling disconnected comes with realizing your own self-deprecation. "Go Easy" recognizes love isn't needed, but what if it's what lovers secretly want? Lastly, both parts of "Hey Love" expose the realities of this cycle via voicemail messages. Lauren Page and Nott herself are two sides of the coin, Page's message a heartbreaking trap in depression while Nott has come out the other side stronger than ever and reassures her partner and all women out there they'll be okay as well.
(Dryden Street Ltd)
But that battle isn't the only thing confronted on this record. Pre-order single "Need a Man" takes a step back from a toxic situation, where every opportunity Nott can be strong is "only as good as [her] weakest day." Her partner tells her she needs "a man to protect [her] from other men." "Can't you see the irony?" she replies, and for the listeners, everything becomes strikingly clear. Women live in a world where they constantly need to be validated by men. This isn't okay. Why does the problem always have to be her? This question is pondered and expands over throbbing percussion and wistful guitar.
(Dryden Street Ltd)
Then there's "Won't Hurt," originally released as the very first taste of The Venus Project. It's an absolutely mesmerizing piece, beginning with a jaw-dropping orchestral swell before fading into guitar. Nott presents a world where she's lost and afraid and has to pretend her "confidence [is as] clear as day." But she finds solitude in knowing someone is there. Love doesn't cure sadness, but being conscious of a person having her back is enough to remind Nott she's "not a ghost." She prays it doesn't hurt, even when she's burrowing all her pain under the surface. The outro of this track reflects that searing hurt beautifully, soft drums and synths ebbing and flowing like waves purging the conscience of its misery.
The ukulele-driven "Take Me Out" closes the chapter on this sorrow, even as Nott pretends this date will make her forget about her problems. Then inner strength comes through. "Daughter of the King" is inspired by Nott's cousin, who went through a painful break-up and thought she deserved to be treated better than she was. "She once did sing stories gold and bright," Nott sadly sings over a hymnal-like piano. But there's faint hope in knowing there will be more chances where she'll "give the world" and be supported by Venus, goddess of love.
"Vol. 1" closes with "Sorry Kids," a rhythmic and somewhat incomprehensible song due to pitch-shifted vocals. Nott meant it as an environmental awareness song, and one message at the end wraps the album in a neat little bow: whenever you're down, know there will be people who will "save the world for you." That pillar of courage after releasing vulnerability is what The Venus Project represents, and boy, it is beautiful to witness. This debut album is a perfect representation of the insecurities of women and how they overcome them. If a friend is feeling lost, play them this album and maybe they won't feel so alone anymore.
Leave a Comment
About the Contributor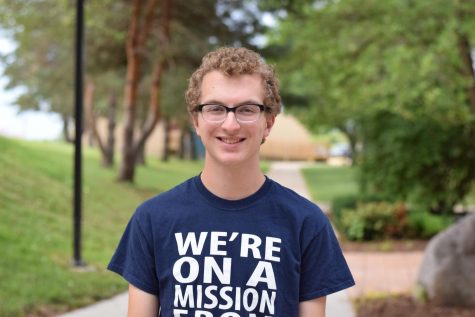 Luke Reynolds, Copy Editor, Anchor, Reporter
This is Luke's first and only year as a member of West Side Story. He'll be kept busy with anchoring, editing and reporting, but he's gonna have fun while...