Behind the perfect serve
According to Grace Fleckenstein '19, getting the perfect serve is all about mentality."Volleyball is so mental. If you have any doubts in your head that you're going to miss a serve, you probably will, even if you've served thousands and thousands of balls," Fleckenstein said.
However, the mental components in volleyball differ from other sports."Since it's a team sport, you can't get in your own head because it will create islands, and we can't have six individual islands on the team," said Rylee Fay '20, a member of the volleyball team.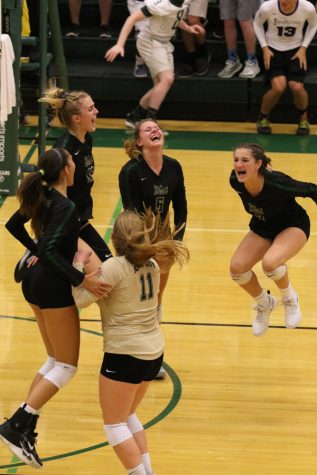 The key to getting that perfect serve is knowing how to recover from the bad ones. "I just brush it off. I focus on [the fact that] this is a team sport," said Haley Gallagher '19, explaining how she and the team recover from their mistakes.
"You have to play [as] one team. Your teammates have to have trust in you and have to know that you're going to come back with the next pass or … whatever you do next," said Gallagher.
The team strives to leave their personal lives behind when stepping onto the court. "Our coach says … Be where your shoes are,'" Fleckenstein said. "So if we're in the gym, we're supposed to leave all outside things outside of the gym."
The still-recent death of Caroline Found continues to put day-to-day struggles into perspective. Every year, the team visits the tree for Found, writing something down on a ribbon and tying it to the tree to honor her life.
"That was such a big event that happened," said Fay, recalling the accident that took Found's life.
"[There are] little things in our lives that you bring into the court; there could be something so much worse that could happen to us, and we just need to let everything that isn't big [not] affect us, because something could happen any day," Fay said.
In the end, getting that perfect serve all comes down to being a team."We're teammates, and we all are trying to accomplish the same goal," Gallagher said. "You can't let your problems affect you when you step onto the court. I feel like if you do it, affects the whole team's mojo."