A race to be picture perfect
WSS Online Editor-in-Chief and Co-Sports Editor Kara Wagenknecht '19 shares how her journey through sports photography has shown her what she truly wants to pursue as a career.
As the night sky grows darker, the stadium lights begin to illuminate. Fans of all ages cheer at the top of their lungs. Football players fill the sidelines. The sounds of clicking fill the silence as the clock ticks down the remaining seconds.
A line of what looks like ants stands alongside the row of football players. But they aren't ants; they are photographers, and I am one of them. I sit in between photographers from the Iowa City Press-Citizen and the Cedar Rapids Gazette nearly every game. Just one of their various camera lenses can cost as much as two of my cameras.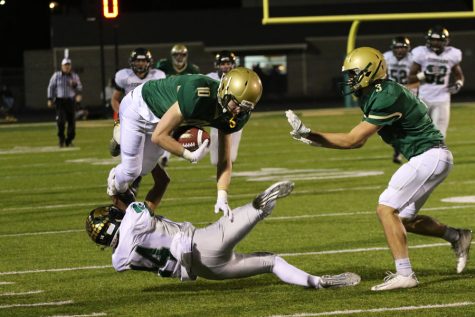 It can be intimidating, shooting for a high school publication alongside professionals. However, I don't get discouraged and continue to come back every game with my trusty camera in hand.
I'm not going to lie: sports photography is hard. You have to deal with lighting — various types for indoor and outdoor venues — and having your shutter speed off by just one notch can change the exposure of your photos. Exposure refers to how bright your photo turns out. If your shutter speed is too fast your photo will turn out dark, but you can catch more action. If the shutter speed is too slow your photo will be too bright and will turn out blurry. So, you have to find a happy medium so your photo is well-exposed but still captures the action.
Every game brings a different challenge. Whether it's trying new angles or photography techniques, there is always something new you can do to make your images stand out from the rest. When you sit around the same photographers week after week you start to build connections and friendships with one another. You even start to have friendly competitions between each other to see who can get a better photo of the action.
"
Every game brings a different challenge."
— Kara Wagenknecht
However, surrounding yourself with your acquaintances can make it hard to stay focused throughout the game. It sounds so simple, but it can be a struggle to concentrate on the game instead of chatting with your friends. In sports photography, you have to constantly watch the game, and if you turn away for one second you could potentially miss the most important play of the night.
Personally, I find staying focused even harder than setting my camera settings. Being a sports fan, I tend to zone out of my photographer mindset and end up watching the game, especially during the most intense parts, which are when the best photos happen. I have been getting better, but it's still hard to find that perfect balance between watching the game and taking photos.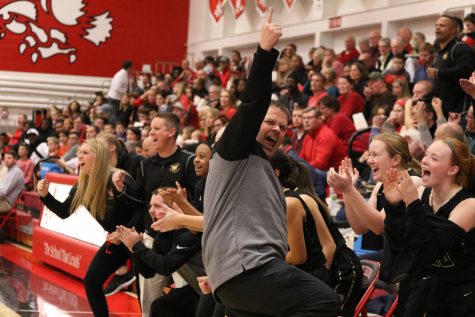 Even through all of the struggles of being a sports photographer, I still return every week. My journey through sports photography has been a rollercoaster.
I have always loved photography. I started taking photos in elementary school, but took a break in junior high due to the fact that I had lost my prized possession: my camera. Though, it was merely an $80 point-and-shoot camera. Freshman year I took Introduction to Journalism. In the class we had a unit on photography, where I quickly rediscovered my love for the art. With my passion reborn, I got a new camera for Christmas.
That was the spark that started it all.
I started photographing everything. From flowers blooming outside my house and my dogs playing in my backyard to my friends downtown. I began becoming more comfortable with the art of photography.
I decided I wanted to branch out and apply to be a photographer on WSS. Unfortunately, I didn't make it on staff, so I decided to attend a journalism camp during the summer to learn more about the world of photojournalism.
I kept in contact with the journalism advisor and the photo editor during the school year. I was able to join staff during third trimester of my sophomore year.
When the first day of third trimester came around I found myself wandering back into a room plastered with covers of old newspapers, awards and quirky boards filled with photos of previous staffers. I sat in the corner and absorbed everything as staffers filed in one by one and chatter began to fill the room. The day had finally come: I was on staff.
I began filling my assignments by taking portraits of people, but soon found myself in need of another assignment. So, I went to a girls track and field meet.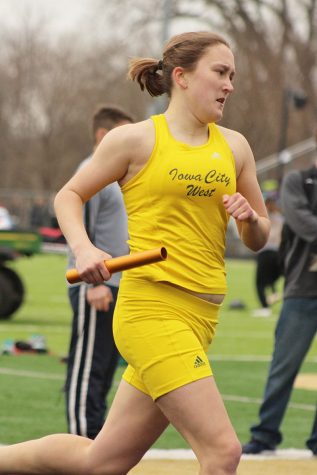 I went down to the track and tried to figure out what to do. I had never attended — let alone covered — a track and field meet before.
As I walked down to the track I didn't know what to expect. I kept thinking over and over in my head, "Would I get in trouble for walking on the track? Am I going to get run over? Where do I stand to get the perfect photo? What events are which?"
I was completely lost.
I had no idea which shutter speed or aperture to use, where to stand or what the basic rules of track and field were. I played around with my camera settings most of the meet until I finally found the right one. By that time there weren't many races left, but I photographed most of them anyways. Although I had no idea what I was doing, I managed to persevere and even began to enjoy it.
Fortunately, there was a professional photographer on the track. I remember watching everything he did to make sure I was doing it right. After my adventure at the track meet, I found myself at every sporting event.
After years of doing the same, I have realized one lesson above all: sports photography is addicting.
You get to sit on the sidelines and have a view better than anyone else sitting in the stands. When you get to sit that close, game after game, you feel as if you are part of the team.
During my sophomore year I had the opportunity to cover the Drake Relays, one of the biggest track meets in the nation, which features Olympic, collegiate and high school athletes.
That day, as is usual at the Drake Relays, it happened to be pouring rain.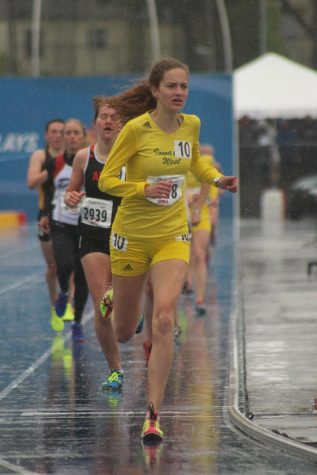 I can recall sitting outside of the media room as I watched all the professional photographers "do their thing."
I watched as they ran outside and stood in puddles of rain for a single race and sprint back inside to upload and edit their photos, trying to be the first photographer done with editing.
It was like they were in their own race. A race to get the perfect photo up as fast as they could. They repeated this vigorous cycle for three days in a row.
Although the Drake Relays is a three-day event, I was only able to attend one day. However, that was the day I realized I wanted to be a sports photographer.
I wanted to capture history being made, but also have the freedom to be creative. Sports photography allows me to do what I love while having fun. There is always something to shoot: reactions, coaches, players on the bench and the game itself.
And who doesn't want to get paid to attend a sporting event and take photos?
Since finding my passion in sports photography, I have become a more well-rounded photographer. Once you master the dingey West High gym lighting and the stadium lights at City High School, you feel as though you can shoot anywhere.
I have found myself throughout the years improving not only my photography skills but my skills as a journalist, as well. Having to quickly mess with my camera settings minutes before a game has taught me to adapt and face challenges. I've found myself more confident in my work and in myself.
As I reflect on my journey through sports photography thus far, I've learned one important lesson: there is no "right way."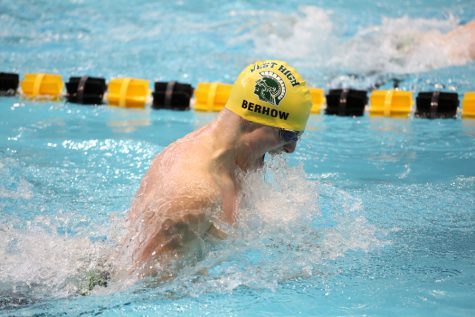 There isn't a rulebook on taking sports photos. You get the creative freedom to utilize an array of styles. You can isolate the athlete, make your shutter slower to get a motion blur or even get wide angles of the action. There are endless combinations of ways you can photograph sports.
I spend hours and hours of my life staring through the small viewfinder on my camera and I would not change it for the world. As I grow as a photographer and journalist, I have to give a huge thanks to what sports photography has taught me. Without it, I would have never found what I truly want to do.
Leave a Comment
Donate to West Side Story
Your donation will support the student journalists of West High School. Your contribution will allow us to purchase Scholarship Yearbooks, newsroom equipment and cover our annual website hosting costs.
About the Contributor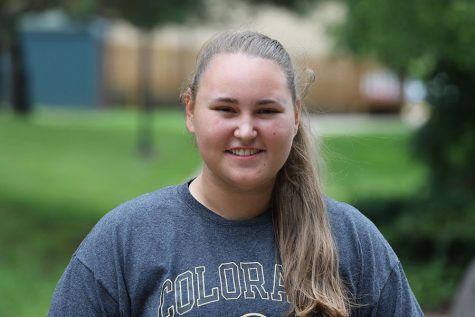 Kara Wagenknecht, Online Editor-in-Chief, Co-Sports Editor
Kara is a senior at West and this will be her third year on staff. She is the Online Editor-in-Chief and Co-Sports Editor this year. When Kara isn't covering...