Clearing things up
West students and skincare professionals provide their tips and tricks for taking care of your skin.
Sunscreen
The heat of the sun glares down, signaling that it's just about time to reapply that sunscreen. A couple months later and the warmth of the sun will be swapped out for the frosty, chilly winter. Just because the humidity of summer is no longer here doesn't mean using sunscreen should fade away along with the heat.
Sunscreen is an essential part of our daily skincare routine. Dr. Jessica Harms, a dermatology physician resident at the University of Iowa, says that sunscreen plays a significant role in protecting our skin.
"It's the best way to prevent skin cancers as you get older," Harms said. "It can prevent you from developing fine lines and wrinkles, so regardless of skin type, you should be using it daily."
One simple way to include sunscreen into your skincare routine is through moisturizer. This sunscreen should have at least a Sun Protection Factor (SPF) 30 or more. According to Harms, studies have shown that sunscreens that surpass the SPF 30 mark are proven effective at preventing sun damage.
"No matter what SPF is used, you should reapply every one to two hours while outside," said Harms.
For Helen Kearney '23, skin care became a more important task after going through the process of attempting to find a new sunscreen. After her mother started having her use sunscreen at an early age, Kearney wanted to find a more comfortable sunscreen for herself.
"The one product I could not go without would be sunscreen. It is the most important part of my routine," Kearney said.
Skincare misconceptions
There are an abundance of skincare misconceptions, and it can be hard to know what to look out for and how to take care of your skin.
"People think that the more ingredients that you put on your face the better, when often just basic gentle cleansers and moisturizers are the best," Harms said.
"
People think that the more ingredients that you put on your face the better, when often just basic gentle cleansers and moisturizers are the best."
— Jessica Harms
Many inaccurately believe that people with oily skin should omit moisturizer from their daily routine. Instead, Harms recommends looking for specific ingredients on the product label.
"[Products] that say oil free can be helpful, and that say non-comedogenic, meaning that they won't cause acne," Harms said.
Those with oily skin are prone to breakouts, so using a gentle cleanser and an oil-free and noncomedogenic moisturizer are two ways to help combat oily skin.
"Even people with oily skin can still benefit from moisturizers," Harms said.
The oil found on the surface of our skin comes from the sebaceous glands which are found throughout our skin. When excess oil or dirt builds up in them, it can result in irritation of the skin.
Those who have a sensitive skin type should steer away from scented products, as these can irritate the skin. These fragrances found in products are sensitizing ingredients, meaning that they often will make the skin react negatively to whatever the applied substance might be. Fragrances are frequently found in products, and can be spotted on the ingredients list. Despite the pleasant scent they provide, negative skin responses can arise from overuse.
Students and skin
Many skin conditions can alter the appearance of someone's skin type.
"Acne is probably the most common one and eczema is super common in kids," Harms said. "There's a lot of things people are just born with genetically, and it's nothing that they're doing that's causing it."
Julie Shian '20 used Tretinoin, a dermatologist prescribed topical medication, to help clear up her skin over the span of six months. She was prescribed tretinoin before starting a new medication for two months.
"I was prescribed something called Mupirocin, which is used to treat bacterial skin infections," Shian said.
For Shian, this wasn't what she was dealing with. Rather than a bacterial skin infection, she had a skin condition that caused red spots to appear and scab her arms. Shian set up an appointment with a dermatologist to see what was causing the issues and used was prescribed to use Mupirocin for two months.
"I didn't like having cuts on my skin all the time, and nothing I was doing was really working," Shian said.
While Shian is no longer using these products, they have had a positive impact on her skin.
Anna Carmen '20, has been using dermatologist prescribed products to combat acne and eczema. For the past three years, Carmen has been using a retinoid cream for acne. According to Carmen, the cream helps advance the shedding of her skin, which works well alongside an exfoliant.
"I also have really bad eczema," Carmen said. "For that, I use Hydrocortisone cream on my face and Fluocinonide on the rest of my skin."
Carmen has been using these eczema products for nine years and has seen positive results. While some students like Carmen have gone from appointment to appointment to find the right product to suit their skin needs, others like Niyati Deshpande '21 have taken a different approach. She wasn't prescribed Curology by a dermatologist or pediatrician. Deshpande has been using the product for nine months now and has seen an improvement in her skin.
Curology is an online service with certified dermatologists ready to help assist with client's skin needs. Users are able to take a quiz with questions ranging from skin type and needs to any other medications and treatments that the client might be on. Additionally, the quiz asks questions about other variables that can affect the skin, from sun exposure to the amount of water consumed in a day. Deshpande first came across Curology through online advertisements.
"My skin was really, really bad because of various different factors," Desphande said."I had been seeing these ads, and I first thought it was a hoax."
She decided to experiment with Curology after becoming motivated by a conversation that she had with a classmate and the fact that the first month of use is free.
"What they tell you at the beginning is that it takes a little bit, and you might have some setbacks because your skin is adjusting to this new treatment," Deshpande said.
For her, these setbacks came in the form of breakouts, emerging in places she that she didn't previously have issues with. Those new symptoms persisted for a period of time and then faded away. "It took at least a month for me to actually see some differences," Deshpande said.
Stress and your skin
Often, stress levels can contribute to the condition of our skin. Many teenagers struggle with breakouts, and this is often tied back to stress levels.
"When I get stressed, I get eczema breakouts on my chin and pimples on my forehead," Kearney said. To combat this, she uses pimple patches on her forehead. In addition to this, she also prevent further breakouts by eating healthy and keeping her skin hydrated.
Because skin becomes sensitive and irritated when stress levels rise, keeping your skincare routine simple is important. Our routines don't need to be extensive and complicated. Sometimes all you need is a gentle cleanser, sunscreen, and moisturizer.
Leave a Comment
About the Contributors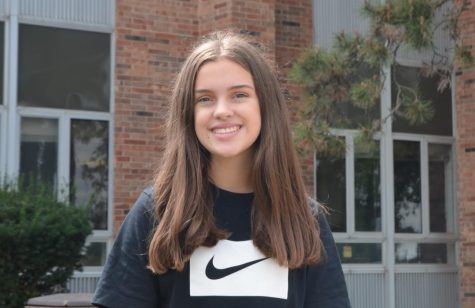 Caroline Chandler, Assistant Sports Editor
Caroline Chandler is a senior at West High. This is her second year on staff as the print assistant sports editor. When you can't find her on the tennis...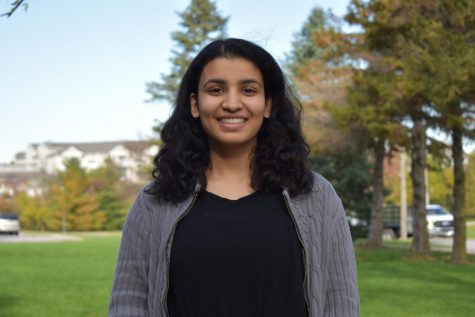 Aditi Borde, Photo Editor
Aditi Borde is a junior at West High. This is her second year on staff and she is the photo editor and social media editor. Outside of the newsroom, Aditi...