Winter self-care essentials
The winter months have arrived, and WSS has compiled a few things students can do to survive the cold and dreary weather.
The temperature is dropping, classwork and snow are both accumulating, the sun is setting earlier, and we all know what that means: winter has arrived. For some, the colder months bring forth a newfound laziness and an inclination to spend the remainder of days in bed; for others it brings sadness and seasonal depression. While these suggestions are no substitute for medical solutions, we do have some ideas on how to challenge those winter blues. 
Skin care focus
Due to the cold weather people may feel entitled to lay in bed all day and eschew their daily facial routine. Why get out of bed early to care for your face? Well, because of the cold nature of these months, now is the most important time to keep up with skincare routines. Since it is colder and the air is dryer, skin is more likely to get itchy and slacking on acne routines causes an outbreak of pimples, especially with the additional stress winter entails. 
Find an indoor hobby
Over the summer and spring, it is easy to cure boredom by spending time outdoors. This ceases to be the case when the snowstorms hit in January, since it is cold outdoor activities available become scarce. Finding a replacement for these activities is essential so the whole day isn't spent in front of a screen. It is important to maintain a sense of creativity during the winter. Some ways could include starting an art project, discovering a new author, writing or bullet journaling and many more. Seniors, you could use this spare time to actually work on those college applications for the Jan. 1 deadline! 
Have a lazy day
Although this seems to contradict the previous and next suggestion, having a lazy day every so often is definitely acceptable and should be considered ordinary. Take a day to finish that series on Netflix or have a movie marathon with your friends. This day could also be used as a mental health days for those who have a more difficult time getting out of the house.  It is okay to curl up at home with a bag of popcorn and chocolates while binge watching television as long as it does not become an everyday occurrence. 
Testing new recipes
Not only will learning a new recipe satisfy your sweet tooth, but also cooking is a great way to waste time on an otherwise boring day. Start simple and just look up recipes online and then you can go ahead and try more complicated things like a meal for your family. This one can score serious points at home with the family and it gives you something good to eat while marathoning another Netflix show.
Get some sun every day
We get it, it is freezing cold out and nobody wants to go outside. Despite this frigid weather, everyone needs sun every so often to soak up that vitamin D. As well as this, it can help with some of that seasonal depression. One way to get out could be taking a walk in the afternoon when it is not as cold our or even going sledding. Getting a little bit of sun every day helps people feel like it's not so dark outside and it may even brighten your mood a little bit. If you absolutely can not bear to go outside, you may want to think about investing in a Happy Light. 
Find a way to exercise:
While it may seem like a major chore to get out of the comfort of a warm blanket, exercise is a priority. Not only does it keep you physically in shape, but it gives you a pattern to follow. Along with this, exercise has been known to make people happier by releasing endorphins. Since it is cold and the sidewalks and roads may get icy soon, that morning run  may not be the way to go anymore, But one alternative could be going to the gym or trying at home exercise.
Make a winter self-care package
Another fun way to kill time in the winter is to create a care package for yourself. Gather miniature objects that bring you comfort on a day to day basis and put them in a baggie. Making a winter self-care package is a good way to spend time on a lazy day and prepare yourself for many more cold days to come. Scroll down for a list West Side Story has compiled of things that could be included in a care package.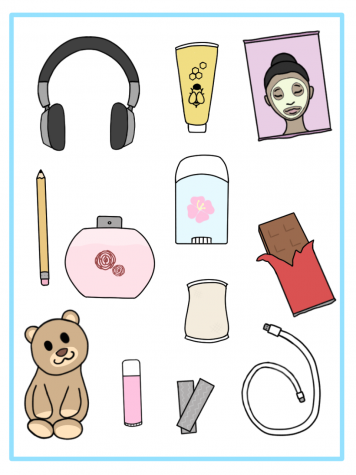 Things to include in a care package for the winter
Mini hand lotion bottle 

(My suggestions: Burt's Bees Shea Butter Hand Repair Cream, Neutrogena, mini Eos bottle).

Hand warmers for those whose extremities face the worst of the colder weather.
Lip balm or chap-stick to keep those lips from cracking.

(Some suggestions: Burt's Bees, Carmex, Blistex)

Portable snack or comfort food- everyone needs something to munch on. (I prefer Skinny Pop, trail mix, chips, or chocolate.)
Stress ball or stuffed animal for comfort in the cold.
Gum or mints, so that your breath can be the least of your worries.
Face masks for when relaxation is your number one priority.
Phone charger, so you don't end up stuck at school or stranded somewhere with a dead phone.
Headphones to tune things out when you're not having the best day.
Mini deodorant stick to take on the go just in case you forget before leaving the house.
Mini perfume or cologne bottle to smell your best wherever and whenever.
Leave a Comment
Donate to West Side Story
Your donation will support the student journalists of West High School. Your contribution will allow us to purchase Scholarship Yearbooks, newsroom equipment and cover our annual website hosting costs.
About the Contributors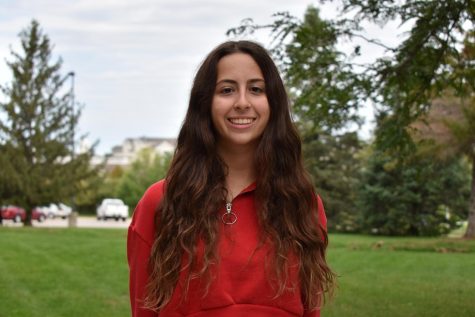 Carmela Cohen Suarez, Entertainment Editor
Carmela Cohen Suarez is a senior at West high and this is her third year on the West Side Story. She is the online Copy Editor and Entertainment Editor....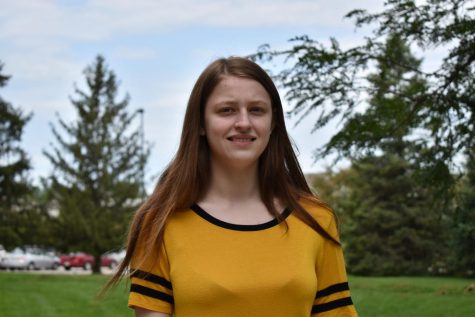 Emma Hall, Artist
Emma Hall is a senior at West and this is her third year on staff as an artist for online staff. in her free time she likes to draw, read, and play video...