Looking back: Where to find love?
This week, Caroline Mascardo '22 examines a 2003 article about online dating, in which a WSS staffer investigated various dating sites.
Originally published in April 25, 2003 issue of West Side Story by Kat Rokhlin
Where to find love?
eHarmony.com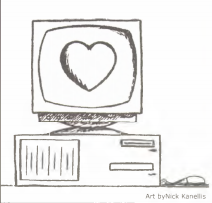 eHarmony.com boasts its ability to find the perfect match for you. It requires you to answer an extensive questionnaire (more than 500 questions) to find the most suitable and compatible matches. The questionnaire is ridiculously long and seems to be almost too much work to find a man/woman. One interesting characteristic is that once you sign up, it has experts who can help you "break the ice" with another member. They offer conversation starters and dating advice that can be especially useful to shy first-timers. But to seek out that expert advice takes 50 dollars a month, a ridiculously high price to pay.
2 Kat's out of 5
Commentary: For 50 dollars a month I could buy a llama and afford to feed It carrots.
match.com
match.com offers a lot more opportunities for a lesser amount of money. It allows you to do detailed searches of the millions of profiles in their database and to post your own profile for free. match.com may have just the basics but it has received praise from magazines like "Newsweek" and "USAToday" saying that it's the top online dating service.The price is also much cheaper for 25 dollars a month. The color scheme on the pages is also very nice and eye-pleasing. So, even if you don't find love, at least the colors can help to lift your spirit.
2.5 Kat's out of 5
Commentary: The color scheme is nice, but I don't buy that it's the best online dating service. I smell something fishy.
americansingles.com
americansmgles.com has many of the same features that other similar websites have, but it is very well-organized. When you set up a free account and create a profile, you are able to look at other individual's profiles and manage your account quite easily. When you log into your account, it shows the people who have viewed your profile, emailed you, etc. It's set up so simply that almost anyone could manage an account with no problems. To contact others, the fee is 25 dollars a month, but americansingles.com is an excellent place to start for internet daring beginners.
3 Kat's out of 5
Commentary: Ridiculously easy to manage. Seems a lot dirtier than all the other dating sites though…
Yahoo! Personals https://wvvw.yahoo.com/r/pr
Yahoo! Personals is also a very simple service. By having an account on Yahoo, you are able to create a personal ad. (Creating the ad is quick, easy, and fairly painless; though, it does include some longer questions and bio information. Without paving you are able to receive and respond to messages. The only catch is you can't initiate the conversation without paying a fee of 20 dollars a month. Besides pictures, you are also able to add
videos and sound to your ad, which gives a better idea of the type of person you are.
4.5 Kat's out of 5
Commentary: Allows most interaction for free. Videos and sound are cool. What more could you want… a burrito from Pancheros?
Originally published in April 25, 2003 issue of West Side Story by Abigail Greenleaf
Searching for love online
March 24
Today is my first day searching for love online. I didn't know where to start, but the first website I got to seemed to be "promising." Udate.com was really easy to get registered. After filling out a few easy questions like email address, gender, and username, I was set. I could fill out the other questions at my leisure. After filling the answers out, the few matches I saw were all pretty much older and scary. They didn't seem to match me very well… or at all. It wasn't a very exciting or reassuring start to my search, but we'll see what tomorrow brings.
March 25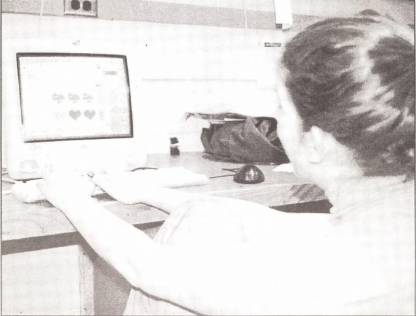 After realizing that on udate.com I entered the wrong email address as my contact point, I decided to try a different website. The next site I tried was americansingles.com. Once again, the registration was easy and the questions were fairly similar to udate. There were more questions about physical appearance and what I liked to do in my free time.
After finishing filling everything out, I got matches. It was a little disturbing. One of my top marches was a 36-year-old man from France who weighed as much as me although he was only 5' 6". He seemed like a nice guy, but it seemed like we just might look funny together. Who knows. I didn't check it out though.
One of my next matches was a 6'7" dude from Holland. Under the weight category, he had entered 80 lbs. I think he meant kilograms, but it was still funny. He was a little strange, besides the fact he lived in Holland.

"

After finishing filling everything out, I got matches. It was a little disturbing."

— Abigail Greenleaf
This website had a lot of people who didn't live anywhere near me, so it was a little troubling. A few days later, though, I received an email from "Venus" at match.com who had a lot of matches that lived near me and seemed to be normal young men. That was reassuring, but I was too lazy to actually contact any of them.
March 26
Today I registered at match.com. The man selection was okay and the questions were pretty much generic. The exciting love part of my day was receiving an email from Americansingles.com that said I had received a message from a MALE CALLER! Actually, I was more scared than excited to see what these men had sent me. It turned out that I had been sent a "tease," which is when someone sends you their profile because they think you could be a match. After briefly reading about him and seeing his picture, which was scary, I decided to never get onto Americansingles.com again. The registration process at match.com was pretty much the same as the other websites I had applied on.
March 27
Well, today I did not sign up on anymore websites since I haven't had a lot of luck. Seeing as how most of the men were, much older/didn't live in lowa/weren't interesting/were weird/weren't tall… I decided for now I would leave the dating websites to the older, more mature person.
I went on a chat room called TWENTIES LOVE to try my luck there. Unfortunately it was a bunch of hooligans that only cared if I had a picture or not. After realizing very quickly that this was not a place I wanted to be, l immediately signed off and gave up on love for the day.
March 28
I have come to the conclusion that pretty much 99% of the people that search for love online are… strange. Actually, it's just cut out for people that are older and are taking it more seriously than I am. Maybe when I'm 50 I'II give it a whirl.

"

I have come to the conclusion that pretty much 99% of the people that search for love online are… strange."

— Abigail Greenleaf
Also, it would work a lot better if I actually paid the fees to get to know them thoroughly. My favorite part of the process was most definitely filling out the questionnaires. It was hilarious to answer some of the questions. I don't know how important it is to have the same fast food restaurant taste as a possible boyfriend, but who knows. To those who are hoping to find true love online: good luck, have fun and most of all, BE SAFE.
Editor's note: Thanks to Abigail Greenleaf for being such a trooper and subjecting herself to the men of online love.
Save online dating for later
When I read this article, I was off-put by WSS staffers' reviews of several dating sites and especially reporter Abigail Greenleaf's experience with actually using these websites. I mean, we're in high school, and most students at West are younger than 18 years old. If most students can't legally use the service, why is it being reviewed in the first place? Besides, I'm suspicious of the type of people who are utilizing the app and matching with high schoolers. Greenleaf wrote about matching with middle-aged men from foreign countries and described him as "strange" and "weird."
I admit online dating has improved since the publication of this article in 2003. With innovations in and more widespread use of technology, it is easier to match with more compatible partners nearby. If it's not for relationships, online dating may just be a sound way to meet new people.
"
Relationships are a huge commitment, one that most teenagers are inadequate to take on."
— Caroline Mascardo '22
However, I stand my ground when I advocate against the usage of online dating in high school. Relationships are a huge commitment, one that most teenagers are inadequate to take on. If not for the fact there are some strange profiles on match.com and Tinder, high schoolers should focus more on themselves during this time. With the weight of classes, a job, upcoming college applications, and extracurriculars, maintaining a profile on a dating app may be more work than needed. Just like Greenleaf said, "I would leave the daring websites to the older, more mature person." Nevertheless, if a student feels confident and ready to take on the world of online dating, they should go for it.
Leave a Comment
Donate to West Side Story
Your donation will support the student journalists of West High School. Your contribution will allow us to purchase Scholarship Yearbooks, newsroom equipment and cover our annual website hosting costs.
About the Contributor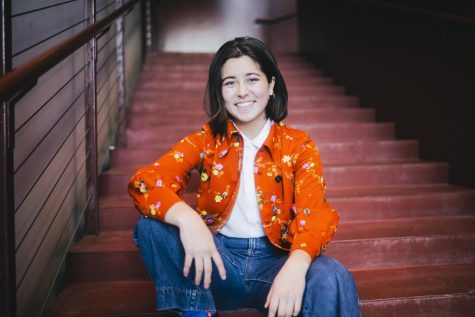 Caroline Mascardo, Editorials Editor and Copy Editor
(they/them) Caroline Mascardo is a senior at West High, and they are the editorials editor and a copy editor for the print publication. In their free time,...