High school e-registration webinar recap
With many students and families unsure about what learning model to choose for the upcoming school year, the ICCSD held a webinar to answer questions and alleviate concerns.
On Aug. 17, an ICCSD team in charge of planning online learning held a webinar to answer questions about what the upcoming school year will look like. The district highlighted plans for both the hybrid and online learning models, and intends to provide more detailed information about what the hybrid model will look like following the Aug. 18 school board meeting.
PK-12 online learning:
A list of classes that will be offered online has been provided by the district, but the manner in which classes will be taught is dependent on enrollment.
There are four ways a class can be taught via the online program. The first is through Edgenuity, an online program with a previously prepared curriculum that will not be taught by ICCSD teachers. With this model, students will be assigned an ICCSD teacher who will host office hours to answer any questions from students. Edgenuity will only be used as a last resort due to low registration numbers for a class.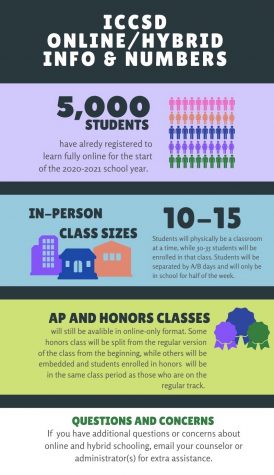 The goal is that most online courses will be prepped by ICCSD teachers in advance or will be delivered in 'real time' or live by ICCSD teachers. Classes that are specific to a school, such as music or journalism, will be given the option of independent study for the student to work directly with the appropriate teacher. Students in online-only courses can participate in clubs and sporting activities, as long as they are still being held. Decisions about these extracurricular activities will be made by the district at a later date.
Access to technology:
Students that do not have internet access at home may contact their school to have a hotspot provided for the year. All students in grades 9-12 will be required to use their same Chromebooks and no new Chromebooks will be issued this year. If your Chromebook needs a repair, students can email helpdesk@iowacityschools.org to be connected with the tech department.
Hybrid learning model:
As for the hybrid model, A-B days will be split by last name. Families with multiple students in different grade levels or families with different last names may contact the building principal to make changes where needed.
As of now, the general requirements for students enrolling in the hybrid model will be to have masks on 100% of the time while in the building and to follow social distancing guidelines as much as possible in classrooms and other spaces. In addition, high school students will not be allowed to leave the campus at lunch to get food.
About the Contributor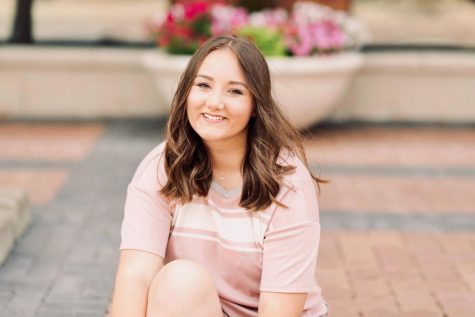 Alyssa Skala, Yearbook Managing Editor
(she/her) Alyssa Skala is a senior at West. She is a third year photographer on staff and a second year editor for yearbook. When she doesn't have her...