Curls, colors and clips
WSS staffer Nao Oya '23 takes a look at the changes and comebacks of trendy hairstyles.
Just like fashion trends, hairstyles evolve throughout time. There are endless possibilities to the way you can style your hair, from braids to curls. The way people do their hair can tell us a lot about who they are, but what are some of the most well known, trendy hairstyles from throughout time? 
The 70s: 
The 70s were primarily known for the au naturel, hippie movement, and it's clear this movement had an influence over popular hairstyles during this time. Facial hair and long locks were popular among men as they tried to emulate the looks of rock bands like Led Zeppelin, Frank Zappa and John Lennon. "Au naturel" was the name of the game. 
Remember "Charlie's Angels" star Farrah Fawcett's hair? It was voluminous, fluffy and perfectly curled. Little did she know, she would start a worldwide hairstyle trend that would come back in 2021. According to Beauty LaunchPad, this hairstyle is known as "feathered", where hair would be curled away from the face to look effortlessly soft and voluminous. According to The Right Hairstyles, it consisted of the bangs being layered to give it a bird feather-like appearance. After the release of "Charlie's Angels", many people requested to get their hair done like Fawcett's. Over the years, this hairstyle has dropped in popularity, but recently teens are bringing it back through social media such as TikTok. Aside from the feathering hairstyle, sleek and straight hair was popular as well in the 70s.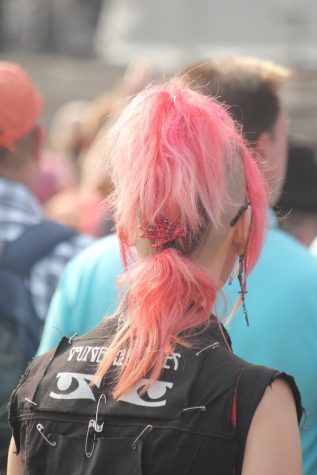 The 80s:
Big hair. Moving past the long and sleek hair of the 70s, the 80s found itself immersed in perms, crimps and a lot of volume. No matter what hairstyle you choose to create in the 80s, it was voluminous. Perming of the hair means chemically changing your hair to create small curls that last years. Men and women both were teasing their hair to create a frizz-like effect and using a lot of hairspray to create extra volume. According to Beauty LaunchPad, they would even tease their bands to create what became to be known as "mall bangs." Diving into the history, it makes sense why big and wild hair was popular during the time. The 80s represented an increase in heavy metal and punk bands often wore their hair with extreme volume and wacky colors, so much so that these bands were called "Hair Bands," according to Like Totally 80s. More and more young individuals began to dye and perm their hair as a way to find and express their individuality. Some celebrities of this time that wore these hairstyles were Cyndi Lauper, Madonna and Motley Crue. 
The 90s:
If you have seen the 90s to early 2000s show, "Friends," you have probably also heard about the iconic hairstyle worn by the character Rachel Green who is played by Jennifer Aniston. Early in Friends' career, Rachel Green is often seen wearing her hair at shoulder length and curled slightly inwards to hug the side of her face. While this may be due to the fact that the show has remained popular over many decades, the "Rachel Green" hairstyle is still well-known in 2020. 
Another popular hairstyle of the 90s was the super straight hairstyle, made fashionable in part by the one and only Britney Spears. Moving away from the big, curly look of the 80s, the 90s was a time of long and straight hair achieved through the use of straightening irons. During this time, straighteners became a staple in every home.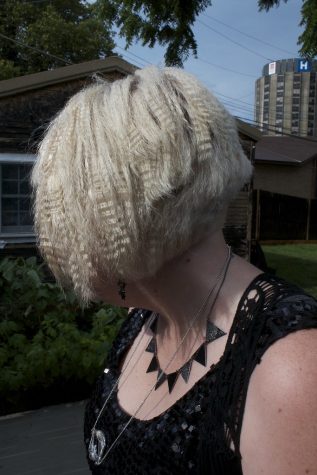 The 2000s:
Hillary Duff, who played Lizzie in the Disney Channel show "Lizzie McGuire," popped off a few trendy hairstyles such as the piecey bangs and the face-frame hairstyle. During this time, hair accessories also became widely popular. Hillary Duff was also known to wear a lot of thin, plastic headbands with her piecey bangs. In addition, teenage celebrities during this time popularized the use of butterfly clips and pompoms in their pig tales. 
The popularity of the crimped hair that persisted in the 80s and 90s,  also became popular in the 2000s. The hairstyle with small curls was rocked by celebrities such as Britney Spears, Tyra Banks and Beyonće. 
2020:
Back to present time, 2020 was a year of many ups and downs. With plans being altered and people having to stay home, many teens have started experimenting with their hair color. Just like trends in the 80s, people began to bleach and dye their hair different colors. This coloring is done most commonly in streaks on the inside or front piece of the hair. Creators such as Charli D'Amelio on TikTok have joined in on this colorful trend, dying their hair colors like bright pink. Also during this time, curtain bangs and shorter hair lengths started to become popular, many times put together. While we are still waiting to see what the rest of the decade has to offer, there is no doubt there will definitely be many more hairstyles in store for us in the near future.
Leave a Comment
Donate to West Side Story
Your donation will support the student journalists of West High School. Your contribution will allow us to purchase Scholarship Yearbooks, newsroom equipment and cover our annual website hosting costs.
About the Contributor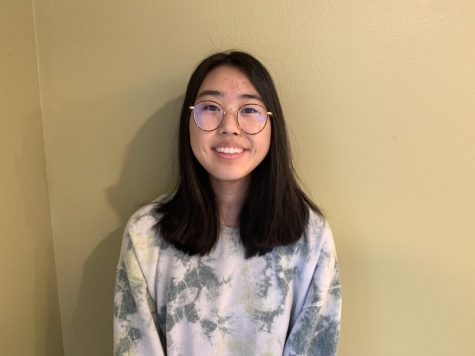 Nao Oya, Photographer
Nao Oya is a photographer at West High and in her free time she likes to bake and play in the rain.