Students predict 2021 fashion trends
Following a year that saw trends previously deemed "outdated" come back into popularity, how do West students see fashion evolving in 2021?
2020 saw the return of countless trends from years past. Flannel shirts, cropped puffer coats and polo collar sweaters all got a second life in a year where '90s fashion reigned supreme. These blasts from the past weren't unexpected, seeing as the trajectory of fashion trends has largely moved backward in recent years rather than towards new, more innovative styles. But, will 2021 continue to be a tale from fashion weeks past? Or will this abnormal year bring with it some of the more stranger styles the fashion world has to offer? WSS polled students to hear what they believe will be the hottest fashion trends of 2021.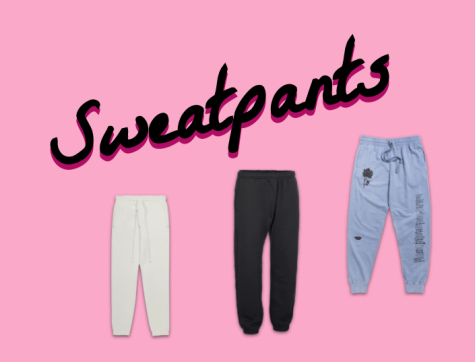 "Sweatpants with anything" – Alex Curtu '22
Trend history: Sweatpants date back to the 1920s when designer Émile Camuset rolled out a collection of knitted jersey pants for athletes. By 1936, athletes at the Olympics could be seen in a pair of sweats. Since then, the comfy staple has transcended the sportswear arena and become an item appropriate for nearly any setting. In the 1970s, sweatpants transitioned from being considered strictly an athletic item to a leisurewear piece. Tracksuits, or sweatshirt and sweatpant sets, could be seen in a high school gymnasium or as high fashion apparel. But, in the 90s and early 2000s, sweatpants had a fall from grace, and anyone who wore them in a fashion context risked being deemed uncool by the likes of Gretchen Weiners from "Mean Girls." Alas, with the rise of athleisure in 2013, sweatpants got a second chance. A trend towards comfier pants shot denim sales down and legging and sweatpant numbers sky-high. Nowadays, sweatpants are back to their '70s fame. They can be dressed down with tennis shoes and an oversized t-shirt, or made dressy with heels and a matching sweatshirt. Sweatpants' versatility made it a staple piece in anyone's 2020 wardrobe.
2021 outlook: Rather than the slouchy looks of years past, in 2021 sweatpants are looking to become a high-fashion staple. "Who What Wear" recommends pairing the garment with a sleek oversized coat, adding a pair of biker shorts underneath or wearing a cropped sweatshirt with chunky accessories. Early into the year, celebrities like Hailey Bieber and Gigi Hadid are already strutting the streets of Los Angeles in sleek sweatshirt/sweatpant sets and high heels.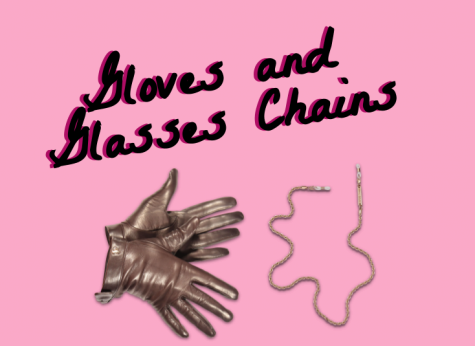 "Gloves and glasses chains" – Cymry Hieronymous '21
Trend history: Gloves first entered the realm of fashion in the Victorian era, where rich women wore the accessory as a display of wealth and status. The thought process was that, by covering one's hands, a person could signal to others that they didn't need to do hard work or physical labor. This trend soon emerged among the working class, where women who worked service jobs would wear gloves to cover up signs of unkemptness. Gloves remained popular in the early 1900s when women would wear them in more formal settings. The expectation during this period was that gloves would be well-tailored, and extend to a lady's elbow. In the '20s, daintier gloves made a return, and the '30s saw gloves lose popularity. The accessory momentarily saw a resurgence in the '50s, with the likes of Jackie Kennedy wearing them in the public eye, before permanently going out of style.
Glasses chains are also believed to have originated in the Victorian era. Like gloves, women would wear glasses chains to display wealth and high social status. The ability to have one's glasses close by while maintaining a polished appearance also made the accessory attractive. The trend then took a long hiatus until the 1950s, where the end of the war brought mass-produced fashion and trends that spread like wildfire. Following this period, the glasses chain never hit another peak in popularity.
2021 outlook: As recently as 2019, "Cosmopolitan" was recommending funky glasses chains as the hottest new trend. Some looks outlined in the article include dainty beaded chains and chunkier, earth-toned looks. In March of 2020, Marie Claire posted a list of the best eyeglasses chains for 2021. Although the trend may not have hit the mainstream yet, it's definitely one to watch this year.
Gloves have received considerably less media coverage than glasses chains as far as 2021 trends go, but a total return to the fashion of years past bodes well for gloves' reemergence in the coming months.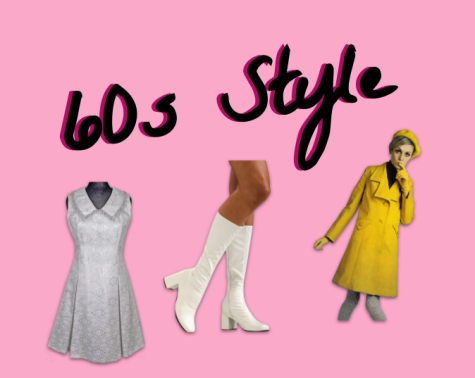 "60s style" – Annelies Knight '21
"We're already seeing looser fitting pants and lots of patterns both inspired by art, like the Yves Saint Laurent Piet Mondrian dress, and more natural or random prints, similar to how we've seen a rise in unconventional animal prints like cow print in the past year," Knight said of the '60s' reemergence. 
Trend history: Some hallmarks of '60s style include bright colors, tie-dye, short skirts for women and long blouses or tunics. Bold, non-traditional jewelry was the accessory of choice during this decade. All the way through 1970, the fashion industry pushed the envelope, strayed from previously rigid gender norms, and paved the way for a slew of timeless trends (see: the miniskirt) that have reemerged countless times since. To name a few examples, Jackie Kennedy's patented '60s leopard print looks paved the way for the animal print trends of the early 2000s, and the then-innovative empire waist dress is now a go-to silhouette.
2021 outlook: According to "Who What Wear" magazine, "The '60s is fashion's new favorite decade." The pandemic and time spent shut away at home has prompted a return to the dressy, high-fashion looks of the counterculture decade. Specifically, psychedelic prints, go-go boots and crocheted pieces are projected to come back in a big way.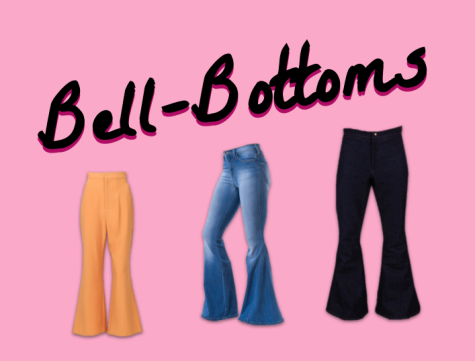 "Bell-bottom jeans" – Alex Curtu '22
Trend history: Bell-bottoms are best known for their 1960s and '70s popularity, but the flare-legged pant actually originated as part of an 1813 sailor's uniform. The pants entered the mainstream in 1964, where they were spotted on the streets of London and became wildly popular for both the men and women of the city. Bell-bottoms expanded to North America, and the look was fashionable through the 1970s. After a hiatus from popular fashion, bell-bottoms returned in the form of bootcut and flare jeans from 1996 through 2006, when skinny jeans became the more popular style. In 2020, bell-bottoms had a resurgence in popularity as the skinny jean style became seen as outdated and the "little shirt big pant" phenomenon dominated trends.
2021 outlook: According to an article from "The Zoe Report," flare pants will be all the rage this spring, both on the runway and in day-to-day fashion. Specifically, heavier fabrics like wool and leather will be most popular. Flare pant looks reminiscent of the '90s are also projected to be popular. Pairing low-waisted bell-bottoms with a pair of loafers and a blazer would be a perfect way to fuse the two decades whose fashion has seen a recent rise in popularity.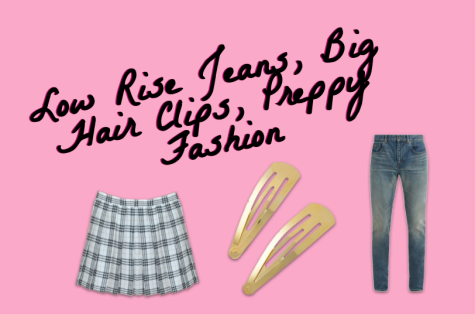 "Low rise jeans, big hair clips, dressing like prep students" – Hiruni Sumanasiri '22
"I just keep seeing Zara and Aritzia all over everyone's 'for you page'  or 'explore page' on Instagram, and people tend to dress like what they think is popular. Right now those fashion ideas have taken control," Sumanasiri said of her trend prediction. 
Trend history: Low rise jeans got their start in the '50s, when they were known as "hip-huggers," and rose to popularity in the '60s, where they were often worn with light, flowy tunic tops. The '70s and '80s saw a preference for the higher-waisted look, but low-rise jeans saw the light of day again in the '90s when designer Alexander McQueen added them to his 1996 collection. Their popularity continued into the early 2000s, before once again falling out of style.
Big hair clips were popularized in the '90s, with women on every hit TV drama sporting them at one point or another. 2020 saw their massive rise in popularity.
The "preppy" look originated in the '60s, with designers like Lily Pulitzer and Perry Ellis making clothes that wealthier women at east coast universities loved to wear. Thus, the classic plaid skirt and blazer look became associated with wealth, status and intellect. Preppy subculture has been prominent in every decade since, but has decreased significantly in popularity since the '90s.
2021 outlook: A September 2020 article from "Vogue France" declares that "Low rise jeans are having a moment," citing Bella Hadid and Emily Ratajkowski as two celebrities revolutionizing the look. Other outlets, like "Brunette from Wall Street," project that the look will stay relevant in 2021, but with a more loose-fitting style being favored over the tighter looks of decades past. 
"Hair.com" named claw clips one of "The 19 on-trend hair accessories you need for 2021," predicting that colorful, bedazzled varieties will be most popular this year. 
As for the preppy look, "Refinery29" sees some facets of the trend coming back, but reimagined. For example, their "2021 fashion trends: What's new for spring and beyond" article sees the polo look returning, but in more breathable fabrics and neutral colors. 
View Comments(1)
Donate to West Side Story
Your donation will support the student journalists of West High School. Your contribution will allow us to purchase Scholarship Yearbooks, newsroom equipment and cover our annual website hosting costs.
About the Contributors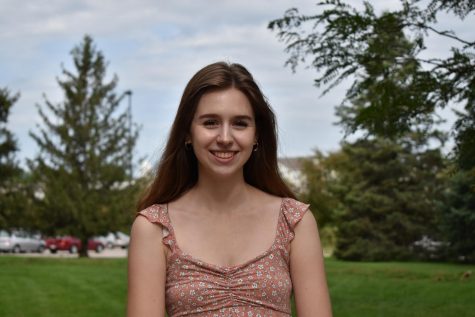 Alex Carlon, Online Editor-in-Chief
(she/her) Alex Carlon is a senior at West High and editor-in-chief of the web publication. When she's not helping out on the website she can be found playing...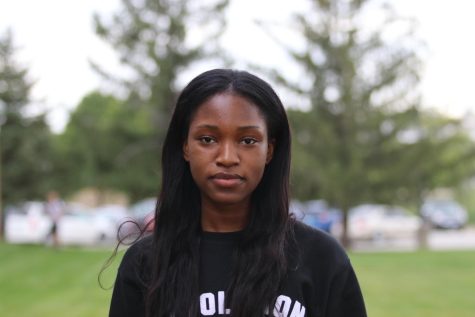 Helelia Wa Kalala, Social Media Editor
(she/her) Helelia is a senior war at West and has been on staff for 3 years. She is the social media editor of all WSS accounts. She enjoys golfing and...