"We Will Always Love You" album review
Jack Harris '22 gives a track-by-track review of The Avalanches' new album.
"We Will Always Love You" is the third album from The Avalanches, one of the most unique musical groups to ever grace the earth, who created a style of music of such a high degree that it has never been replicated, and possibly never will be. The style of The Avalanches takes the idea of sampling music, and takes it to infinity. Their first two albums "Since I Left You"(2000) and "Wildflower"(2016) are comprised entirely of samples, from beginning to end, with each song flowing flawlessly into the next. "We Will Always Love You" is a slight deviation from this style. While the album does contain hundreds upon hundreds of samples, this type of songwriting is incredibly time-consuming, as evidence by the 16-year-gap between the band's first two LPs. For this album they used samples as the main component and foundation of each song, but also included original instrumentation where they needed to fill in the gaps. The final product is a massive 71 minute, 25 track long album, but is it on par with the band's previous work?
1. "Ghost Story" (featuring Orono)
This first, short opening track is part-speaking, like a song being played over a speech, a dreamy and soft opening to the album
2. "Song for Barbara Payton"
The transition between these two songs adds a pulsing synth to the sound that continues throughout the track. Eventually, what sounds like old-time gospel joins the in. A fantastic and unique-sounding song, whose only flaw is that it is only 100 seconds long.
3. "We Will Always Love You" (featuring Blood Orange)
The title track of the album sounds and feels so complex, mixing genres like electronic, soft rock, pop, and jazz. The layered vocals add to the fullness.
4. "The Divine Chord" (featuring MGMT and Johnny Marr)
The previous song actually does not flow directly into this song, surprisingly, but that does not stop this from being the hands-down best song on the album so far. It sounds beautiful and pure, yet it's still extremely catchy. Hearing a song like this can just automatically improve your mood in an instant. The sounds of this song, xylophone, piano, violin, and flute, as well as a blaring bass part, give it a soft and magical sound.
5. "Solitary Ceremonies"
This song acts as a sort of refrain from the previous, as the song begins to transition into another musical speech and then a robotic, slow, serenade.
6. "Interstellar Love" (featuring Leon Bridges)
This transition gives us some very electronic guitars, and the song just gets more and more complicated from there, Leon Bridges provides some absolutely stunning vocals for this song, and they are at the forefront throughout. However, the backing music manages to elevate the song massively, providing a captivating ride that takes hold of you for three minutes and 38 seconds
7. "Ghost Story Pt. 2" (featuring Orono and Leon Bridges)
This song opens with a strange blaring siren, and then turns into what feels like a composition of poetry set over a synth harp. Strange, but amazing.
8. "Reflecting Light" (featuring Sananda Maitreya and Vashti Bunyan)
So far the longest song of the album at 4 minutes and 21 seconds, this song sounds like the perfect version of a piano ballad and combined it with electronic jazz. This song isn't quite as good as some of the songs previously, as it just sort of drudges along for its runtime, whereas previous songs felt more deliberate with their tempo. It's a nice drudge, but still a drudge.
9. "Carrier Waves"
This 57-second song doesn't have vocals, making it probably the most forgettable song so far.
10. "Oh the Sunn!" (featuring Perry Farrell)
This song sounds stunningly groovy, somewhat like "Get Lucky" by Daft Punk. The bass part drives this song, and everything else just exists to elevate it. Everything compliments everything else perfectly this song, and it's one of the best tracks so far.
11. "We Go On" (featuring Cola Boyy and Mick Jones)
These two songs transition right into each other, but sound completely different. It's arguably the best song so far. The guitar and light synth back vocals that feel like instruments themselves, diving the song, while managing to evoke a beautiful energy that transports you to a new world.
12. "Star Song.IMG"
The shortest song of the album, a 10-second single synth sound.
13. "Until Daylight Comes" (featuring Tricky)
This song is significantly lower energy, with a very distinct, ticking beat, but halfway through it transitions into the album's familiar, semi-electronic style. The vocals aren't much to remember, making this song slightly less memorable.
14. "Wherever You Go" (featuring Jamie xx, Neneh Cherry, and Clypso)
This song opens with a spooky, intimidating sound, and then transitions into a musical speech sound, that begins to sound more and more musical. The song slowly escalates further and further musically and in tempo, until it reaches an electronica-dancing sound. This is the longest song on the album at just under 6 minutes. The dance sound changes slightly throughout but maintains the same-ish sound. The song is still good, but not quite as complex as some of the others on the album
15. "Music Makes Me High"
This song and the previous transition perfectly and the sound becomes the jazziest of the album, specifically Japanese Jazz. The sound is impossible to not love, and it manages to completely take over everything when listening to it. The sound is so jazzy and complex, my one complaint would be that it could've used an awesome sax solo.
16. "Pink Champagne"
The second shortest song of the album, this 12-second song consists entirely of a thunder-like sound and the phrase "Pink Champagne" before transitioning directly into the next song.
17. "Take Care in Your Dreaming" (featuring Denzel Curry, Tricky, and Sampa the Great)
This song immediately has a pulsing sound that eventually transitions into a rap beat combined with piano. The rap vocals and style of the song make it easily one of the most unique of the album, standing out among the mostly electronic sound.
18. "Overcome"
This song begins with what could be described as electronic gospel, down to featuring an electronic organ. This somewhat makes sense as it sounds to be heavily featuring the song "We Shall Overcome" Everything about this song sounds great, except for the weird part at the end where a British guy starts talking out of nowhere.
19. "Gold Sky" (featuring Kurt Vile)
Another one of the best songs on the album this song immediately sounds great thanks to the laid-back vocals being contrasted with up-tempo electronic drum-filled music. The lyrics are featured more in this song than any other and it works ridiculously well. The song temporarily switches to an acoustic bit in the middle before punching things back into reality in a wonderful transition. Towards the end, the song begins to pulse and then add layer after layer of instruments and vocals as it reaches a beautiful climax before fading out.
20. "Always Black" (featuring Pink Siifu)
The start of this song features a perfect transition before beginning a soft rap backed by a soft piano. Eventually, several blaring beats get added before the song begins to flow down into a less interesting vocal sound, before the song recovers by beginning a nice fizzle out, as more and more instruments leave until only a piano is left.
21. "Dial D for Devotion" (featuring Karen O)
This track lasts only 31 seconds, with a slow piano backing a speech that fades into the next song.
22. "Running Red Lights" (featuring Rivers Cuomo and Pink Siifu)
This song is the most popular and it's quite simple why. This may not be the best song on the album, but it is definitely the most catchy. This song just stays with you. It's likely due to the very punchy chorus that still manages to sound gentle and light. Even if this song isn't the best on the album it is quite good, everything sounds fantastic, and the song transitions perfectly between a variety of sounds throughout.
23. "Born to Lose"
About halfway through this song, it goes through a massive transition. While both of the sounds of this song sound good, neither of them sound all that great, as this song mostly just drudges throughout, repeating the same notes over and over for nearly five minutes.
24. "Music Is the Light" (featuring Cornelius and Kelly Moran)
The entire first half of this song is mostly a collage of various sounds, creating a very strange atmosphere. Suddenly, halfway through the song transitions into a powerful, blaring sound. This song is good, but definitely one of the stranger tracks on the album.
25. "Weightless"
Nearly the entirety of this 3-minute song consists of a strange beeping sound, sometimes accompanied by other sounds for a few seconds at a time. Eventually, towards the very end, the song becomes a dreary, slow goodbye, as a musical speech drifts away.
I would not consider this album as good as The Avalanches' previous, but that is pure because their previous work can be considered perfection. The one small issue with this album is that too much of the music is reliant on an electronic sound, and at times it starts to slightly repetitive. Overall, I'd say this album was a resounding success, and I think the minor issues are well worth the only four-year wait.
Leave a Comment
Donate to West Side Story
Your donation will support the student journalists of West High School. Your contribution will allow us to purchase Scholarship Yearbooks, newsroom equipment and cover our annual website hosting costs.
About the Contributor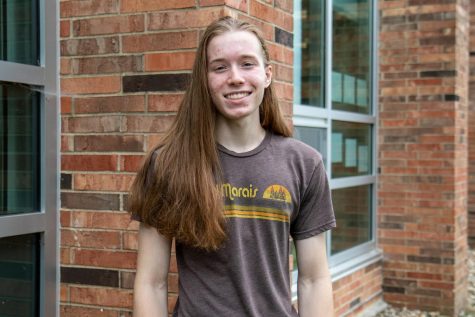 Jack Harris, Online Copy Editor and Arts Editor
(he/him) Jack is the online copy editor & arts editor for WSS. He's a senior at west and is also involved in the west high Orchestra as a cellist....