If we're green, we're golden
As efforts towards environmental sustainability develop across the globe, West High also takes steps to be greener.
The House of Representatives passed a $1 trillion infrastructure bill Nov. 5, which includes $47 billion designated to climate resilience and preparing communities for natural disasters that have been worsened due to climate change. As the U.S. is making changes to reduce its carbon footprint, West is not far behind. 
In the past, to reduce West's carbon dioxide emissions, students have developed outdoor classrooms, planted ash trees around the school and composted food waste from lunch. However, most of these projects have fallen through due to dedication issues. AP Environmental Science and biology teacher Brad Wymer is hopeful that students will continue to make efforts that will make West a more environmentally friendly place.
"We've been in and out and up and down with different groups of students all the way from the mid- to late-90s who are proponents of doing things that are a lot more conscientious of the environment," Wymer said. 
To bring together students with a passion for environmental science and sustainability, Raina Pfeifer '22 founded the Students for Environmental Action club during the 2020 school year. SEA meets twice a month to discuss environmental issues and projects to implement at West. 
"There's just so many people that are super interested in sustainability and things like that, and there wasn't really a place to share that," Pfeifer said. "I wanted to create a community of people that could come to share their ideas and help do some fun things outdoors."
"
I wanted to create a community of people that could come to share their ideas and help do some fun things outdoors."
— Raina Pfeifer
Recently, SEA has planted acorns in the prairie behind West and spread awareness about sustainability on social media. They've also maintained a hydroponics garden, which uses nutrients dissolved in water to grow instead of soil. The club wants to continue efforts like these and revive past projects that slowed down because of COVID-19. 
"We're working on getting recycling back because we couldn't really do it last year just because of sanitary issues," Pfeifer said. "We also talked about what we can do to make composting and recycling more accessible for people at home." 
One of the biggest contributors to schools' carbon emissions is the energy used for heating, ventilation and air conditioning (HVAC). Most districts in the U.S. use HVAC systems from the 1970s, many of which are inefficient and expend lots of energy. According to The Hechinger Report, these systems cause an average school to emit equivalent to the amount of carbon dioxide released by 18 coal power plants or 9.8 million households per year. 
To decrease West High's impact on the environment, recent construction has included geothermal heating and cooling systems. These systems pump air or water into the ground to either release or absorb heat from the Earth's natural temperature. 
Wymer is impressed by the addition of this technology.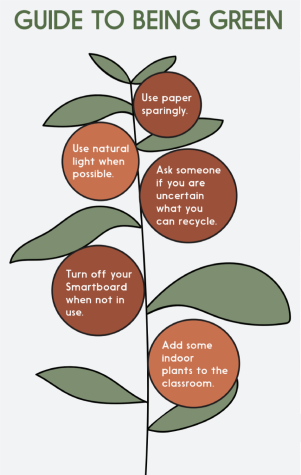 "The implementation of [geothermal heating] here was a huge step," Wymer said. "[The geothermal heating system] is annoying, takes up a part of my room, and makes a lot of noise, but what a huge environmental impact that has. I was tickled to see that happen."
Geothermal heating is one of the most efficient heating and cooling systems on the market today. Rather than creating heat by burning fossil fuels, they harness heat from the ground. This saves both the environment and West's monetary resources. 
At the statewide level, Green Iowa AmeriCorps, a national service program, aims to engage communities in environmental stewardship, neighborhood revitalization and energy efficiency services. 
They have a K-12 Sustainable Schools program that serves as a resource for Iowa school districts, cities, and community colleges to build a more sustainable future. Schools can hire sustainability coordinators from AmeriCorps whose main purpose is to provide education and mentorship about sustainability at schools. According to Sustainable Schools Program Manager Carmen Finken, these coordinators can have a variety of impacts. 
"Our main focus is various environmental education efforts," Finken said. "In the past we have implemented composting and recycling programs, reduction in energy usage, and creating safe and sound environments within a K-12 setting."
When the Sustainable Schools program began, educators were only working with young elementary students. Even from a young age, Finken noticed the impact the better funded environmental education programs can have and knew that these efforts needed to extend to the secondary level.
"[Young students'] knowledge of environmental stewardship and their compassion and care for the environment grew pretty exponentially by just having consistent access to an environmental educator," Finken said. 
West had a sustainability coordinator from 2019 to 2021 but did not rehire them after their last 11-month term ended. Finken encourages all schools to seek someone to help with  sustainability efforts. 
"Students, especially high schoolers, are becoming very interested, passionate and vocal about [climate change]," Finken said. "If students are really interested in pursuing environmental science and want the district to take steps to become more sustainable, our AmeriCorps members can assist with that." 
Pfeifer wishes students could receive more information about these valuable resources and their impact on sustainability. She believes that if these efforts were advertised, more staff and students would be motivated and willing to help. 
"I think if schools could publicize [sustainability efforts] more, it would give people more of a reason to be proud of their school, or the community," Pfeifer said. "It could be like, 'Okay we're doing this to support the environment,' instead of just being like, 'Oh, we're doing this but it's kind of behind the scenes and people don't really need to know about it.'" 
Although large-scale projects such as geothermal heating and cooling are immensely impactful, Pfeifer believes it is the small changes as a community that matter the most.
"The little things are way more important than the big actions you can take," Pfeifer said. "It's just about using what you have and not overconsuming." 
Leave a Comment
Donate to West Side Story
Your donation will support the student journalists of West High School. Your contribution will allow us to purchase Scholarship Yearbooks, newsroom equipment and cover our annual website hosting costs.
About the Contributors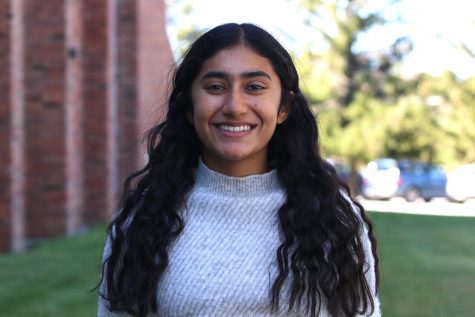 Krisha Kapoor, Print Co-Editor-In-Chief
(she/her) Krisha Kapoor is a Senior at West High. This is her third year on staff, and she is the Print Co-Editor-In-Chief. Outside of the newsroom, you...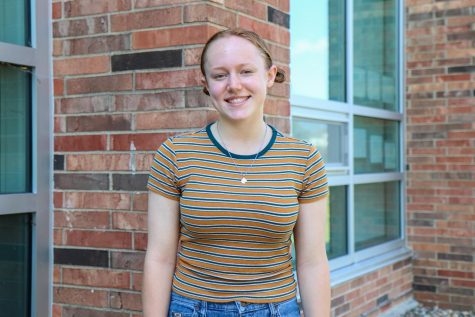 Eva Jordan, Reporter and Designer
Eva Jordan is a junior at West and this is her second year on the Print staff as a designer. She also enjoys sitting on the ground for long periods of...