Four months as an immigrant
Maria Khoury '25, a Lebanese student, discusses her immigration, her four months in Iowa, and her return to Lebanon.
Immigrating to a foreign country is one of the most difficult experiences a teenager can go through. You leave your friends, family, school and activities behind to start from scratch in a place you are unfamiliar with. Despite this, around one in thirty people now live outside of their countries of origin, with millions of these immigrants coming to the United States each year. People immigrate for many reasons, but generally, these can be divided into "push" and "pull" factors. A push factor is anything that pushes an individual to leave their country, such as a natural disaster or war. For Maria Khoury '25, a West High student and immigrant from Beirut, Lebanon, the primary push factor was the current economic crisis.
"
It was super scary…I cried when they came home. My uncle's house and his office… everything was [destroyed].
— Maria Khoury '25
"The situation is horrible," remarked Khoury on the crisis in her home country. "[We would wait] every day to see [what] the value [of the currency] is. My mom would go out [to buy] meat and stuff, but then there's no electricity, so you can't really store anything. Prices would change every single day…It was crazy."
To make matters worse, It was during this time of economic uncertainty that another crisis struck: The Beirut port explosion. Although no one in Khoury's family was hurt, she didn't know that at the time.
"My father and my brother were both in Beirut," said Khoury, recalling the port explosion. "It was super scary…I cried when they came home. My uncle's house and his office… everything was [destroyed]." 
The explosion killed at least 218 people and left an estimated 300,000 homeless. This, and the ongoing Covid-19 pandemic, further exacerbated the economic crisis. A year after the explosion, Khoury and her family made the decision to immigrate to Iowa City.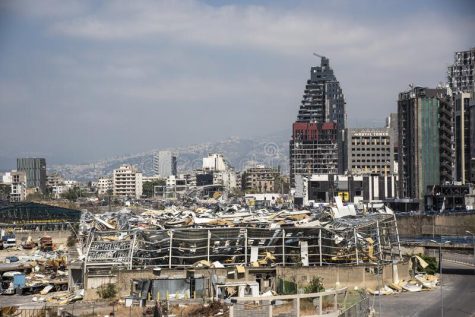 Push factors as devastating as an economic collapse, worsened by a global pandemic and a catastrophic explosion, are all obvious reasons to immigrate. But a pull factor is also necessary to determine where to relocate. A pull factor is anything that pulls an individual or family to move to a specific country or region, such as better economic prospects or familial ties to the place. The main pull factor for Khoury's family was her father, Nabil Khoury MD, and his career roots at the University of Iowa, where he had done 6 months of residency. 
Once settled in late August, Khoury began to attend West almost immediately.
"It was really not what I expected," said Khoury about West High. "I don't know, but for some reason I expected it to be like in the movies."
However, the transition to Iowa was hard on Khoury and her family, especially her older brother. 
"At first, my brother came, and then he went off to college," said Khoury. "It was hard enough for him to come [to Iowa], then it was hard for him to go because I was very close to him."
Although immigration can be hard on a family, Khoury felt she retained her friend group and support system. 
"Quite the contrary," said Khoury when asked if she had lost her support system. "Because you're not with them, but they still text you every day."
After acclimating to life in Iowa, Khoury tried to reconnect with the extracurriculars she had pursued in Lebanon, including gymnastics and taekwondo. However, she didn't find what she was hoping for. "When I came here, I wanted to do gymnastics because that's what I've been doing for so long," explained Khoury. "Then there wasn't a center in Iowa [that worked for me]." 
Instead, Khoury decided to do something entirely new.
"Then I danced and I loved it," said Khoury. "When I go back [to Lebanon], I'm going to either go do dance or continue doing gymnastics." 
Due to personal reasons, Khoury's family decided to return to Lebanon sooner rather than later. They left a few days before winter break, once again leaving everything behind. But on her last day at West, Khoury wasn't too worried about the original causes for her immigration.
"Although it's pretty bad…at least there you have your family," said Khoury. "You have the friends that you met ten years ago. So, I mean, as bad as it can get, you still have everyone around you and your loved ones."
On Khoury's last day at West, she offered some parting words.
"West is a really good place and I'm grateful that I got to be at West and not another school."
Leave a Comment
Donate to West Side Story
Your donation will support the student journalists of West High School. Your contribution will allow us to purchase Scholarship Yearbooks, newsroom equipment and cover our annual website hosting costs.