Spring sports preview
West High has a tradition of excellent athletics year-round. With one of the biggest seasons for sports being in the spring. Take a look at what the Trojan athletes are gearing up for with the upcoming season.
With the second trimester coming to a close and the last trimester of the year starting, we know spring is coming. The melting of the snow and the longer days can only mean one thing, spring sports are around the corner. As the ice melts and the warm weather comes through the back of West High gets some much-needed attention. As you drive past west you can only see the monstrous building that it is, but behind that building is the track, tennis courts, and soccer fields preparing for use.
The spring brings many things for Trojans such as AP tests, the home stretch to summer and arguably the most exciting thing is the spring sports season starting up. After basketball, swimming and wrestling finished up it was time to close the doors to the gym and put on those spikes.
As the excitement for the season rises, here's a preview of what to expect from Trojan athletes this season.
Girls Track
The bright yellow uniforms are back. The track and Trojan field are gearing up for the track season after not being used since football season. Girls track and field at west has had a tradition of creating talented athletes from runners to throwers, and this year is no exception. But after two years of online school, hybrid, and many other restrictions because of the pandemic, more girls' are out for track than ever before.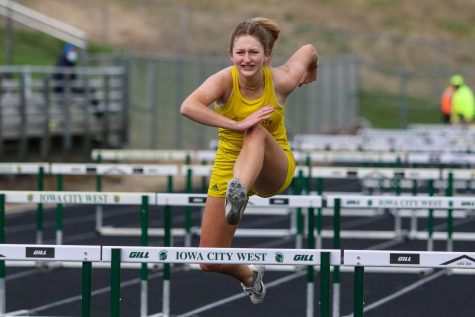 Brynne Nock '22 explained her excitement, "I think our team will be pretty good this year. This is one of the biggest girls track teams west has ever had and there's a lot of freshmen that have a lot of potential." 
With multitudes of freshmen joining there is no doubt that West High girls track will have an extremely talented and versatile team for the 2022 season. The new girls don't mean there is any shortage of previous talent. Ella Woods '22 who qualified for state in the 100-meter hurdles will be back for her senior season. Super sophomores  Erinn Varga who qualified for state with the 400-meter dash and 400-meter hurdles last year and Cindy Wang who showed her talent when she was the only runner to qualify for the state cross country meet this fall will both be back in action on the track this year. 
Although there are many girls out this year for track that doesn't mean any team mentality will be diluted because of the numbers.
"
From last year's season, I want to carry on the relationships and work ethic we had last year. We had a small team last year so we became very close and all pushed each other to work to our max potential, and even though our team is much bigger this year I wish to continue motivating each other and working hard."
— Brynne Nock '22
With West placing 4th in the state qualifying meet last year there are hopes to continue that tradition of success. But the pressure of performing your best can really get to these athletes 
"I think our biggest weakness is we all put too much pressure on ourselves. We all have such high expectations and sometimes it's too much for us," Nock explained.
Practice has already started for the girls track team as they are preparing for an early meet over on March 7th at the UNI-Dome. But you can be sure to catch the girls at home later this season.
 "I'm most excited for our home meet. I love running at West because my friends and family can come to watch easily and the whole team gets to run in the meet," said Nock.
Catch the girls at the Women of Troy Relays on March 29 hosted at West High.
With lots of new runners as well as some new faces on the coaching staff. TJ Craig's track team is already practicing after school. 
"I would say the team is in a pretty good spot right now, everyone is coming to practice and working hard. It's a process. and we are getting a lot better every day for sure. There's still a long way to go but everyone is in a pretty good spot right now and is motivated and working hard," said Aidan Jacobsen '24.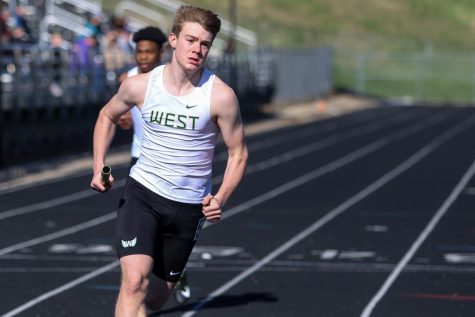 The boys are hoping to continue the chemistry they had last season onto this season "we had a really good team dynamic and everyone was friends with each other which made it a lot more enjoyable and helped everyone get through workouts and practice and I'm hoping we can carry that into this year and I think we will be able to." explained Jacobsen. 
The boys have many talented athletes and they are hoping to play that into their team mentality.  "My biggest hope I have for this season is to win the team title at the conference meet, we were really close last year, and it kind of hurt to lose that but we are back this year," said Jacobsen.
Girls Tennis
Girls tennis is back and gearing up for a new season. Mohana Sunkara '23 and Maggie Shin '24 will be returning to the courts this year with some possible newcomers as well. With 4 team-state championships under their belt and a third-place finish in last year's state tournament, we can expect a very competitive season from the girls this year.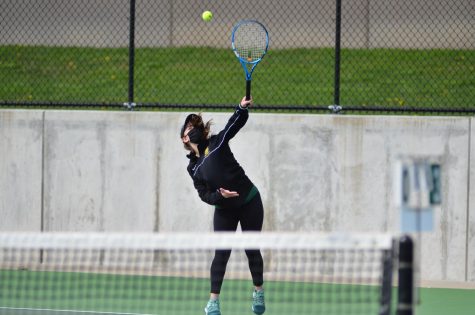 Boys Tennis
West High's motto "Where Excellence is a Tradition" rings true throughout West High, and West Tennis is no exception. The nine-time team state champions are getting ready for another year. With the loss of 4 seniors, there are some big shoes to fill. "Every year, every sport loses their seniors, losing 4 last year was tough. However, I think the team is in a great position" explained Jayden Shin '23.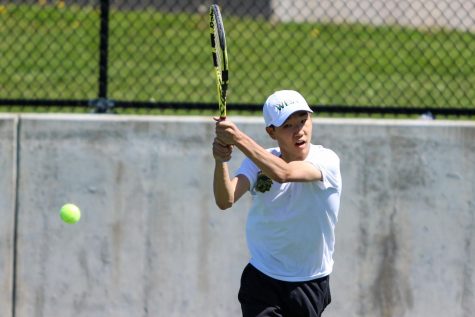 The team dominated their schedule last year going undefeated in the regular season winning almost every match 9-0. They placed 2nd in last year's state tournament after a 7-2 loss against the Waukee Warriors. Arguably the biggest change for the team this year is a new coaching staff. Mitch Gross who now serves as principal of West High is stepping down from his role as head coach of the boys' team so he can focus on leading the Trojans as their principal, but assistant coach Marshall Moellers will be stepping up and stepping in to fill Gross's head coaching position. 
"I feel like every year our hope is to go undefeated and win state, and it's even more important this year since we have a new head coach. Last year we came pretty close, winning all 13 meets in the regular season than losing in state finals. So we definitely have our goals aimed high," said Shin.
Catch the boys in their first home meet of the season against Cedar Rapids Prairie on April 14. 
Girls Soccer
With head coach Dave Rosenthal leading the girls to District Champions and an overall record last season of 12-5. There is no doubt the 2022 season is going to be an exciting one. But with every season, there come new challenges. With last year's seniors on the team graduating that leaves the team without a solid goalie yet. Julia Bernat '21 was the varsity goalie and after she graduated that leaves some questions as to who is going to step up and step into the goal this year.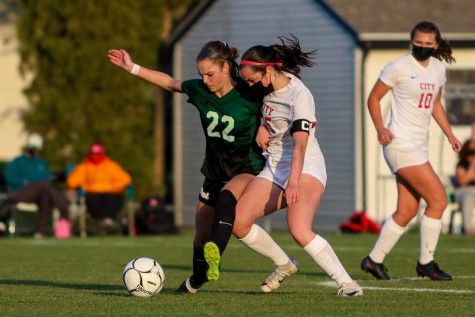 But with new challenges come new opportunities. One of the captains of the team, Makenna Vondehaar '22 explained her excitement for this year. "I actually feel really good about where the team is right now. We have a lot of people coming to the open gyms and working hard so hopefully, we will be more prepared when the season starts." 
Vonderhaar leads the team in goals with 15 goals last year. Other leaders on this team include midfielder Jada Dachtler '22 and defender Anna Verry '22 who are both captains alongside Vonderhaar. 
Vonderhaar also explained the team's biggest goals for the season "My hope for the upcoming season is that we will make it to state for our seniors final year."
Although a strong team, the seniors on this team have not gone to a state tournament yet. Both past seasons they have gotten beat out in the regional semi-finals by Dowling Catholic High School. The drive to get to the tournament before they leave the halls of West High is something that drives them to work even harder. To reach their goals the team will have to really tap into their strengths. "One thing I want to continue from last season is our great team chemistry. I hope we can keep that up this year because it always makes the season more fun and we play better together." 
This team already has a lot of connections throughout due to the majority of the players playing in the club sector of soccer.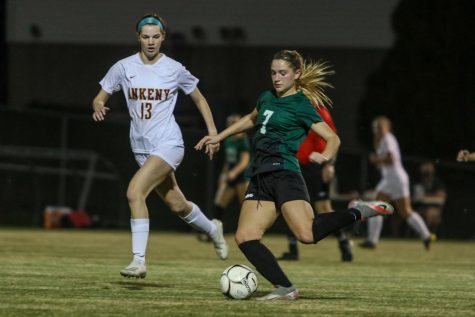 "From last year's season, I want to carry on the relationships and work ethic we had last year. We had a small team last year so we became very close and all pushed each other to work to our max potential. And even though our team is much bigger this year I wish to continue motivating each other and working hard," said Vonderhaar.
You can catch the girls team on March 26th at their first non-conference game at Bettendorf, and you can look forward to the excitement at the annual City vs. West matchup at City high this year on April 14th. "I'm looking forward to playing City the most this year. It's always a tough rival game and it's fun because I know a lot of players on that team," Vonderhaar explained.
Boys Soccer
Coming off a hard loss in the State championship game last year the Trojans boys soccer team is ready to get going in this new season. Although a talented team, they are going to face many challenges this year despite coming off of an amazing season. The most prominent of these challenges is that the overall roster this year is completely different from last year.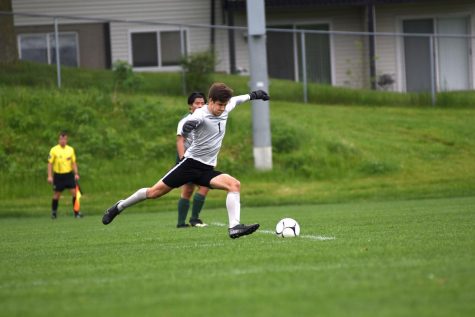 Goalkeeper Nick McDonnell '22 shares his hopes for this season "I think our biggest weakness is how we've lost 9 of our 11 starting players from last year. Our varsity team was mostly seniors last year, so we're gonna need a lot of players to step up to fill the roles of our incredible senior players."  The younger players have some big shoes to fill from the seniors last year.  "We need our backline to step up and be as skillful and as powerful as our backline was last year."
The entire backline last year consisted of seniors; Luke Moenning, Owen Smith, Matthew Steinbronn and all-state center back Andy Lu. This powerhouse backline has all graduated along with 5 other starters, a lot of changes are going to be coming to the 9-time state championship team headed by coach Brad Stiles.
 "I want to be able to carry on the leadership that our last year team had. When we were at our low points in the season we always had leaders that would pick each other up, and I want to continue that legacy of being there for each other," said McDonnell. 
Despite a new starting lineup, there is no shortage of talent on this team. There are many players on varsity last year that are preparing to step into those empty positions and leadership roles for this new season.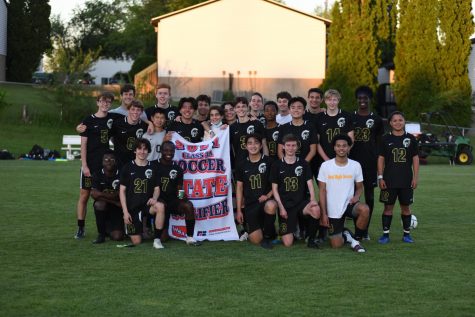 "I hope that with all of the new players joining the team, I hope that we'll have a really good team chemistry and that we'll all be able to get along with each other while being able to push each other to our limit,"  McDonnell explained. 
Two varsity players from last year, current seniors Chris Martinez and Miguel Cohen Suarez, are coming off of ACL injuries. "Since soccer tryouts start during spring break, I am not sure how much improvement some players have made or if many of our teammates have recovered from previous injuries," said McDonnell. 
The boys' soccer team will be exciting to watch with fresh faces and new changes. You can catch them scrimmaging in the Varsity Jamboree against Cedar Rapids Washington at Kingston stadium on March 28th. There is no doubt there will be a lot of great matchups this year, including the City-West rivalry "I'm very excited for the City vs. West game. City has gotten a lot better and I want to see if we can train our hardest this season in order to be ready to face them," McDonnell explains.
Both girls and boys soccer are lacing up their cleats for this new season so get excited for a lot of great soccer coming to Ed Barker field. 
Leave a Comment
Donate to West Side Story
Your donation will support the student journalists of West High School. Your contribution will allow us to purchase Scholarship Yearbooks, newsroom equipment and cover our annual website hosting costs.