Harry Styles' newest 'Harry's House' review
It's here! Tessa Gibson '24 reviews the highly anticipated new Harry Styles album 'Harry's House.'
Harry's House' is Harry Styles' third solo album, which was released on May 20, 2022. This album pairs a modern feel with a 70s groove. You can tell Harry has become comfortable with trying new styles of music and incorporating new features into his songs. These new additions to the tracks have made this album a real stand-out for Styles. I've created my top four, bottom two, and two honorable mentions to fully break down this incredible album. 
Top 4: 
Grapejuice: This song is absolutely adorable! It feels like walking through a field of daisies, letting your fingertips brush past the petals. If you enjoy skipping over walking this is the song for you! I've been incorporating some skipping into my daily routine because of this song. His soft singing is extremely satisfying and reminds me of a warm hug. It's a perfect blend of a softer, slow song and a high-tempo rock song. Definitely my favorite off the album! Favorite Lyric: "I was on my way to buy some flowers for you (ooh)"
Music For a Sushi Restaurant: This song has such a 70s groovy vibe. His scatting is definitely my favorite part and makes me smile every time. This song will make you want to bust a move and dance like nobody's watching. Favorite Lyric: "Scuba-duba-dubub-boo!"
Cinema: Honestly this song is full of irony! My favorite lyric below illustrates his relatable feeling of being afraid of coming on too strong, and whether the feeling is mutual. This is hilarious coming from Styles considering he is loved by everyone and is the definition of cool. I love the funky beat and the way he talks about the feeling of starting to like someone and admire them. It's relatable and definitely dance-worthy! Favorite Lyric: "Do you think I'm cool too? Or am I too into you?"
Matilda: Get your tissues ready if you go anywhere near this song. It is absolutely heart-wrenching and has made me cry every single time. This song has a slow rhythm and can be inspiring to many people who didn't have a great childhood growing up. In the end, it's almost about acceptance, guidance about pushing forward and having the courage to continue and keep going. Harry is truly comforting in this song and gives this sense of warmth and reliability as a friend and listener. Favorite Lyric: "You don't have to be sorry for growing up."
While the majority of 'Harry's House' was a hit, two songs for me were misses. I'm gonna be honest, this was absolute torture to choose. I had to stare at the wall for about 30 minutes to pick out my least favorite tracks from this album. 
Satellite: This is pretty controversial.

When listening to the album it didn't really stick out to me as something I would listen to, it's a more poppy song, not really my vibe. Honestly, I need some time for it to grow on me. I'll give it a few more chances I promise. All in all a sweet song though and has a good message of reaching out to a person you haven't spoken to in a while.

Favorite Lyric: "I can see you're lonely down there. Don't you know that I am right here?"
As it Was: This used to be one of my favs! Unfortunately, I feel like it's been overplayed just a tad. The radio took this one by the reins and continued to play it. Although it will always stand out to me as the first track we've heard from Harry's house. Taking a small break from this song will surely rejuvenate my love for it. For now, it's not my favorite song but I can relate to the feeling of longing for the past but eventually accepting the change. Favorite Lyric: "I want you to hold out the palm of your hand. Why don't we leave it at that?"
These are the songs that weren't my absolute favorites but deserve a little shout-out! 
Daydreaming: Similar to Music for A Sushi Restaurant, this song also has a funky beat. As soon as the first note of singing plays you already feel as if you're at a disco party! It exudes the feeling of happiness and being in love, it almost transports you to that frame of mind. Great vibe and is worth the honorable mention! Favorite Lyric: "Cause baby, loving you is the real thing."
Boyfriends: This is another heartbreaking song, 100% cryable. Harry had performed this song at Coachella this April and it broke me into pieces. Listen, I've never ever had a boyfriend in my life, besides a small fling in kindergarten, but even I shed tears every time. It's relatable to feel as if you're giving so much to someone who isn't giving the same back, and feel foolish about that. The acoustic feel of this song makes it more intimate and comforting. Favorite Lyric: "You Feel A Fool. You're Back At It Again"
Be sure to stream 'Harry's House'. It's obvious he's grown into what he truly wants to create, and this album illustrates that confidence. As a Harry fan and a fan of music, I can confirm this album is worth a listen and is absolutely wonderful. 10/10 Harry's!

'
Leave a Comment
Donate to West Side Story
Your donation will support the student journalists of West High School. Your contribution will allow us to purchase Scholarship Yearbooks, newsroom equipment and cover our annual website hosting costs.
About the Contributors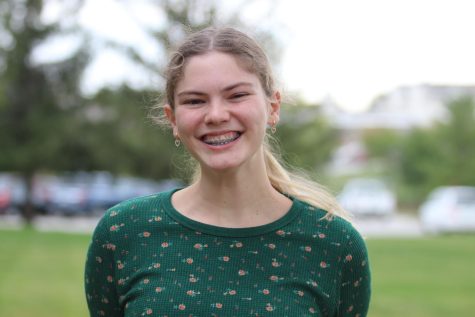 Tessa Gibson, Entertainment Co-Editor
(she/her) Tessa is currently a junior at school and has been on staff for one year. She is one of two entertainment editors. Tessa loves Harry Styles,...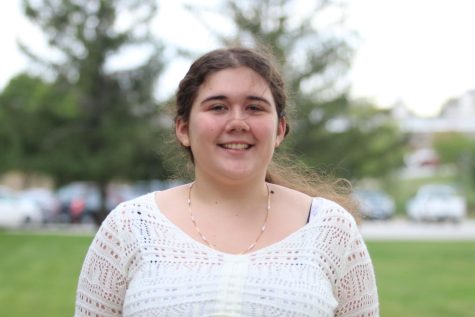 Eleanor Weitz, Entertainment Co-Editor
(she/her) Eleanor is a junior this year and it's her second year on staff. She's one of the entertainment editors for the online edition of WSS. In her...