Zebulon's full circle: returning to West High
Zebulon Hurst details his experiences from West High, into the world and back.
The experiences people have in life can lead them in many unexpected directions, far from where they started. However, sometimes they might just find their way right back to where they began. Zebulon Hurst, a paraeducator here at West and an alumnus of this school show how this path can take shape.
Hurst grew up in Coralville, going to school at Kirkwood Elementary, Northwest Junior High, and finally, West High. He graduated in 2013 and carries a lot of pride in being from a small town in the Midwest. Hurst enjoys telling people that having the University of Iowa in town helps to create a blended community that he believes is truly special. One difference from when he went to West to the present day that he noticed was the student body's makeup. 
"I can definitely say there are just a lot more like Black and brown students at West than there were when I was here, which I think is wonderful…I think I think we can only become stronger by being a more diverse group. We learn a lot from each other when we don't all have the same experiences and life," said Hurst.
As a student at West, Hurst was involved in both band and orchestra. They played violin, bassoon, double bass and clarinet. Hurst recalled a love of music and appreciation of the faculty in those programs at the time. They were not the biggest fan of marching band, as they could not play his bassoon and instead played clarinet.
"I sounded and felt like Squidward," Hurst recalled.
They described first falling in love with the bassoon during an eighth-grade orchestra field trip to see the Chicago Symphony.
"That was the first time I'd ever seen a bassoon in real life. I was like, 'I want that, I want to play it, I want to be around it,'" said Hurst.
"
How do you find your people? How do you find the thing that you love and how can you submerge yourself in it?
— Zebulon Hurst
Kerri Barnhouse, English department, had Hurst in an English 10 Honors class nine ago. She also saw them in Colors Club after school.
"I remember them being outgoing, strong, confident, funny, smart, the kind of person that just has that sort of magnetic personality that makes you just want to be around them," said Barnhouse. "Every room they were in, it was better right when they walked in. People like that, they walk in a room and everybody says, 'Z, hey,' and then you know it's going to be a good class."
In addition to playing music and participating in clubs, Hurst was on the West Side Story staff. They described their staff title as "The Webmaster," mostly working with web publishing but writing on occasion.
As it's been over 10 years, Hurst feels that while some aspects of West Side Story have changed, such as the Instagram account that WSS has today, some things are still the same. 
"I feel like the content that West Side Story puts out, whether it's in print or online, is always really timely and on to the pulse of what students are feeling are big issues," said Hurst.
He felt that it was wonderful to see the expansion of the journalism program from how it was when he went to West and to see how passionate students are. This kind of culture around following your interests at West and how the school supports this for students was one of the major reasons Hurst felt drawn back here.
"There are a lot of opportunities for students to devote time to their interests, and those are skills that serve you well in life. How do you find your people? How do you find the thing that you love and how can you submerge yourself in it?" said Hurst.
After he graduated from West High School, Hurst went to Luther College in Decorah, Iowa, majoring in French and Economics. He studied abroad in both France and Switzerland during his junior year of college, and during that time decided that school wasn't his thing. Once he came back to the U.S, he moved to Chicago and took some time off.
While in Chicago, Hurst went to the School of the Art Institute of Chicago for a year in the writing program. Writing was always a major interest of Hursts. He performed in a cabaret series at the Englert called Was The Word during high school, and was published in Poetry in Public even earlier than that.
Hurst's experience in the college writing program helped to motivate him to complete his degree, and he graduated with a degree in French and Francophone Studies from the University of Illinois. Further down the line, Hurst was accepted into a master's program at the Pacific School of Religion, where he completed his master's in theological studies; additionally gaining a certificate in sexuality and religion.
"
I feel like it's my job to do what I can to make those eight hours of being in school every day, slightly less painful, or less horrible.
— Zebulon Hurst
Barnhouse stated that the fact that Hurst went to college and got advanced degrees was something that happened entirely on their own merits. 
"Those degrees mean that they have the intellect and the work ethic to easily do it, but there were a lot of roadblocks put up. They overcame those and made it happen for themselves, so they get all the credit."
While finishing their undergraduate degree, Hurst worked at the Lake Street Church of Evanston in Chicago. Hurst described Lake Street as, "…Similar to Sunday School, but not a super religious environment." At Lake Street, they taught in the second through fifth grade classroom, chaperoning during the summers and designing a spirituality and sexuality curriculum for various grades. They also wrote a curriculum for the school's Adventure Week, a two-week-long day camp. 
"Adventure week was always themed based around different social justice themes. We got to take the kids on field trips in Chicago, or take them to nature preserves out in the suburbs, and just talk about bigger topics like pollution or income stratification or migration and all these different things," said Hurst.
Hurst came back to Iowa City after his mom passed away in August. The two weren't close, but he had to return and take care of legal tasks. The process took a lot longer than he originally thought and Hurst decided to stay here.
While working at Lake Street, Hurst believed it was crucial to focus on making the experience as stress-free as possible. This belief was something that he carried over to his job at West.
"I feel like it's my job to do what I can to make those eight hours of being in school every day, slightly less painful, or less horrible. If you have to work with me throughout the day, hopefully being at school is not the worst part of your day," said Hurst.
Their job involves giving one-on-one support to students with individualized education plans, making sure that students who have different needs and access needs get what they need at school. This mostly means that Hurst accompanies students to their classes or meets them in learning support, helping them to reach their own goals and benchmarks. One of Hurst's favorite things about this is doing said one-on-one work with students, and just being there for them. 
Barnhouse described two reactions that she had after hearing that Hurst was coming to work at West, the first being happiness at remembering how she loved to talk to them. She talked about how conversations with them always make her smarter and helped to shift her view on topics. Secondly, she felt they were very overqualified for the position, and questioned how we got as lucky to be able to hire someone like them. She wondered what else they could do at the school.
"Whenever we have access to somebody who I think would have such an impact on kids, I want to put them in a position where they can be with as many kids as possible."
"
I want people to know being a teenager is really intense, really hard and embarrassing a lot of the time. The rest of your life is gonna be so much better than high school. There's gonna be so much better.
— Zebulon Hurst
Barnhouse believes Hurst would make an excellent counselor or advisor-type staff for many students here at West, as she thinks that they could meet a need that others couldn't, allowing students to have access to greater support and opportunities. 
"I think they've said that because when you can look back at your experience and think about all the things that would have made it better, that would have helped you to get through it, you kind of want to do that for kids when you're in a position to do that," said Barnhouse. 
Hurst explained, "I was out in high school and it was a different time. I would not say that I got bullied badly in high school, but I feel very encouraged to go to [Colors Club] every so often, and just [see] students there"
Barnhouse referred to Hurst as "an old soul", and felt that as a teen he could cross many social lines, and that was both a blessing and a curse; wanting to know everyone but not fully understanding where you landed. 
"I think part of that is about [this was] long enough ago that we weren't talking about gender as much. We were talking about sexuality and things like that, but gender identity was not some part of the conversation quite as much and if you don't have the language to talk about [gender identity] or people talking about it, it's hard to know," she said. 
Hurst gave advice for students, saying that just because you may have difficulties with school does not mean you won't live a fulfilling life. They want students to know they just haven't found what works best for them yet. He felt that it was important to not put pressure on yourself to have everything figured out, and recognize that it is normal to change your mind, saying that adults are "…just older than you, and most of the use drive to work and make our own breakfast." Hurst shared that if someone had told him in high school that he was going to end up a teacher, he wouldn't have believed them.
"School was actually very hard for me," Hurst said. "I did not know that I had a learning disability until I was 25, and my learning disability had become really prominent when I was in high school. I left high school with not a lot of confidence in myself as someone who could be good at school, and that definitely impacted how I felt in college."
Sharing one final piece of wisdom, Hurst said, "I want people to know being a teenager is really intense, really hard and embarrassing a lot of the time. The rest of your life is gonna be so much better than high school. There's gonna be so much better."
Leave a Comment
Donate to West Side Story
Your donation will support the student journalists of West High School. Your contribution will allow us to purchase Scholarship Yearbooks, newsroom equipment and cover our annual website hosting costs.
About the Contributor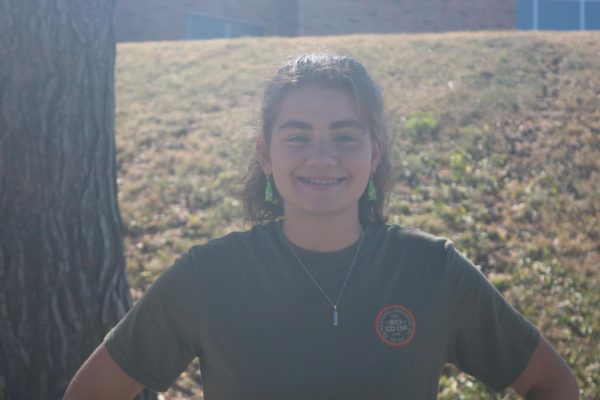 Vera Tanas, Copy Editor
(she/her) Vera Tanas is a junior, and this is her second year on staff. She is the copy editor and art editor for the West Side Story website. Outside...