A lifetime of discovery
Brad Wymer, a science teacher at West for 29 years, has grown his passion for the outdoors and education over a lifetime of adventures, discoveries and hardships.
When West High students hear the name Mr. Wymer, they likely think of the biology teacher with the multitude of plants in his classroom or the AP Environmental Science teacher who often takes students outside to the prairie at West. However, much less known is Brad Wymer's journey developing an undying passion for the outdoors and becoming persistent in helping others achieve their academic and athletic goals.
From a very young age, Wymer enjoyed being immersed in nature. Often, he bailed hay or caught crayfish from Crane Creek in his hometown of Lawler, Iowa. Wymer also worked odd jobs for farmers in his rural community of about 500 people.
"I picked up rocks out of fields in Northeast Iowa. The glaciers deposited rocks, and farmers would hire kids to come out and pick rocks out of the field, so it wouldn't destroy their farm equipment," Wymer said. "I walked beans. They didn't have Roundup Ready soybeans back in the day, so we actually had to go out and remove the weeds from the field by hand."
The abundance of time Wymer spent outdoors caused his enthusiasm for nature to expand tremendously as he grew up. Furthermore, Wymer's dad and his dad's colleague were influential in solidifying Wymer's love for the natural world.
"My dad was a teacher [and coach] in the little school that I went to. The [school's] biology teacher was also a football coach with him," Wymer said. "So I would hang out in the biology teacher's room. He had all this cool preserved stuff everywhere, and I used to dive into that and ask him tons of questions."
Heading into college, Wymer initially wanted to pursue marine biology. However, many factors including finances, location and football opportunities kept him in Iowa. He ultimately attended Ellsworth Community College. He played football there for three semesters before transferring to the University of Northern Iowa to finish his academic and athletic college career. During his time at these schools, Wymer realized his true passion for not only biology but also education.
"The biggest thing was I didn't want to be a lab rat. I couldn't see myself sitting in a cubicle or at a lab bench," Wymer said. "I had some coaching experiences where I worked with young people, and I was like, 'That was really fun and rewarding.' That started to flip the switch in the direction of education."
Now, Wymer is in his 29th year of teaching at West. Through his years of experience, he has developed a specific teaching style, especially for his biology classes.
"I'm pretty direct; I wear my heart on my sleeve, and I have high expectations for students. That's certainly part of my style," Wymer said. "Other than that, I try to teach [biology] as a sort of discovery, followed by the information to help the students understand what they discovered."
"
I'm pretty direct; I wear my heart on my sleeve, and I have high expectations for students."
— Brad Wymer, science teacher
Wymer values the prairie at West and often uses it as an outdoor classroom.
"We go up to the prairie, and we write down the names of all the living things that we find out there," Wymer said. "Then, we come back and start thinking about how all those living things interact with one another."
Wymer's students are only able to benefit from the prairie now because of the work he and other dedicated members of the Iowa City community put in to restore it beginning in 1999.
"[A few community members and I] worked together with the Johnson County biologist and the Iowa Department of Natural Resources. They came out and did all the work for free; it was great," Wymer said. "They put herbicide on it to kill everything back, and then we just did it up again — we burned it, and then we seeded it."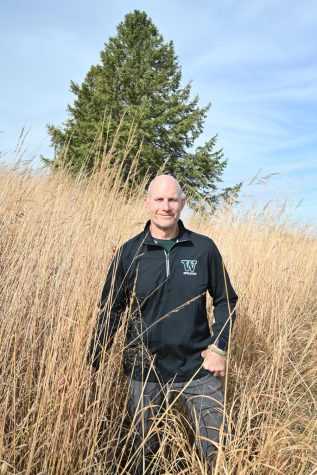 Madi Beiermann '23 was able to determine her future career path through AP Environmental Science and Wymer's interactive teaching style.
"I'm going into environmental engineering," Beiermann said. "[Wymer] really swayed that [decision] with environmental science — a lot of stuff that we learned in class [made me] realize that was really something that I wanted to continue."
Another person in the West community that expresses appreciation for Wymer is Assistant Principal Maureen Head '00. In the time that Wymer has taught at West, Head has transitioned from being a West student to a science teacher and now to an administrator. Head describes one of many important lessons that Wymer has taught her over the years.
"[Wymer has shown me] it's important to be a good community member so that people feel supported," Head said. "It wasn't like a lesson he was trying to teach or anything. But, just hearing him talking about the importance of having that supportive community made me realize even a tough guy like Wymer really values that type of thing."
In addition to helping the community of West, Wymer has coached football and boys' track and field at Solon High School for 31 years. His teaching philosophy in the science classroom coincides with his coaching style on the field and the track.
"Coaching is just an extension of teaching. Every [student] chose to be [in that sport], and they enjoy what they're doing and want to get better," Wymer said. "Every single human being brings their own body type, their own personality and their own challenges that I have to try to figure out how to work with. That makes every individual a challenge for me, and it's a lot of fun. That's how I approach it — 'How can I help this person achieve their goal?'"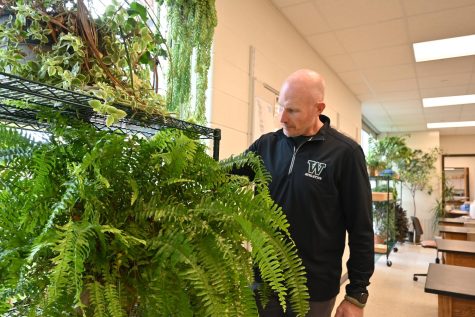 Although teaching and coaching have brought Wymer much joy, he has had to endure a great deal of grief. Over the past six years, Wymer has been coping with the loss of his 17-year-old son Tanner Wymer, who died during a canoeing accident Jan. 3, 2016.
"At the time, he was a senior, and I was working with young people that were his age. That was a big challenge," Wymer said.
Wymer credits numerous people for supporting him through the most difficult time of his life.
"I was surrounded by great people. My family and the community at West High were amazing," Wymer said. "The community of Solon, where my son went to school, was amazing and still is. I didn't do it by myself; that's for sure."
Wymer's mom, Coleen Wymer, describes how the Wymer family carries on her grandson's memory. 
"
He was the first person who showed up to visit and hold my brand-new baby. It was heartwarming to see him in 'papa bear' mode."
— Maureen Head '00, assistant principal
"We do try to go out of our way to pay it forward, to help our neighbors and to do things that Tanner did," Coleen said.
Head shares how Wymer has kept Tanner's memory alive through simple acts of kindness towards her own family.
"He was the first person who showed up to visit and hold my brand-new baby. It was heartwarming to see him in 'papa bear' mode. Not a lot of people get to see that side of him, but he was a pro at baby holding and bottle feeding," Head said. "Since then, my son and I have visited Wymer at least a couple times, and he is so fun. My son got to sit in his son Tanner's car, play with the power washer and pretend to put gas in the lawn mower."
Although the Wymer family has found ways to spread good after Tanner's death, the impact of his death is felt every day by the family, especially Wymer.
"Facing [Tanner's death] was certainly an obstacle, and then, still to this day dealing with students that don't take advantage of their opportunities — they're squandering their abilities — is a really frustrating thing for me to watch," Wymer said. "It's probably why I get really passionate about trying to motivate those young people to realize their opportunities."
One opportunity that Wymer has taken advantage of and shared with his family is the chance to travel. From seeing many animals in South Africa to sitting in the Burgess Shale surrounded by ancient fossils, Wymer has traveled far and wide.
One of both Wymer and Coleen's most memorable experiences was when the entire family went to the Galápagos Islands.
"It was a fantastic trip, and it just worked out that we got to go when Tanner went," Coleen said.
In addition to traveling, Wymer enjoys archery hunting alone in forests throughout Iowa.
"[While archery hunting], you have to be really one with nature. You just blend in; you're quiet," Wymer said. "As I've done that, over the years, I've seen way more biology than I've ever learned in a classroom. I've had pileated woodpeckers land on the tree right next to me and not know that I was there, and I've had squirrels actually run across my leg."
Still, the fulfillment Wymer finds from teaching is incomparable to his other passions.
"I love my job," Wymer said. "One of the things that I've been able to say on the last day of school for the 28 years prior to this year — I've got the feeling this year is going to be the same — is there's never been a day I didn't want to come to my job because I didn't like what I do. I hope that all my students are able to say that about their job someday. I'm pretty lucky."
Wymer's empathy and support of his students were clear to Beiermann. She details the gratitude she has for Wymer after having him as a teacher.
"I would like to thank [Wymer] just for being there for us," Beiermann said. "I think a lot of times teachers sometimes feel like just your teacher, but he really made [the classroom] a safe space for people to talk to him."
Leave a Comment
Donate to West Side Story
Your donation will support the student journalists of West High School. Your contribution will allow us to purchase Scholarship Yearbooks, newsroom equipment and cover our annual website hosting costs.