Girls fall to Linn-Mar
Last night, the West High gym was filled with fans for another boys and girls doubleheader. This time the Trojan squads were taking on our neighbors to the north, the Linn-Mar lions. The girl's game was underway with free admission and popcorn courtesy of ImOn Communications and a spirited student section decked out in ugly holiday sweaters.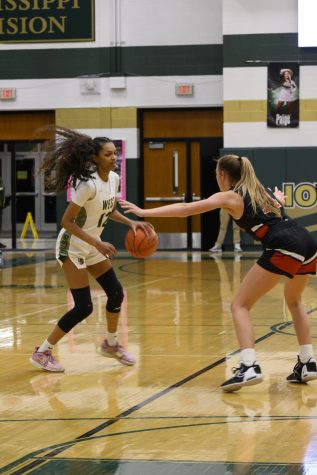 West junior Melae' Lacy won the tip-off, and the game was off to a quick start for Nate Frese's lineup. Dartmouth basketball commit Meena Tate '23 put the first points on the board in the second minute. The lions responded with a three-pointer from freshman Dreya Kern. The back-and-forth continued, which ended in a low-scoring first quarter. West narrowly led 9-7.
The lions came out strong in the second quarter, with senior Linn-Mar point guard Zoe Kennedy making a three-pointer early on. The lion's intensity continued, and the trojans called a time-out while trailing 9-14. A drive down-court and assist from senior guard Keiko Ono-Fullard, allowed senior Zola Gross to sink a 3-pointer and make up some of the gap in points. With a Carolyn Pierce '23 layup, West was able to trail by 6 points going into the last minute of the half. Linn-Mar kept up the pace, and the trojans couldn't convert and followed 16-25 going into halftime.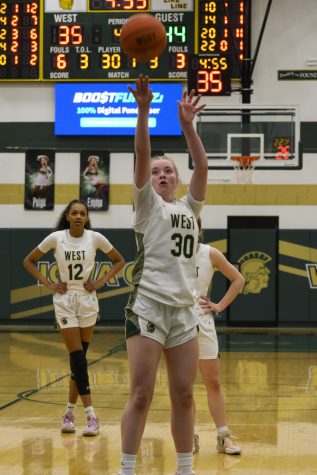 Another 3-pointer from Kern gave the lions a 14-point lead 3 minutes into the 3rd quarter. An Anna Prouty '23 assist and Lacy layup boosted the trojans, narrowing the gap to 21-33. West fought to close the gap by the end of the third quarter but fell short. Leaving the girls going into the last quarter trailing by 12 points.
Kennedy put the first points on the fourth-quarter board with a three-pointer in the third minute. The Trojans quickly answered with a Tate assist to Pierce's three-pointer, getting the student section up and loud for the game's final stretch.
Prouty made a layup, and freshman Grace Fincham had an and 1. Putting West at 36-44 in the last 5 minutes of the game. The Trojans could not make up for the point deficit and received their first loss of the season, falling to the lions 39-49.
Girls Basketball (Varsity) Score Posted – Iowa City West Trojans lose to Linn-Mar Lions 49-39. https://t.co/5qetjfqfbV pic.twitter.com/GPgpLWmvPU

— Iowa City West Athletics (@ICWestAthletics) December 17, 2022
Catch the girls back in the West gym on Thursday, Dec. 22, facing off against Dowling Catholic.