The Chromebook crisis
With the start of the 1:1 program, the tech office anticipated that students might need to occasionally borrow a spare Chromebook. However, thanks to rising checkout rates, we may be seeing a Chromebook checkout epidemic.
The first day back from winter break, not all students are ready to get back into the swing of school. Therefore, they might have forget a pencil, a worksheet or maybe even their Chromebook. On the first day back from break, there were a total of 47 spare Chromebooks checked out. How many Chromebooks did the tech department have left? The answer is a measly three.
Despite this high number, the actual rates of Chromebook checkouts are a bit lower. On average, there are about 12 Chromebooks checked out in a single day. While one would hope that all students remembered their personal Chromebooks, this number is much less than Tyler Meade, a technical support specialist, expected before starting the 1:1 Program.
"My fear was that it was going to be 100 [Chromebooks] a day, because you just don't know with so many kids in the school. Even 100 is a pretty small percentage," Meade said. "The fact that it was only around 10 is pretty good. I would say less than expected, but even that being said, you kind of hope to always find ways to bring it down."
If a student does need to check out a Chromebook, the tech office doesn't want them out for long. All spare Chromebooks are clearly labeled, "one day checkout" on the inside, right next to the mouse pad.
"We like to have [spare Chromebooks] back by the end of the day you check [it] out. Even if you check it out sixth period, you should still return it right after seventh or as soon as you can," said Sarah Tomes '19, a tech assistant intern. "The return is in the box that says Chromebook return all over it. It's not like we have to be there. You can literally just drop it in the box when you are walking by."
However, some students don't heed the warning to return borrowed Chromebooks. In order to combat students taking borrowed Chromebooks for longer than labeled, the tech office lends out an older model of Chromebook. These Chromebooks are larger and eye-achingly white, making it painfully obvious if you have forgotten your regular computer. For this reason, many students have dubbed the borrowed Chromebooks, "Chromebooks of Shame."
"Being that they're white, they kind of show their wear a little more. They're not something that someone would want to use all the time," Meade said. "It's kind of the motivation to want to use your own because it's probably in a little better shape."
Taking home these loaner Chromebooks presents complications for the tech department. They only have a limited number of Chromebooks for people who need them.
"[Students] don't have a charger for the spares because they're different, so I know that if you haven't brought it back in a day or two that it's dead, and it's just sitting somewhere when someone else can use it," Meade said.
Another reason the tech office needs the spare Chromebooks back as soon as a student is done is that the Chromebooks can't be re-checked out as soon as they are checked in. This reduces the numbers of available spare Chromebooks and makes the lives of the tech department substantially more difficult.
"They have to be on the cart for a certain amount of time before they are fully charged and can be useful," Tomes said.
Nevertheless, missing and borrowed Chromebooks have become a rising issue. According to Meade, there are variety of reasons why a student may need to check out a spare.
"[I had to check one out], because I lost my original Chromebook in my room," said Caleb Brandauer '19.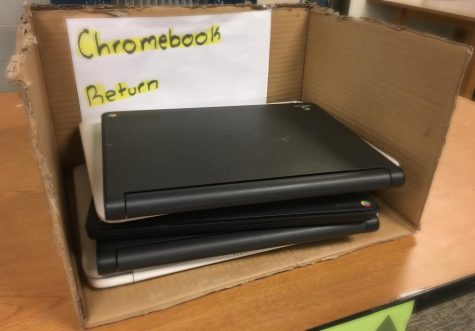 In general, there are recurring times where students forget Chromebooks: after breaks and weekends. On a normal school schedule, Monday's always boast the highest rates of forgetfulness amongst students, since they often don't use their Chromebooks over the weekend.
"It tends to slow down throughout the week, because they remember or they may be just doing less or are less motivated to do anything in their class by Friday," Meade said.
Many students forget to charge their devices at home and have to ask for a charger when their Chromebook runs out of batteries. However, Meade believes leaving your charger at home and charging it overnight is the most convenient option.
"The tough part is we don't have a really accessible place to go plug in. I see students in some classrooms where they're in some awkward area of the room where they can find an outlet. It's not ideal for them to have to do that," Meade said.
"
I see students in some classrooms where they're in some awkward area of the room where they can find an outlet. It's not ideal for them to have to do that."
— Tyler Meade
Instead of using the outlets in classrooms, students do have the option of using a charging station located in the tech office, which can be found right up the stairs of the library.
"If you forget your charger and you need to charge [your Chromebook], just drop it off here, [remember your] number and come back later [to] pick it up. You can check out a spare while that one's out if you need to do an essay or something," Tomes said.
As of now, most students don't take advantage or even know about the charging station. However, Meade is considering putting alternate charging stations around the building in places such as the commons or the lunchroom. He hopes that this might increase awareness about the charging stations and reduce the amount of students checking out spare Chromebooks.
Overall, the tech department urges students to bring their own Chromebooks to school in order to avoid a shortage. Furthermore, if you do need to check out a spare Chromebook, heed the warning that it is only a one day check-out and borrowed Chromebooks should not be taken home.
"If I check out 25 in a day and only get 15 back, now my availability for the next day is lower," Meade said. "Even if they come back the next morning, well then now they're dead and they're useless until they get charged up again."
Leave a Comment
Donate to West Side Story
Your donation will support the student journalists of West High School. Your contribution will allow us to purchase Scholarship Yearbooks, newsroom equipment and cover our annual website hosting costs.
About the Contributors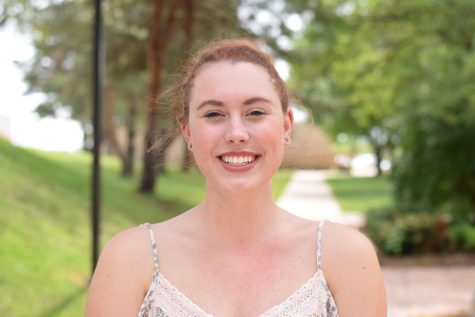 Emma Brustkern, Print Entertainment Editor
Emma is a senior at West High and this is her second year as the Print Entertainment Editor. When she isn't writing, Emma is busy helping Theatre West...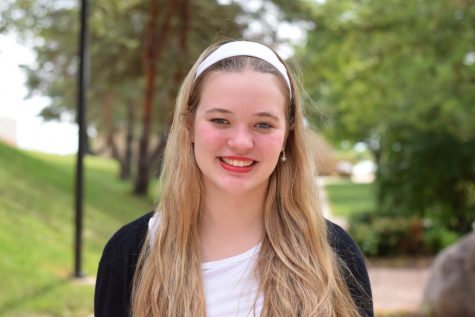 Reagan Hart, Reporter, Distribution Manager









Reagan Hart is a senior at West. It is her second year on staff and she is a reporter and distribution manager. Besides newspaper, Reagan...