Flying forward
Lily Ernst '20 has more on her plate than ever as she enters this swim season after battling a major hip surgery.
Six months.
A record-setting swimmer, Lily Ernst had to slow down and do physical therapy for six months straight to help ease a severe pain in her hip.
She started experiencing hip pain early last school year.
"We were painting my [bedroom] wall and I was sitting criss-crossed, and my [right] hip popped out of place," Ernst said. Her hip progressively got worse, bothering her everyday. It got to a point where she could barely walk.
Ernst's doctor recommended that she try physical therapy to ease the pain. She went back to her doctor to see if there was an underlying issue. She had an MRI, and a few days later she found out she had hip dysplasia.
"Hip dysplasia means that … the socket doesn't fully cover the ball portion of the upper thigh," said athletic trainer Sheila Stiles. "Your hip makes a bowl [shape] and your leg bone is a ball and the ball sits in that bowl. With hip dysplasia, the bowl is too shallow … so the ball moves too much."
"
Hip dysplasia means that … the socket doesn't fully cover the ball portion of the upper thigh."
— Sheila Stiles
Along with hip dysplasia, Ernst also found out she had a torn labrum.
"After years and years of [your hip moving around] … you can tear your labrum, which is cartilage around [the hip]," Stiles said. "You don't see it a lot, but you see it."
Typically, doctors recommend physical therapy to see if it will relieve the pain. If that doesn't work they have to perform surgery. After Ernst paid her dues, it came time to undergo surgery.
Ernst was lucky enough to schedule her surgery almost immediately following her MRI. There are only two doctors in Iowa who perform a combined surgery for hip dysplasia and a torn labrum.
"You don't see a lot of surgeons that do a lot of labrum [surgeries]," Stiles said. "For a while, Iowa City didn't have a surgeon for this. The surgeon we had left and we didn't have anybody. You went to Des Moines or Minneapolis [if you needed surgery]."
Ernst decided to get the hip dysplasia and labrum surgeries at the same time, since they both had equal recovery times. She underwent a six-hour-long surgery in February and stayed the rest of the week in the hospital.
"Two or three months after surgery I was able to get into the water again," Ernst said. "I really just wanted to get in [the pool] and do what everyone else [was] doing. It was hard not being able to [swim]."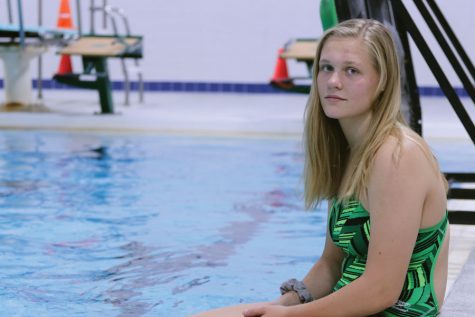 Gradually, Ernst was able to return to the pool more often, but she had to "pull." Pulling is where a swimmer puts a pool buoy between their legs so they float. It's a method for injured swimmers to begin practicing again using only their arms.
Along with pulling, Ernst attended more physical therapy sessions.
"I go to [the University of Iowa Health Care] Sports Medicine for [physical therapy]" Ernst said. "They have a pool there; it's really weird because it's a treadmill, but it's underwater. I would run on it while [the pool] pushed jets on me."
Following her many physical therapy sessions, Ernst began her recovery process months before she was supposed to and was able to compete in the state long course meet for her club team, iFly, in late July.
"I did [the 100 meter butterfly] and I was within [one] second of my best time, and I got third … I was really close to my best times in other races, which was great," Ernst said.
After being fully cleared by her doctors in August, Ernst picked up swimming full time again. Head West swim coach Byron Butler has high hopes as she makes her way back to the season.
Ernst has started off this season strong. She was 00.6 away from qualifying for state in the 100 meter butterfly at a meet earlier this season.
"
[Lily] is one of the hardest workers and having that much time off is difficult for her."
— Byron Butler
"I don't see any issues with Lily getting to state and being a scorer again." Butler said.
During Butler's junior swim season at the University of Iowa, he had to pull and sit out most of the year due to an overuse hip injury. Though he never had surgery, he can still relate to what Ernst is going through.
"[Lily] … is one of the hardest workers and having that much time off is difficult for her," Butler said. "She's incredibly competitive by nature and expects certain times and results immediately, and coming back from something that serious is a major process."
Ernst is at a crossroads as she continues through her season. With the possibility of having surgery on her other hip due to more labrum tears, Ernst is taking the season one day at a time.
"I don't know what to do right now because I don't want to get surgery again." Ernst said. "I don't want to be out for another four months, but if I'm going to do it I have to do it. I can't wait a year and get back to where I was and then do it again."
Leave a Comment
About the Contributor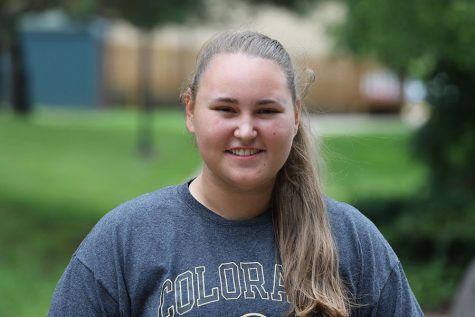 Kara Wagenknecht, Online Editor-in-Chief, Co-Sports Editor
Kara is a senior at West and this will be her third year on staff. She is the Online Editor-in-Chief and Co-Sports Editor this year. When Kara isn't covering...