Football team loses to Rams 23-21
The Trojans lost to Dubuque Senior 23-21 despite three total touchdowns from Marcus Morgan '21 and a number of tackles from Will Hoeft '20.
Last week, the Trojans lost to the Southeast Polk Rams 23-21.
This week, the team dropped their fourth straight game, to the Dubuque Senior Rams, by the same score they suffered last week.
The offense sputtered early on, failing to convert first downs in the first half. After Morgan found Grant Henderson '20 for a nice dump off pass in the second quarter, the starting linebacker broke a few tackles before being brought down at the Rams' 25-yard line. However, a penalty pulled the Trojan's back out of field goal range, and the drive ended in yet another Morgan punt.
The defense couldn't stop the Rams short passing attack, but they are credited with stopping the Senior offense in the red zone, where they forced two field goals instead of touchdowns.
With under two minutes left in the half, and most expecting the Trojans to go scoreless, head coach Garrett Hartwig called for a fake punt pass in which Alex McKay '21 converted the first down. A few plays later Morgan broke loose for a 52-yard scrambling touchdown run, displaying his versatility in the open field by breaking a number of tackles before streaking to the goal line.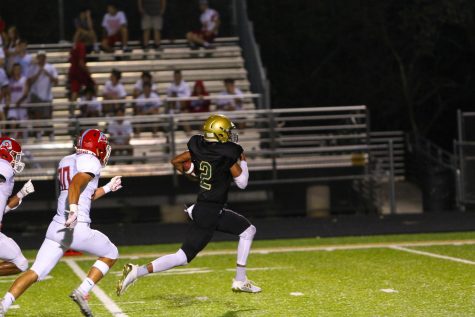 Leading 7-6 in the opening drive of the second half, Morgan engineered a tactical drive down the field. Tate Crane '20 and Grahm Goering '21 each caught first downs during the drive, and Morgan showed off more of his evasiveness with another nice scramble to move the chains.
With the ball on the 10-yard line, Henderson caught a play-action pass from Morgan to put the Trojans in the driver's seat, leading 14-6.
The defense failed to stop the Rams for the rest of the half, giving up 17 unanswered points through the air and on the ground.
Tyuss Bell '21, who appears to have taken over as the starting running back, had several nice first down runs during one of the Trojan's second half drives, but a fumble in the red zone ultimately stopped the Trojans from getting any points on the board.
After the Rams scored a touchdown to go ahead 23-14, Morgan found Goering for a late-game touchdown catch to set the score at 23-21 Rams with 21 seconds left.
Owen Smith's '21 onside kick sailed out of bounds, and the Trojans found themselves on the wrong end of a very close game for the second week in a row.
Will Hoeft '20 played very well in his first game back after a torn ACL, getting in on a number of tackles alongside teammate Mason Applegate '22.
The team plays next at Pleasant Valley on September 27.