Spicing up the holidays: 8 winter festivities
It's that time of the year again, the snow is falling and the temperature is dropping. Here are eight ideas to brighten up your holidays.
1) Gather a group for holiday movies and cookies
You might tell yourself every year that this is the year you will get in your holiday themed pajamas, bake winter cookies, and watch an endless pit of Christmas movies with friends, but you never get to it. However, that won't be the case this year. If homemade cookies are not your forte, head to the store and by some ready to bake cookies. Then dig up a movie or two on Netflix, Disney+, or any other platform. Another option is going on Youtube movies, which provides almost every festive movie you can think of.
2) Go snow tubing
This may not sound like your average winter activity, but if you are willing to spice up your sledding days, drop the sled and go for a tube instead. If you are into faster speeds and more spins, this would be a great idea to execute. However, the tube isn't for everyone and if you already have a sled at home, it's always the traditional way to go that will guarantee just as much fun. One popular spot for sledding and tubing is Brown Deer golf course, which has a hill that differs in steepness, making it for everyone.
3) Volunteer at a community food pantry or soup kitchen
This may not be one of your typical thrilling activities for the winter time, but giving back to the community during the holidays is heartfelt and rewarding. Going with friends or family to the soup kitchen in order to help those who may not receive as much, is sure to put a smile on both your face and others.
4) Cook with family
Not everyone gets along with their siblings, but the winter time is a great opportunity to change that. If you have a brother or sister, or even asking your mom or dad to find a good recipe and get cooking, can turn out to be very entertaining. At the same time it will serve as a great bonding experience at the same time.
5) Attend a yoga class
Since the winter time is in the middle of the second trimester, many tend to get carried away with work and studying. Yoga is a good way to get in touch with your inner self and clear your head from the things that go on around you. Not only is yoga good for your mental health, but during the winter, muscles tend to get tighter with the cold, causing soreness or higher chances of pulling a muscle. Yoga can be a beneficial way to warm up and stretch in order to prevent tighter muscles.
6) Enjoy some entertainment
All over the Iowa City area there are several opportunities to see musicals, concerts, and plays. Hancher, the Coralville Center for the Performing Arts, and Englert are three great places to check out upcoming activities and shows during the winter time. To look at events, simply go to their websites and there is sure to be something that piques your interest.
7) Try a holiday drink
In the Iowa City area, there are several coffee shops and cafes that can make your winter dreams come true with flavors such as peppermint, sugar cookie, cinnamon, and many more. It is a great start to the morning or something to sip on while studying on a cold snowy evening. Starbucks, Java House, Dunkin Donuts, and Caribou Coffee are few of the many places that you can experiment with new winter drinks.
8) Attend the WHSDM holiday party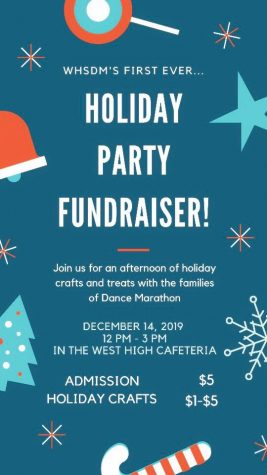 For the first time West High Dance Marathon is throwing a winter-themed party fundraiser. At the event there will be crafts and treats to enjoy with the families of Dance Marathon. It's a great way to bond with others while helping out to raise money. Don't fret if you are not able to make it Saturday the 14th or you missed out on the event. The annual main event will be happening on January 19th filled with lots of dancing.
Leave a Comment